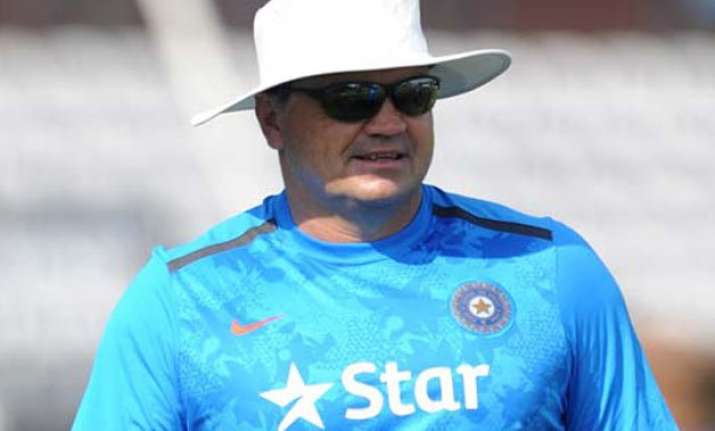 Sydney: Indian pacers will struggle to match Wahab Riaz-like domination against Australia in the World Cup semifinal and the baggage of a forgettable summer against the hosts may also haunt the defending champions, says former India bowling coach Joe Dawes.
Pakistan's left-arm pacer Riaz bowled a hostile spell against the hosts in the quarterfinal and had most of the Australian batsmen, specially Shane Watson, struggling.
"No doubt they'll try that. [But] around the wicket is going to be a bit harder than just having a left-hander there," said Dawes, who was India's bowling coach ahead of the Australian tour last October.
"They will have watched that and will give it a go, and Umesh (Yadav) has definitely got the pace to do it but he's not an overly tall man so that sort of changes the trajectory and the bounce. The left-armers are proving to be quite difficult throughout the whole tournament, aren't they?," Dawes was quoted as saying by Sydney Morning Herald.
The former India coach said since India do not have left-arm paceman, it may be a disadvantage.
"They'll be doing their homework and will give it a crack. Fletch (India coach Duncan Fletcher) is a pretty astute coach, he'll be watching all of these things and he'll look to try and bring that in somewhere and give it a whirl. But the left-hander is a big advantage and that's where the Indians don't have anyone with real pace, or any left-hand bowlers here at the moment."
Dawes said having spent nearly four months in Australia has helped Indian bowlers master the conditions and that was now a major factor in their good show so far in the World Cup.
"During the Test series they really struggled for consistency. They bowled some good balls, then really let the pressure off. It looks like maybe adapting to the conditions and getting their lengths right they've really improved their consistency so they're building pressure now," he said.
However, Dawes Indian bowlers have not been tested in the World Cup and it will be interesting to see how they cope with the pressure situations.
"MS Dhoni leads them well in one-day cricket and they've sort of got on a roll. I still think under pressure they'll be tested. I'm not sure they've been tested a great deal under pressure yet. That's going to be the real challenge in a semi-final against Australia, where there is that little bit of no doubt psychological damage over the summer where they've been hit around a bit."
India had failed to win a single match in the preceding Test and ODI tri-series.
"I think they have got the tools to hurt any side, it's just whether or not they can be consistent enough to put the ball in the right area on the day, which they have and haven't done throughout the summer," he said.