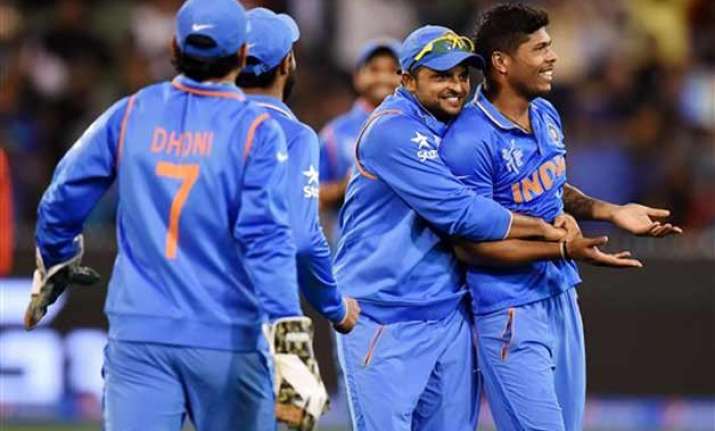 New Delhi: Defending champions India is the favourite of bookies to win the cricket World Cup 2015, an ongoing investigation into illegal betting by Delhi Police has revealed.
It has also come to fore that the semifinal between India and co-host Australia is going to be high stakes for bookies too in terms of the money suspected to be involved.
"Thousands of crores of rupees would be at stake from India alone during the semifinals. The rates have soured to 50:52. Compare it with the India vs Bangladesh game which stood at a mere 16:18. Overall, most money is placed on India to go on to win the world cup second time in a row," said a police official associated with the investigation to check illegal betting during the period.
India may be the overall favourite but bookies feel that the home team holds a slight edge on the men in blue on the March 26 clash in Sydney as the opening rate for the match is a little tilted toward Michael Clark's team.
"According to bookies, the rate for this match has been fixed at 50:52 in favour of Australia. This means that if a person bets one rupee on Australia and if the team goes on to win, he will get Rs 50 in return. On the other hand, if India wins, he will get Rs 52 in return," he added.
However, he added that bookies change the rate as the match progresses. Other than the winning team, bets are placed on every ball, phases of the match like how many runs will be scored or wickets will fall in the first ten overs, powerplays, last ten overs etc.
Other than this, bets are also placed on performance by individual players.
"Broadly, in a match, bookies identify 'lagayi' (favourite) and khayi (underdog) in every match. Like in the India vs Bangladesh quarterfinals, India was the favourite while Bangladesh was an underdog. The opening rate for this match was 16:18. This means people who had placed a bet in favour of India got Rs 16 on every one rupee. If Bangladesh would have won, the winner would have got Rs 18," he added.
During this match, the Crime Branch of Delhi Police had arrested a 57-year-old man who had set up a control room with 110 mobile phones at his home and was relaying ball-by-ball betting rates to bookies. The alleged accused received rates from Mumbai which in turn came from Dubai.
He was charging Rs 3000 per line from bookies who took bets from common people. He had leased 110 lines and was earning Rs 6 lakh per match.
Bhatia's role, however, was limited to provide rates to bookies and punters who in turn took bets from the end person.
Delhi police said that there is heightened surveillance to check such illegal activities during the World Cup. They are on the trail of other bookies allegedly involved in such betting and efforts are on to unearth other rackets.