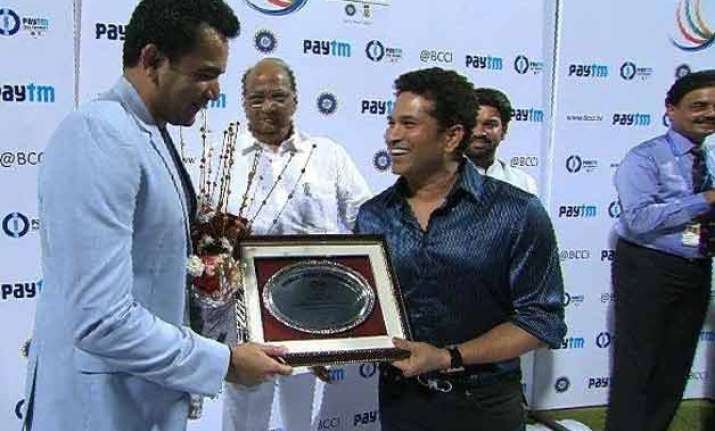 Mumbai: Former India Pacer Zaheer Khan, who recently retired from international cricket, today said that he has achieved everything he wanted to in his career spanning 14 years and there was "no missing link" for him to regret.
Zaheer was felicitated by Mumbai Cricket Association today in the post-match presentation ceremony of the fifth and final ODI between India and South Africa at the Wankhede Stadium here. He announced his retirement on October 15.
"I'm going to miss cricket matches and those celebrations with the team-mates. But I have to move on, with all those so many happy memories in my career," he said while addressing the packed crowd in presence of Sachin Tendulkar, former BCCI President Sharad Pawar (now MCA chief) and current Board Secretary Anurag Thakur.
"I am very happy to retire. I had not thought that I would go this far and achieve so much in my career. I don't think I have one link missing in my career. I will continue to be associated with the game in future also in some capacity," he said.
Zaheer, who played a lot of cricket for Mumbai and Mumbai Indians in IPL after shifting base from Baroda, was an emotional man in front of the crowd, who had just witnessed India's 214-run loss to South Africa, as he thanked all his well-wishers, team-mates and coaches he has been associated with in his career.
A veteran of 92 Tests and 200 ODIs, Zaheer played for the country for 14 years since his ODI debut against Kenya in Nairobi in October 2000. The left-arm pacer was part of the Indian team that lifted the 2011 World Cup at the same venue.  He took 311 wickets in the longest format and 282 scalps in the 50-over version.
"I am honoured to stand in front of you and the one word that comes to my mind is that I am humbled and honoured. It has been a great journey made up of wonderful memories. It is an emotional moment for me to speak here. I have been overwhelmed by the love and affection shown to me in the last 10 days after retirement" Zaheer said.