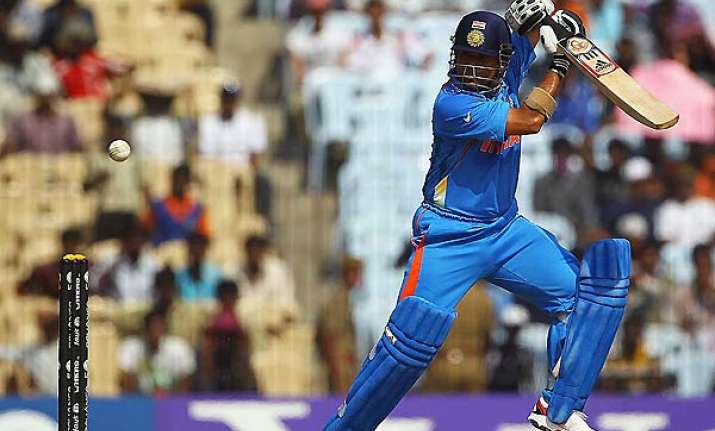 Mumbai, April 5 : Master blaster Sachin Tendulkar has said he doesn't think he would be playing the 2015 World Cup.

In an interview to the Mumbai newspaper DNA, Tendulkar said he did not want to think too much about his career. He is in good shape, so is he looking at the 2015 World Cup?

"Well, I am not thinking that far," he said. "I don't think I will play the 2015 World Cup. I am completely thinking about this World Cup. So, I don't want to dwell too much on the future."

Tendulkar said he did not want to forget about this Cup because the win had brought smiles on the faces of more than 1.2 billion people.

"This is the best moment. The entire nation is celebrating. If we can bring smiles to the entire country, what more do we need," he said.

"It is also not the time to think about the 100th century. We should purely focus on the triumph. This is an occasion the whole country and the players were looking forward to. Let us celebrate."

The thought of losing never crossed his mind, he said. "We were not thinking of the final result. We focused on the process. You can't think about the end result even before the event."

The Little Master said that Mahendra Singh Dhoni's knock was one of the best ever. He said Dhoni had consulted him before promoting himself in the batting order.

"There was a brief chat in the dressing room about his promotion in the batting order," he said.

"I felt that he should go up because the left-right combination would be there in the middle. Gautam Gambhir was batting very well. Both Dhoni and Gambhir complemented each other and changed the course of the match."

About his teammates carrying him on their shoulders, Tendulkar said it was a pleasant surprise. "Before I could realise what was happening they had picked me up," he said.

"It was a special moment and I was touched by the gesture."

Q: How touching was it that your teammates wanted to win the World Cup for you?

A: That all the teammates wanted to win this World Cup for me, was very touching and moving. And, also within the team, we were playing for each other and above all, playing for the nation. We wanted to win this for the Indian team and also for all the well-wishers of this country.

Q:What kind of responsibility and pressure was there on you?

A: I don't think that only senior cricketers have the responsibility. When a 15-member squad is picked, then all players have the responsibility. Different matches see different responsibilities and each player has equal responsibility.

Q: You kept on motivating youngsters. How important was it to do that?

A: It was my dream to win the World Cup and so was it for the others. For that, we needed proper planning and it was very important to know from which way the team had to move forward to reach their goals. At different stages, not only me, but I have seen members of the team encouraging someone. We advised each other on how to get better and how our performances could be improved. When the big moment came, all players were charged up and everybody knew how important this moment will be in their career. Everybody was prepared and all were calm, we were not thinking about the pressure, were not thinking about expectations. We were just thinking about our process and we were just thinking about how we will give our best in the final.

Q: In 1987, you were a ball boy at Wankhede…

A: I still remember in 1987, I was a ball boy and later Sunil Gavaskar took me inside the dressing room and introduced me to many players then. It was really a big day for me. But now, I have lifted the World Cup trophy at Wankhede and it really is the biggest moment of my life. We had to pinch each other to believe this thing is happening in reality. To see such a day in your life, it's God's grace.

Q: This team has more self-belief…

A: Self-belief and the players are also talented, they are match-winners and if you see then in each match, we have seen different players coming and performing. It is not just one or two individuals are coming out and performing, it is about the Indian team and that is how you can win a trophy. It has happened throughout the tournament and overall, we wanted to play for each other. We wanted to play for the country.

Q: Do you think there was more pressure this time? Especially after the first round exit during the 2007 World Cup in West Indies?

A: I don't think there was more pressure. Pressure is always there on all the players. There was pressure of my own expectations. I wanted to do something special this time. I won't call it pressure, but it was preparation. As an individual, we think of giving our best every time. If any bowler fails one day, then we hope that another bowler comes out and takes wickets. We were just thinking as individuals. How can all players give their best? It's all team effort. If you look, there will be times when one batsman has not scored while the other has. We just try to cover other's failure on that day, so that when you fail some other day, other individuals will try to cover up.

Q: Did you at any point prepare for that particular moment?

A: Frankly speaking, we were just not thinking about it. We planned things, but nobody was thinking of lifting the trophy. Obviously, at the back of our minds, we wanted to do it. We wanted to follow the process, wanted to first finish the game, win it and then go for the trophy. In our minds, it was about how well we can restrict them to whatever minimum possible total and then chase it and then think about the trophy. It happened when we were not even thinking about lifting the trophy before the match. Yes, we all wanted to do that but there was a process we had on how to get there and we were just focusing on it.

Q: As a child, did you think about the World Cup?

A: Well, I remember, India was playing in England and the happiness of winning the World Cup was ultimate. But also, those little-little special moments you saw, I just cannot forget. The cup picture! Also in the semis, at home, my brothers are big fans of Sandeep Patil. So they saw Patil batting. It was a special one and everybody was taking about that. I was just 10 years' old then, so Ididn't understand much but I was also jumping along with them and enjoying the moment. Then obviously, along the way we had other matches. A bigger memory was when Gavaskar took me to the dressing room, it was a memorable experience.

Q: How is Mahendra Singh Dhoni as a captain?

A: I think he is a fabulous captain. He stayed calm, patient and at the same time, very clever and alert. Situational awareness has been his great strength and obviously, to know what every individual likes and dislikes is important. And he has been at it throughout the tournament.

Q: Would you like Kirsten to continue?

A: Gary should continue for sure, he has a family commitment. He thought about it way before making his decision. We respect his decision. As a team, yes, there is no doubt we will miss him a lot. It has been a true pleasure and joy to work hard with him. In the nets, he worked as hard as any one else in the team. Probably harder, because he was like a bowling machine throwing so many balls at the batsmen and also to the bowlers. When someone felt like hitting 200-300 balls, he was always there. It was a fabulous experience to rub shoulders with a personality like that.

Q: Dhoni said the preparation for the World Cup started way back in Dambulla. Can you tell us more...

A: Yes, the preparation started quite sometime ago. But the real preparation started in South Africa or may be after the SA tour when we got together. Before that, we were doing various things keeping in mind this will help us during the World Cup. And the camp that we had in Bangalore was an important one and we spent 50-55 days together during this tournament including five to seven days before the first game in Bangalore. That really helped us and we did various things, had lots of meetings. Just sharing each other's experience and what we should do and what we should avoid. It was a package, which in the end was a successful one. Whatever we tried, every little bit helped us to bond and be closer and understand and play for each other.

Q: About the victory lap after the match…

A: It was an extremely emotional moment. I want to thank my teammates for that gesture. I was not expecting all that, I was taken by surprise. What a way to end the World Cup. It was an overwhelming experience.