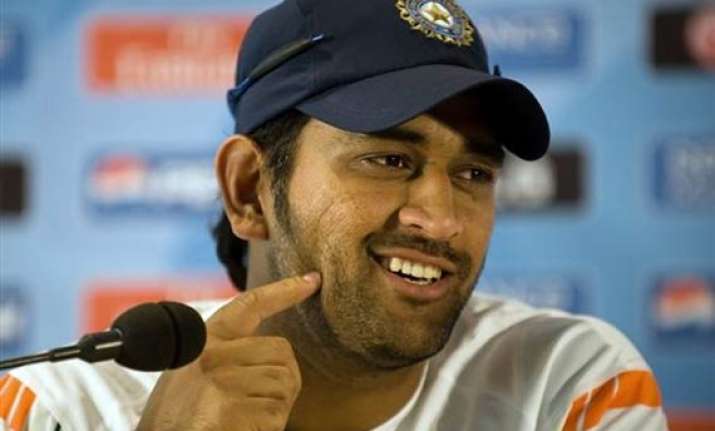 Mirpur: Despite the stormy events back home, India captain Mahendra Singh Dhoni stayed calm and attributed his team's success to a 'good dressing room atmosphere' where every individual was happy about each other's success.
While the skipper made it clear that he won't take any questions outside World T20 but he did say that key to success in trying conditions depends on team members.
"We have a good dressing room atmosphere. The players enjoy each other's success and push each other to do well.  There will be a lot of things that happen around you but you need to focus on the job," the skipper said at the post-match media conference.
While the media manager had said that Dhoni will come only if India loses any match, the skipper was there at the scheduled press meet.
He ducked a question on whether talks about him wanting leaving captaincy were true or not.
"I won't answer that. Only on World T20. 40 minutes ka flight hain, India jaake puch lena na (It's only a 40-minute flight back to India. Ask me there)" Dhoni said in jest.
The skipper also did not put too much thought into India qualifying for the semi-finals for the first time since 2007.
"We don't normally discuss these things in the dressing room. You don't go into a tournament, thinking about reaching semi-finals. And then after you have achieved that goal? What do you do then? Just be happy that Oh, we have reached the semis and that's about it. I have always said that our aim is to focus on the processes and the rest will be taken care of," he explained.
Dhoni also said that he would like to keep his options in batting and bowling flexible according to the situation, opposition's team combination and the playing conditions in mind.
Asked as to why Yuvraj was not given a go as he has slogged it hard in the nets, the skipper was again at his witty best.
"Not only Yuvraj but a lot of others are also working very hard! I have also not batted and today I wanted to get a hit out there in the middle. It's not that Yuvraj will be sent out to bat just because he has worked hard.
"It depends on the conditions as well. Like in bowling, I started with pace and after Bhuvi bowled the first over, I didn't feel like bringing Shami at the point from other end.  So I got Ashwin. That's where you need to have an open mind and take decisions based on match situations," Dhoni said.