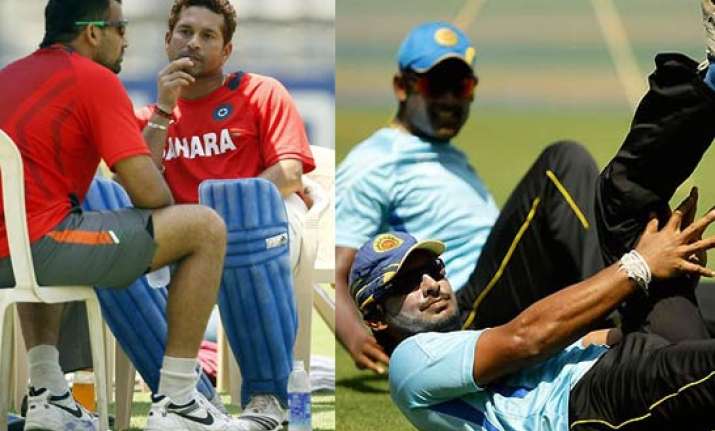 London, April 2 : Here, according to the Daily Telegraph, is Geoff Boycott's assessment about Indian and Sri Lankan players before the World Cup final :

INDIA:

Sachin Tendulkar: Nowadays it takes him a little longer to get into his stride but that is OK because the focus of attention is usually on his partner, Virender Sehwag, so Sachin can play himself in then move forward and expand his repertoire. Still has the ability to play gorgeous shots but more than anything has a strong mind and desire to do well.

Virender Sehwag: He frightens the hell out of most opening bowlers because they know he is looking to smack anything off line or off length. They know he might also whack a good ball.

He is no respecter of names or the occasion and he plays with an uncluttered mind and a freedom most of us can only dream about. He is a rare talent who can be dismissed early or he will put bowlers to the sword and grab the initiative for his team. Not a good hooker but everything else is special.

Gautam Gambhir: Very well organised left-hander who at times is overshadowed by Sehwag and Tendulkar. Most people focus on the big two, naturally so, but this guy can bat.

His record is good and he has excellent off-side strokes. He is confident and mature and has no fear of performing on the big stage. His only weakness is hooking.

Virat Kohli: Best of the new young Indian batsmen, talented and technically correct. He has done well in ODIs over the past two years for someone so young. Fortunately he has been able to bat in the slipstream of many big names in the team because opposition bowlers tend to concentrate on Tendulkar Yuvraj or Sehwag. He is a brilliant fielder.

Yuvraj Singh: A destructive left-hander with a high back-lift and free swing of his bat from which he generates enormous power. Always seems to have lots of time whether playing orthodox cricket shots or slogging the ball out of the park. He usually bats well under pressure and is a superb player of spin.

MS Dhoni: Captain Fantastic. Nicknamed Mr Cool because he is never flustered or agitated. He has had the hardest job in cricket, keeping wicket and captaining an international team in Tests and ODIs. Nobody has ever done it before and yet he has done it for two years and been splendid. I take my hat off to him.

Suresh Raina: Left-hander who is known to have problems with short deliveries because he takes his eye off the ball when it gets chest high or if he is hooking. He is a neat player, good timer of the ball and can strike it big over the top. He is an electric, athletic outfielder who with Kohli helps lift the fielding of the rest of the team.

Harbhajan Singh: A top class off-spinner with lots of experience. Flight, guile, spin and a good cricket brain make him a tough customer. Has a good top spinner and doosra but, most of all, he keeps cool under pressure. If it spins he has confidence in his ability to bowl batsmen out and on flat batting pitches he is always up for the challenge.

Zaheer Khan: This guy is as good as any one-day bowler in the world. He can bowl left-arm seamers over the wicket or around the wicket, swing the new ball, reverse the old ball and bowl at the death. He has a deceptive change of pace with good disguised slower balls and he really is an artist.

Munaf Patel: A genuine medium-pacer who bowls from close to the wickets and tries to bowl very straight with a little bit of swing or seam. He has no great pace so his line, length and control have to be spot on. At times you feel he needs a kick up the backside to make him bowl quicker.

Ravichandran Ashwin: With Ashish Nehra unfit I don't think India will take a chance on seamer Sreesanth, who is unpredictable. Ashwin is comfortable and unfazed opening the bowling with the new ball. He relies on control, flight, change of pace and his 'carom' ball that hurries on and goes slightly away from the right-hander almost like a top spinner.


SRI LANKA:

Tillakaratne Dilshan: Attacking batsman with a wide range of shots. Not afraid to go over the top and sweeps well against the spinners. Will not let bowlers tie him down so he can be devastating or might get himself out early. Off-spin bowling is OK but he should not be able to get away with 10 economical overs.

Upal Tharanga: A very tall man with a long flowing swing of the bat. He is mainly an off-side player who loves width and again will go the aerial route pretty quickly. Both openers are in excellent form.

Kumar Sangakkara: One of the best batsmen in the world and is playing really well. He would be in the top three batsmen of the World Cup on form. He has no weaknesses and is a tough cookie so his wicket will be the big prize for India.

Mahela Jayawardene: An elegant, stylish player who is playing quite well. He made a hundred against Canada and a 66 against New Zealand. He is at the end of his career but still a force to be reckoned with.

Thilan Samaraweera: He has had very little batting because the openers have done so well. He is a steady to slow batsman and not the kind to frighten India. There is a big question mark against him if he has to bat under pressure because he has had very little time in the middle.

Chamara Silva: A leggie who had a great World Cup four years ago and provides a safety valve for the Sri Lankan lower order. He has not had a lot of cricket in this tournament and might be a little undercooked.

Muttiah Muralitharan: It is the last hurrah for an iconic guy with the most controversial bowling action. He will bowl on one leg no matter how bad his leg strain. He is a huge spinner of the off-break and doosra and can bamboozle most batsmen so it is vital India 'pick him' because he is a match-winner.

Thisara Herath: Orthodox left-arm spinner. Nobody has put him under pressure yet. He has been allowed to bowl his overs economically. He is a very average bowler, holds no terrors and can be got after.

Ajantha Mendis: A good steady bowler who bowls very straight and economically. He bowls his leg-spinner off his middle finger not his ring finger. This caused confusion for batsmen when he first appeared. India have played Sri Lanka quite a bit in recent times so they should be able to read him by now.

Lasith Malinga: Usually guys who have a low arm action spray the ball around but Slinger Malinga is unique. He is quick and accurate. He delivers the ball over the top of the stumps so can bowl wicket to wicket giving batsmen no angle to work with. His yorkers are devastatingly good.

Randiv/Fernando: Suraj Randiv was called up to the squad on Friday for injured Angelo Mathews and is fighting for a place with Dilhara Fernando. Will play if they decide to go for spin but Fernando might get the nod if Sri Lanka want to replace Mathews with a pace bowler.