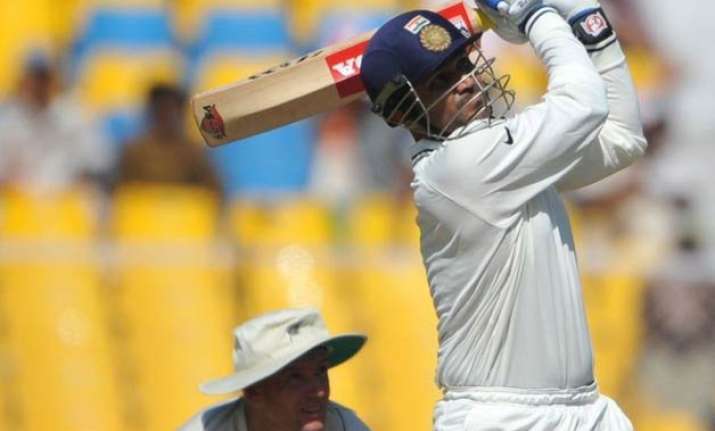 The Nawab of Najafgarh has finally relinquished his throne after entertaining millions of fans for almost 15 years.
Virender Sehwag's philosophy was simple: See ball, hit ball.
He hit many balls a long, long way. Sehwag's tally of sixes in Test cricket is 91, more than any other Indian batsman, and just short of the world record of 100 by Adam Gilchrist.
Viru's blade has been just as devastating in the shorter formats of the game.
We pay tribute to the ultimate showman by showcasing some of his most memorable sixes.
1. 28 triple centuries have been scored in Tests but only one of them was reached with a six. No prizes for guessing who the batsman was! This was the knock that gave Sehwag the title 'Sultan of Multan'. The bowler was Saqlain Mushtaq who was hit so badly that his international career came to a premature end after this game at the age of 27.    
2. Sehwag reached his second triple century in Tests against South Africa in Chennai with a single. But once again he hit a six in his 290s. Sehwag jokingly advised left arm spinner Paul Harris to bowl round the wicket. The bowler accepted the challenge and Viru then hit him over his head for a straight six that took him to 297. He was eventually out for 319 after smashing the fastest triple ton in Test history.
3. Sehwag hit the first ball of India's innings for a six in the second VB Series final at the Sydney Cricket Ground in the 2003-04 season. India were chasing 360 for victory and had to get a move on early. So Sehwag decided to take on Jason Gillespie. The bowler had the last laugh, though, by dismissing Viru and India lost the game. But this moment will not be forgotten.
4. Sehwag hit a six off the first ball he faced on India's tour of New Zealand in 2008-09. And then for good measure, he hit sixes off the second and third balls too! This stunning blizkrieg occurred in the first T20I which kicked off the tour in Christchurch. The hapless bowler was Tim Southee who was immediately removed from the firing line.
5. In the opening edition of the IPL, Sehwag's Delhi Daredevils came up against the Deccan Chargers. Andrew Symonds was the second most expensive player in the auction after MS Dhoni but Sehwag treated him like a club bowler. Symonds was smashed for 30 in one over, with the sequence reading 4,6,4,6,4,6! Viru finished with an unbeaten 94 off just 41 balls as the Daredevils cruised to victory with a staggering 42 balls to spare.