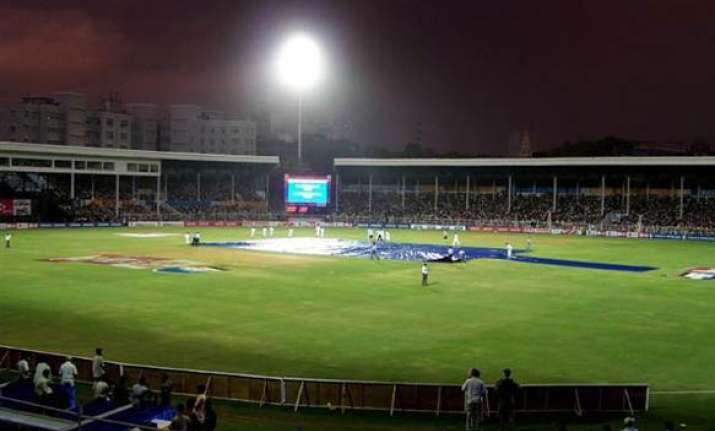 Mumbai, Feb 18: Expressing displeasure at the non-compliance of fire safety norms at the revamped Wankhede stadium, venue of the 2011 World Cup final, the city fire brigade department today said it will seek a reply from the Mumbai Cricket Association (MCA) in this regard.
"We will soon write a letter to the MCA stating there is a need to comply with fire safety norms at the stadium. Once they abide by the terms we would again conduct an inspection," Chief Fire Officer Uday Tatkare told PTI.
On Wednesday, two fire officials, who visited the stadium for the second time to inspect the fire safety mechanism in place, found some lapses in the arrangements.
"The team has found that the newly renovated stadium has many loopholes in its fire safety mechanism. The stadium must be in compliance with the fire safety conditions," Tatkare said.
"Among the mandatory fire apparatus are ring hydrant system, water hydrants, internal riser system for the stands, no-smoking indicators, fire alarms and extinguishers have to be installed. There are some lapses which they need to follow," a fire officer said on condition of anonymity, but refused to elaborate on the lapses at the stadium.
Meanwhile, MCA joint secretary Lalchand Rajput said the association had not received any sort of communication from the fire brigade department.
"We have not received any sort of communication be it written or oral from the fire brigade department," he said.
Wankhede Stadium, that went into the redevelopment mode soon after the conclusion of the Indian Premier League on June 1, 2008, is to stage two other World Cup ties, apart from the summit contest on April 2.
The matches would be held on March 13 (New Zealand v Canada - a day match) and March 18 (New Zealand v Sri Lanka - a day/night match). PTI