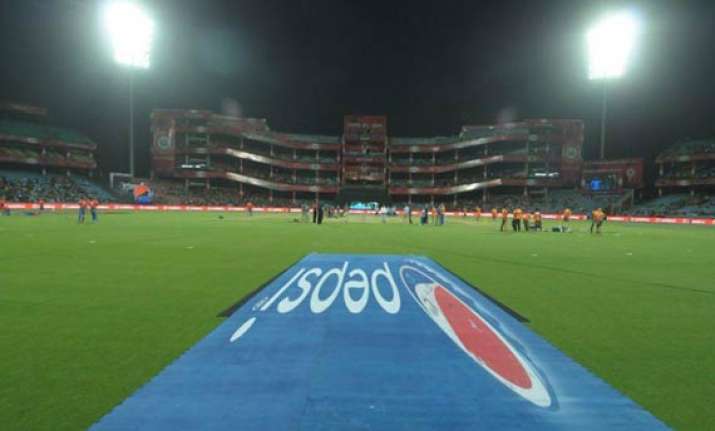 New Delhi: Delhi Government's disaster management authority today served a show cause notice on Delhi District Cricket Association for allegedly failing to comply with its directives to put in place necessary safety measures including fire prevention provisions at Feroz Shah Kotla stadium during last night's IPL match.
In the notice, the Delhi Disaster Management Authority has directed Chetan Chauhan, Venue Operations Manager and Vice-President of DDCA to personally appear before it tomorrow to explain the "reasons" for "lapses" and asked why punitive action would not be taken against the cricket association for non-compliance of a previous order to put in place safety norms during IPL matches.
The notice mentioned about a fire incident at the stadium last evening during the IPL match between Rajasthan Royals and Delhi Daredevils and asked Chauhan to submit an action taken report on preparedness of DDCA regarding disaster management.
When contacted, Chauhan said he has not received any notice from DDMA.
He said someone had put a cigarette on a pile of empty cartons which led to the fire last evening.  "Till evening, I have not got any notice. If there is any notice from them, we will certainly comply with all the safety precaution required. We have decided not to allow accumulation of empty food cartons left by the spectators," Chauhan said.
The DDMA said it will not compromise on safety of thousands of spectators.
The notice, signed by DDMA's Central District CEO Rajnish Singh, said non-compliance of direction will be viewed seriously under Disaster Management Act, 2005 and punitive action will be taken as per provisions.
The DDMA said an inspection was carried out last evening and it was found that DDCA has not complied with the earlier orders to address shortcomings detected during an inspection on May 2 and call it as a case of "clear negligence" on the part of DDCA.
The DDMA said specific instructions were issued to DDCA on April 24 and 25 to put in place specific fire safety measures.
Asked about the fire incident during the match last evening, Director of Delhi Fire Service A K Sharma said a small fire was reported which was doused immediately.  "We had given a No Objection Certificate for the match," he said.
The DDMA has also asked licensing unit of Delhi Police to take note of the fire incident while giving licence for coming IPL matches. "Necessary action may be ensured accordingly."  When asked about the issue, Additional Commissioner of Police (Licensing) A K Sharma said, "We had given licence for the match only after an NOC from the Fire department. Not just the fire dept, the licence was given only after clearance from district police, traffic police, electricity department and all departments concerned."
The DDMA said the fire took place on the backside of Feroz Shah Kotla stadium at 11:25 PM and prima facie it seemed that fire occurred due to lack of management from DDCA side.  "It was further noticed that total five drums containing diesel were lying in open near the place where said fire incident took place which made it more vulnerable to fire disaster and it could have increased the extent of disaster if fire would have spread to these diesel drums.  
"It was also noticed during inspection that one truck was parked near the kitchen, which was running without any valid licence from competent authority, made the stadium more vulnerable for other fire disaster because it was noticed that a tandoor was placed hardly 7 to 10 feet far from the diesel tank of said truck and 15 feet from the five diesel drums," it said.
Taking serious note of the fire incident, the DDMA has asked Divisional Fire Officer to explain how the NOC was issued for conduct of matches though there were serious shortcomings in fire safety measures at the stadium.  The Divisional fire officer has been told to submit an action taken report by tomorrow.
The DDMA also asked ACP of Kamla Market area to examine the preparedness of DDCA regarding public safety in view of the fire incident and directed it to take necessary action.  Direction was given to Electrical department also.  The report by DDMA team said no search and rescue team was found available during inspection. It said kitchens in Feroz Shah Kotla Stadium were found running without valid licence from South Delhi Municipal Corporation.
 "In one of the kitchens, situated at 3rd floor of the Old Club Building, it was observed that the premises, on which the kitchen is running, is not even fit for use as a kitchen.  There is no ventilation for smoke, no proper washing and drainage system. Even there is no arrangement for fire safety," the report said.
It said though there is petrol pump near Gate no.18 making the Stadium vulnerable to fire disaster, there was no arrangement found for mitigation of possible fire.    The disaster management authority has also asked South Delhi Municipal Corporation to explain "lapses" on its part as how the kitchens were operating without necessary approval.
The DDMA also wondered how SDMC allowed activities at a building in the stadium though no completion certificate has been issued by the Building Department of the civic body.  The Assistant Commissioner (Central Zone) of SDMC has been asked to submit an action taken report along with the explanation by forenoon tomorrow.