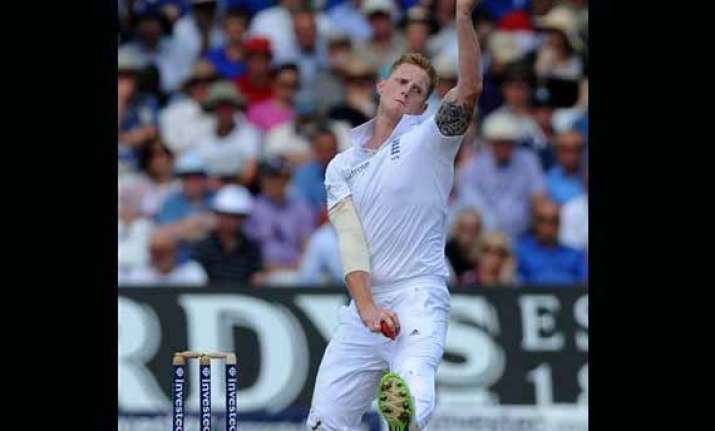 London: Scoreboard Friday at end of innings on day two of the second test between
England and India at Lord's:
India 1st Innings
(Overnight 290-9)   
Murali Vijay c Ballance b Plunkett 24   
Shikhar Dhawan c Ballance b Anderson 7   
Cheteshwar Pujara b Stokes 28   
Virat Kohli c Prior b Anderson 25   
Ajinkya Rahane c and b Anderson 103   
Mahendra Singh Dhoni c Prior b Broad 1   
Ravindra Jadeja lbw b Ali 3   
Stuart Binny lbw b Anderson 9   
Bhuvneshwar Kumar b Broad 36   
Mohammed Shami c Cook b Stokes 19   
Ishant Sharma not out 12   
Extras: (17b, 10lb, 1nb) 28   
TOTAL: (all out) 295   
Overs: 91.4   
Fall of wickets: 1-11, 2-48, 3-86, 4-113, 5-123, 6-128, 7-145, 8-235, 9-275   
Bowling: James Anderson 23-7-60-4, Stuart Broad 22-5-79-2, Liam Plunkett 15-5-51-1, Ben Stokes 17.1-5-40-2, Moeen Ali 14-2-38-1.   
England: Alastair Cook (captain), Sam Robson, Gary Ballance, Ian Bell, Joe Root, Moeen Ali, Matt Prior, Ben Stokes, Stuart Broad, Liam Plunkett, James Anderson.   
Toss: England.
   TV umpire: Richard Illingworth, England. Match referee: David Boon, Australia.