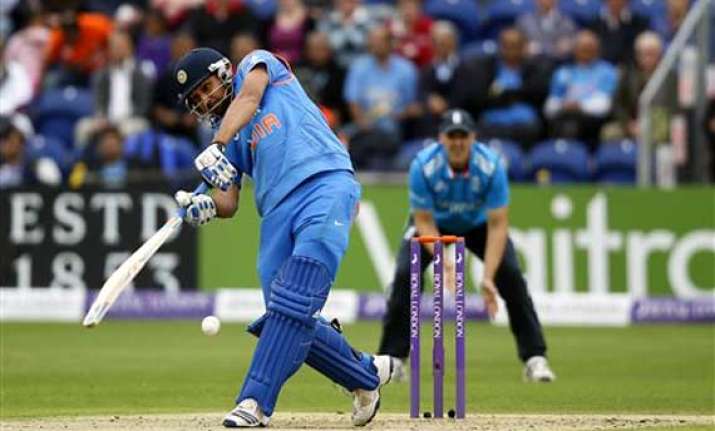 Cardiff: Scoreboard after India defeated England by 133 runs via the Duckworth Lewis method in the rain-affected second ODI at the Sophia Gardens here Wednesday.
Chasing a rain revised target of 295 runs in 47 overs, England were shot out for 161 runs in 38.1 overs.
Left-arm spinner
Ravindra Jadeja
picked up four for 28 while offie Ravichandran Ashwin got two for 38. Pacer Mohammad Shami got two for 32.
Raina's fourth ODI century, off 74 balls, helped India recover from a poor start and post a challenging score of 304-6. England opener Alex Hales top-scored on his ODI debut with 40.
Apart from Jadeja's four, Ashwin and Shami picked up 2 wicket each while Bhuvneshwar and Raina took 1 wicket.
The third ODI will be played on 30th August at Trent Bridge, Nottingham.

India innings
 Rohit Sharma

 c Woakes b Tredwell

 52
 Shikhar Dhawan

 c Buttler b Woakes

 11
 Virat Kohli

 c Cook b Woakes

 0
 Ajinkya Rahane

 st Buttler b Tredwell

 41                 

 Suresh Raina

 c Anderson b Woakes

 100
 MS Dhoni

 b Woakes

 52
 Ravindra Jadeja

 not out

 9
 Ravichandran Ashwin

 not out

 10
 Extras
 (b 1, lb 11, w 16, nb 1)

 29
 Overs
 innings break

 50
 Total                                  

 for 6 wickets

 304
 Fall of wickets

 1-19 (Dhawan, 7.1 ov), 2-19 (Kohli. 7.4 ov),
3-110 (Rahane, 23.5 ov), 132-4  (Sharma, 29.2 ov), 5-276 (Raina, 46.1 ov), 6-288 (Dhoni 48.3 ov)

 

Did not bat:
Bhuvneshwar Kumar
,
Mohammed Shami
, Mohit Sharma



Bowling:
| | | | | |
| --- | --- | --- | --- | --- |
|  Bowler |  Overs |  Maiden |  Runs |  Wickets |
|  James Anderson |  10 |  1 |  57 |  0 |
|  Chris Woakes |  10 |  1 |  52 |  4 |
|  Chris Jordan |  10 |  0 |  73 |  0 |
|  Ben Stokes |  7 |  0 |  54 |  0 |
|  Joe Root |  3 |  0 |  14 |  0 |
|  James Tredwell |  10 |  1 |  42 |  2 |
England innings



| | | |
| --- | --- | --- |
|  Alastair Cook |  lbw b Shami |  19 |
|  Alex Hales |  c Ashwin b Jadeja |  40 |
|  Ian Bell |  b Shami |  1 |
|  Joe Root |  b Bhuvneshwar |  4 |
|  Eoin Morgan |  c Shami b Ashwin |  28 |
|  Jos Buttler |  c Kohli b Jadeja |  2 |
|  Ben Stokes |  c Rahane b Jadeja |  23 |
|  Chris Woakes |  st Dhoni b Jadeja |  20 |
|  Chris Jordan |  lbw b Raina |  0 |
|  James Tredwell |  c Jadeja b Ashwin |  10 |
|  James Anderson |  not out |  9 |
|  Extras |  ( lb 3, w 2) |  5                    |
|  Overs |  match over |  38.1 |
|  Total                                          |  all out |  161 |
|  Fall of wickets |  1-54 (Cook, 10.3 ov), 2-56 (Bell, 10.6 ov), 3-63 (Root, 13.4 ov), 4-81 (Hales, 20.4 ov), 5-85 (Buttler, 22.4 ov), 6-119 (Morgan, 29.5 ov), 7-126 (Stokes, 32.4 ov), 8-126 (Jordan, 32.4), 9-143 (Woakes, 35.3 ov), 10-161 (Tredwell, 38.1 ov) |   |

Bowling:
| | | | | |
| --- | --- | --- | --- | --- |
|  Bowler |  Overs |  Maiden |  Runs |  Wickets |
|  Bhuvneshwar Kumar |  7 |  0 |  30 |  1 |
|  Mohit Sharma |  6 |  1 |  18 |  0 |
|  Mohammed Shami |  6 |  0 |  32 |  2 |
|  Ravichandran Ashwin |  9.1 |  0 |  38 |  2 |
|  Ravindra Jadeja |  7 |  0 |  28 |  4 |
|  Suresh Raina |  3 |  0 |  12 |  1 |
Result: India won by 133 runs (D/L method)

Man of the Match: Suresh Raina (India)