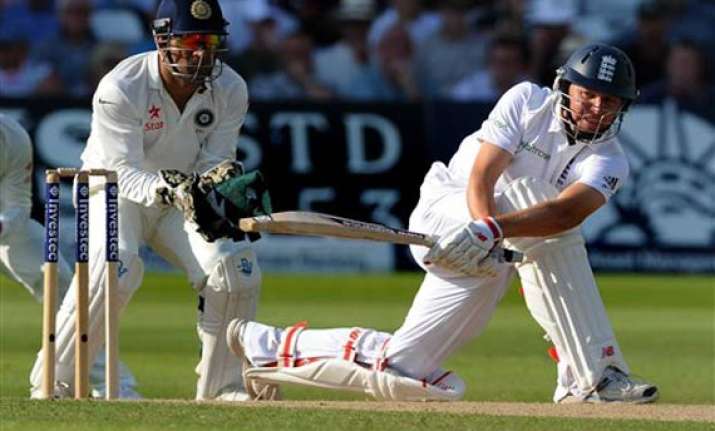 Nottingham: England youngsters Gary Ballance and Sam Robson struck patient half-centuries as the home team reached 131 for one at lunch on the third day of the first cricket Test against India here today.
With the inexperienced Indian bowling failing to make inroads on a cloudy third morning, left-hander Ballance remained unbeaten on 59 runs off 144 balls with seven fours and opener Robson also batting on an identical individual score facing 138 balls, hitting eight fours in the process.
The hosts currently trail India by 326 runs in the first innings but it looks to be hard work on a placid track that is not providing any help for the bowlers.
Skipper MS Dhoni deployed all his five primary bowlers in the morning session, but none could make a lasting impression on the batsmen, who looked to be playing for time without much thought on scoring quickly, as 88 runs came in 31 overs in the first session of play.
Mohammad Shami (1-41) and Bhuvneshwar Kumar (0-17) got things underway for India under some nice cloud cover after two days of bright sunshine.
They were perhaps hoping that this would help them in some way on an uncharacteristic flat track. Shami extracted a little more bounce on account of his extra pace and Kumar stuck to bowling wicket-to-wicket, unable to use the relatively seam friendly conditions.
It was Ishant Sharma (0-34) who looked to trouble the batsmen most in this session of play. He looked in nice rhythm, looking a completely different bowler to the one who struggled through the two practice games in Leicester and Derbyshire.
He beat the bat on a few occasions, getting a couple edges as well, but none that could carry along to any fielders.
Dhoni resorted to Ravindra Jadeja (0-15) after only 15 overs had been bowled in the morning, in order to get some help from the almost sub-continental pitch.
But even the spinner couldn't dent the growing confidence of the two batsmen as they brought up the 100-run mark in the 40th over of the innings.