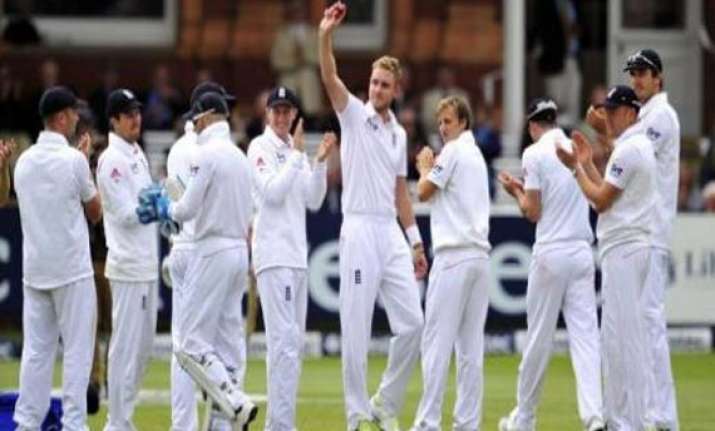 London,May 19: England finally put New Zealand in its place by defeating the Kiwis by 170 runs with more than a day to spare in the first test at Lord's on Sunday.
The English were ordered by selector Geoff Miller to atone for being humbled in the drawn three-test series in New Zealand in March, and they answered emphatically on a surprisingly manic fourth day when 14 wickets fell in under two sessions.
New Zealand, targeting a manageable 239 for its first win over England in 14 years, was crushed in its second innings for 68, its ninth lowest total.
England even made a joke of the Kiwis when the end came. Neil Wagner was dropped in the outfield but the throw back to bowler James Anderson caught Wagner in mid-pitch and he was run out. England made 232 and 213, and New Zealand 207 and 68.
In a match in which both sides' fortunes seemed to change in each session, it was defined in the hour before lunch. That was when New Zealand began its chase, and was suddenly in tatters at 29-6.
Stuart Broad led the carnage with 5-22 in 32 balls. He finished with a career-best 7-44 and was named man of the match. Anderson took 2-23 as England used only two bowlers in an innings for the first time since 1936 to dismiss the Kiwis.
"When (Broad) gets it totally right like he did today he's an absolute nightmare," skipper Alastair Cook said.
"He bowls in the mid to high 90s (kph) and swings it away—it's hard to face."
Cook said they were tested throughout by New Zealand, and could not rest on their laurels just because they won big.
"When we didn't do as well as we'd like, we had the character and skill to put it right the next day," he said.
New Zealand actually started the day on top, mopping up England's second innings for 213 as
Tim Southee
took 10 wickets in the match, the first 10-for of his first-class career, let alone in tests, and only the second by a Kiwi at the home of cricket.
But his milestone was overshadowed by the severe loss.
"Tim Southee deserved more than we gave him today," captain Brendon McCullum said.
"We came into today with high hopes of winning tomorrow but the way England bowled was outstanding and created an element of panic. I'm proud of the guys to get us into a position to chase 240, it shows how far we've come. But today was a step backwards."
Broad, who took 11 wickets at Lord's last year against West Indies, got Peter Fulton with an edge behind for 1 in the second over, knocked over fellow opener Hamish Rutherford's off stump for 9 in the sixth, and two balls later had
Ross Taylor
caught in the slips for a duck.
Kane Williamson
, who like Taylor scored a half century in the first innings, was next out in the 10th, chipping straight to Steven Finn in the covers for 6.
Dean Brownlie came out, made 5, poked at Anderson and gave Cook a second catch in the slips.
When McCullum caught a full-length ball on his front pad on 8, the review didn't save him and Broad had his fifth wicket.
The teams left for lunch, England a lot hungrier than New Zealand.
It took 11 more overs for England to put New Zealand out of its misery.
Southee threw away his wicket again, pulling to Joe Root on the boundary for 7.
BJ Watling, carrying a left knee injury from the day before, shipped a catch to the slips off Anderson for 13, then Bruce Martin hobbled out with a right-calf strain.
He and Watling didn't field in the morning, and they are a doubt for the second test at Headingley on Friday.
Martin was bowled by Broad for 1.
Wagner, feisty to the end, clobbered the first six of the match, to deep square leg off Broad, and made 17 before his comical run out ended the day.
A day that began with England under severe pressure, leading by 205 runs.
Southee bagged three straight wickets and caught the last for Williamson to bag his second wicket.
England, from 180-6, was out for 213, and Southee claimed 6-25 in 52 balls.
His 6-50 for the innings, along with 4-58 in the first innings, made him the second Kiwi to achieve a 10-for at Lord's after Dion Nash in 1994. His 10-for was also the first in tests by a New Zealander in seven years.
He helped New Zealand give itself nearly two days to beat England.
The Kiwis were gone in less than two hours.