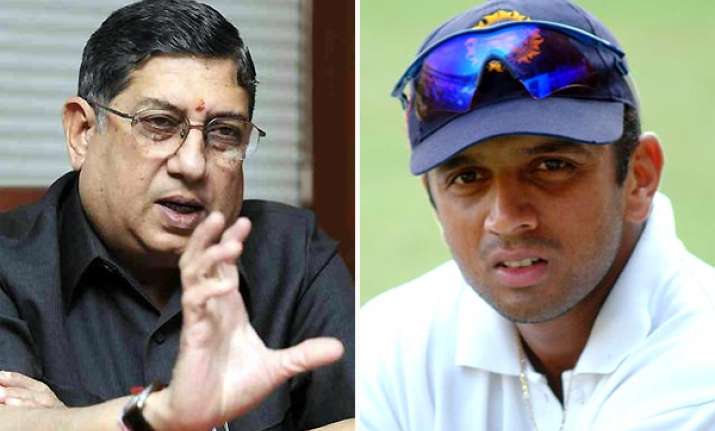 Bangalore, Mar 9: BCCI President N Srinivasan has described Rahul Dravid, who today announced retirement from all forms of cricket, as "irreplaceable" and a role model for the youngsters to emulate.

"I have mixed feelings. We have been privilege to see one of the finest cricketers India has produced ... not only has he been a great player, he has been a great role model ...  the kind of person who cannot be matched," said Srinivasan at the press conference where Dravid announced his retirement.

"He is actually irreplaceable ... none of us want to see such players go away, we like to think they are permanent ...  it is not easy to step away when you're still playing well. It is a sad day...for me personally. I have watched him grow from playing cricket in Chennai," he added.

The BCCI chief thanked Dravid for his contribution to Indian cricket.

"There is hardly anything for him to achieve...Thank you Rahul, thank you for what you have given to Indian cricket. We wish you very well. The BCCI is honoured that you have been part of the Indian team," he said.

Bidding adieu to Dravid, former Indian captain Anil Kumble said he was honoured to have played alongside him for Karnataka and India.

"Let me take this opportunity to congratulate Rahul. I am really fortunate to play along side you. I've enjoyed every moment I've played with you. It's been an honour," said Kumble.

"You've been a constant friend and colleague I depended on for advice. You are an inspiration and a role model. You are among Karnataka's finest cricketing sons," he added.

It is the first time in over eight years that L&T has bifurcated the roles of Chairman and MD.

Later in the day, Naik told reporters he will remain Executive Chairman till 2017 and had no intention to continue beyond that.

"Venkatramanan will look at parent and core businesses, where some restructuring is on and I will help him... I will be looking at other subsidiaries. That will take 70 per cent of my time," he noted.

Naik said that the entire succession plan took more than one year and he himself did not participate in the exercise.

He said that the group was now searching for global CEOs and it was looking at young-generation leaders, given the changing nature of businesses. "The new CEOs will come in 2015," Naik added.

"I am looking at the next team for a time span of 7-10 years," he said, and added that Venkataramanan was the most competent person to hold the position of CEO and MD.

L&T is one of the largest corporate groups in the country and its revenue grew by 19 per cent to over Rs 52,000 crore in last financial year, 2010-11. The post-tax profit of the group also grew by 12 per cent to over Rs 4,200 crore last fiscal.

L&T was founded in 1938 by two Danish engineers, Henning Holck-Larsen and Soren Kristian Toubro, here to provide engineering services to the Indian industry.

It became a public company in December 1950 and its total sales that year stood at about Rs 1.09 crore. The group currently has an employee strength of about 38,000 people.

Under Naik's leadership, the group has seen its revenue grow over seven-times from nearly Rs 7,400 crore in 1999, when he became CEO and MD of L&T. He later assumed the role of Chairman as well in 2003 -- a position held by co-founder Henning Holck-Larsen till that time.