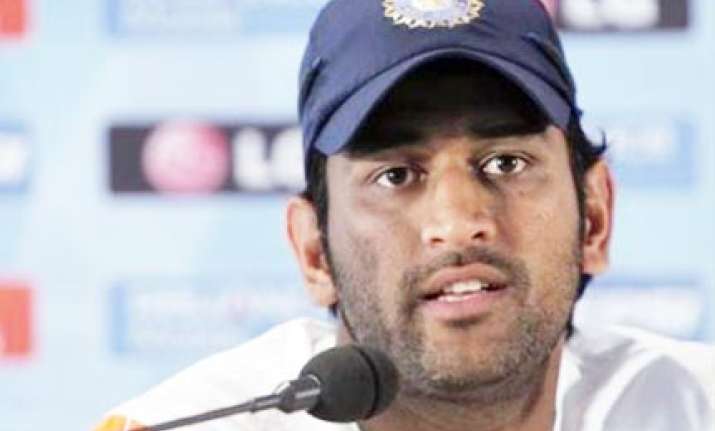 Smarting from the agonising four-run defeat in the series opener, India captain Mahendra Singh Dhoni in Vadodara on Sunday  blamed his bowlers for conceding 20-odd extra runs and said they have to bowl better at death.
In reply to Australia's mammoth 292 for eight, India reached 288 for eight, that too after Harbhajan Singh (49) and Praveen Kumar (40 not out) came up with a stunning 84-run stand for the eighth wicket off just 57 deliveries.
Dhoni said a target in the vicinity of 270 would have been achievable.
"I would have been happy with 270. That's more like the score often you would like to chase, specially on a track like this. It was not a track that remained the same. It got slower and slower as the match progressed," Dhoni said.
"We need to improve our death bowling to some extent and we need batsmen to contribute," added the India captain, making it clear that he was not happy with the bowlers' performance, especially towards the end.
"Thanks to Praveen and Bhajji that we came so close but that's definitely a learning experience and we have batsmen in the side to bounce back," added Dhoni.
Dwelling on India's chase, Dhoni reckoned losing four quick wickets in the middle did the team in.
"What we wanted is to take the game till the end. I think 120 required off 16 or 17 overs with seven wickets in hand and with five overs of batting powerplay left is something we should have achieved. But frankly speaking, we lost four wickets in the powerplay and after that we were not really in the game," Dhoni rued.
"Harbhajan Singh and Praveen Kumar made the game so interesting. It was an overall contribution that really put us here," he said.
His Australian counterpart Ricky Ponting said although the game went to the wire, he was happy to start the series on a winning note.
"Yes, it was a pretty good performance but for the last 6-7 overs. We did a good job batting first but 290 was chaseable in such conditions. The wicket really held up well.
"But we started well with the ball, had them under pressure and we were just good enough to cross the hurdle," Ponting said.
"The Indians are always known for their fighting spirit. The fought till the last ball and Harbhajan was terrific with the bat. Overall, it was a good game of cricket," he said.
The Aussie skipper also lauded his top-order batsmen for setting the platform for the victory.
"Initially, the ball swung a bit but it was a nice toss to win. The top order did a great job today even though they could not manage to score big runs," he said. PTI