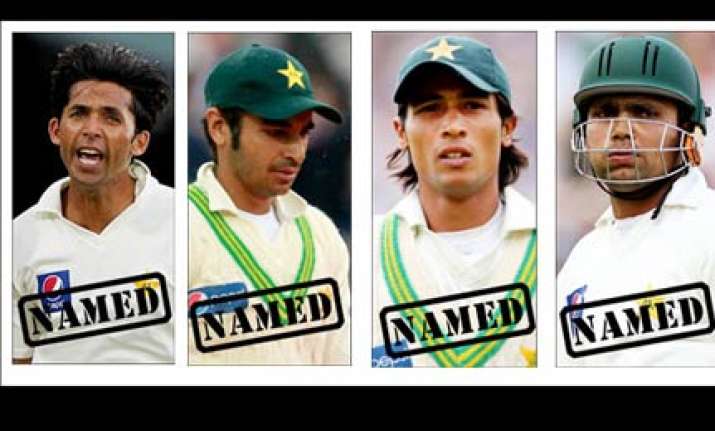 Following are the reactions of cricketers and others over the sordid matchfixing incident at Lord's:
Former ICC President, Ehsan Mani:
"It has come as an absolute shock to me. I don't know how this could happen. What was the team management doing? I also blame the ICC anti-corruption unit, when a newspaper could uncover all this what was the unit doing, it is a shame for cricket."
Pakistan senator, Haroon Akhtar:
"The (Pakistan cricket) board had promised us ... they they would not spare players suspected of shady dealings but the PCB Chairman went back on his word. This fresh controversy is a result of the board's failure to take action against corrupt players."
Former Pakistan Test batsman Basit Ali:
"Rashid Latif (former Pakistan captain) had in 2003 in a letter warned the ICC to beware of this new trend of spot fixing in international cricket. No one took it seriously and this is the result."
Former Pakistan Test captain, Aamir Sohail:
"It is a disgrace for Pakistan cricket. I don't think this board or management can do anything now when all this has happened under their nose. Now it is time for the President to act and show the world we are serious about tackling corruption in sports."
Former Australia captain, Richie Benaud:
"Sadly the people who now taint a great sport have become far more sophisticated in their ability to make dirty money out of the game. The ICC (International Cricket Council) and the administrators in various countries must act fast, otherwise cricket is at real peril."
Former England captain, Michael Vaughan:
"Anger is my thought at the moment. I don't see how they can get out of this one ... it's just a great shame why this has to happen. Very sad."
Former England captain, Nasser Hussain:
"If (the allegations) were to be proven, a part of me says 'good, about time' because there have been allegations out there for a long time. Maybe it's about time something was done, if there were substantial proof then maybe it's about time, let's get on with cleaning the game up."
Former Pakistan spinner, Iqbal Qasim:
"Pakistan cricket has seen every possible mishap, but allegations of spot-fixing is one of the greatest mishaps and it remains to be seen how our cricket comes out of it."
Pakistan sports minister of Sindh province, Mohammad Ali Shah:
"It was because of the players' power that exists in Pakistan cricket that the PCB did not take action against the alleged players and the situation has come to a head in England. We need to educate our players, the management should be strong. It is time we take serious actions, including the sacking of current management, to save our cricket."
Former Pakistan fast bowler, Sarfraz Nawaz:
"I have been vocal about Pakistan players' involvement in match fixing. I have said this before and now I reiterate that all the players involved must be banned for life because they have let the whole nation and the fans down. How often they have done that and we have let them off."
Pakistan fan, Mohammad Shariq:
"It is disgusting. We must get rid of the players who are involved in this malpractice and make a clean team."
Pakistan fast bowler, Mohammad Asif:
"I have spoken to the management and they have told us something happened, but not what. The management will tell us more later. We are 100 per cent focused on the match."
Retired Lahore High Court judge, Malik Mohammad Qayyum:
"The latest shame fell on Pakistan only because my recommendations were not fully implemented. Had my report on match-fixing been fully implemented, this latest episode would not have happened."