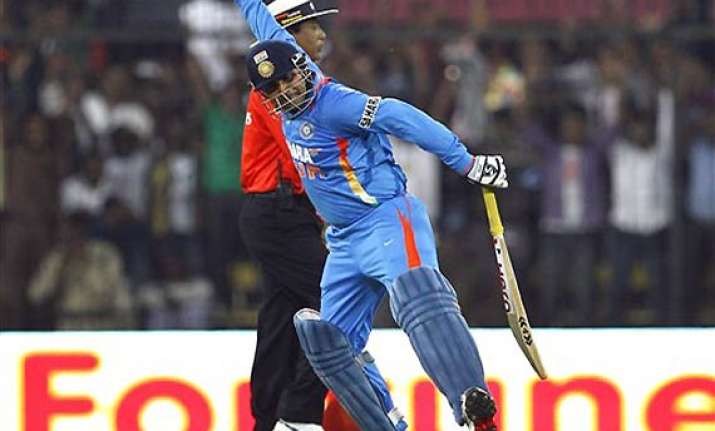 New Delhi, Dec 8: The cricket fraternity today hailed Virender Sehwag for becoming the highest scorer in the history of one-day cricket with a phenomenal 219, describing the feat as an "incredible" achievement and good omen ahead of the Australian tour later this month.

The big-hitting Indian opener in the process surpassed team-mate Sachin Tendulkar's 147-ball 200 not out he had scored against South Africa on February 24 last year in Gwalior.

Sehwag, who achieved the feat in the fourth ODI against the West Indies at Indore today, was eventually out after facing 140 balls and hitting 25 fours and seven sixes at the packed Holkar Stadium.

Former India captain Sourav Ganguly led the tributes, saying the feat was expected given his positive attitude.

"The double hundred will be a big morale booster for him with the tough Australian tour lined up. You will find the bowling attack, conditions different Down Under. This double ton will give him a big confidence for sure ahead of the Australia tour.

"This is a great achievement and I congratulate Sehwag for the amazing feat. He has captained the Indian side on and off for a short while and I believe he could make up as a good captain. He is a gambler, a player who loves to take risks. If he keeps getting opportunity as a captain, he will come up with many such milestones," said Ganguly.

Chairman of selectors Kris Srikkanth described Sehwag as one of the greatest players he has ever seen and termed the feat as 'incredible'.

"I am very happy for Sehwag. He is one of the greatest players I have ever seen. He missed his double century (175) during the World Cup game against Bangladesh at Mirpur. But today he has achieved the feat which I would like to describe as incredible," said Srikkanth.

Srikkanth felt it was important for Sehwag to hit peak form before the Australia series.

"He is an amazing player and it's very important that Sehwag touches the peak form by the time India leave for Australia.

"The greatest thing about Sehwag is that he is an honest person. He was blaming the openers for not getting enough runs on the board during this ongoing series. The top-order included himself also and he did not mince word before criticising himself. So he is a very straight-forward kind of a person," added the chief selector.

Asked who he thought would have crossed the 200-mark barrier in ODIs, Srikkanth promptly replied, "West Indian great Vivian Richards, Sachin Tendulkar and Sehwag. These are the guys capable of reaching the milestone."

Srikkanth said that Sehwag has matured as a player and his coming back to form is a good sign for Indian cricket.

Former Pakistan leg-spinner Abdul Qadir said he always believed in Sehwag's attacking mindset.

"I have always remained a great fan of Sachin Tendulkar and when he scored the double hundred against South Africa, one name that crossed my mind was Sehwag. In my view, other player who could have scored double ton was Sri Lankan opener Sanath Jayasuriya because he also plays an attacking brand of cricket.

"Both Sehwag and Jayasuriya have the talent and ability to score a double hundred and can only touch the mark. I would like to extend my congratulations to all Indians for Sehwag scoring a double hundred," said Qadir.