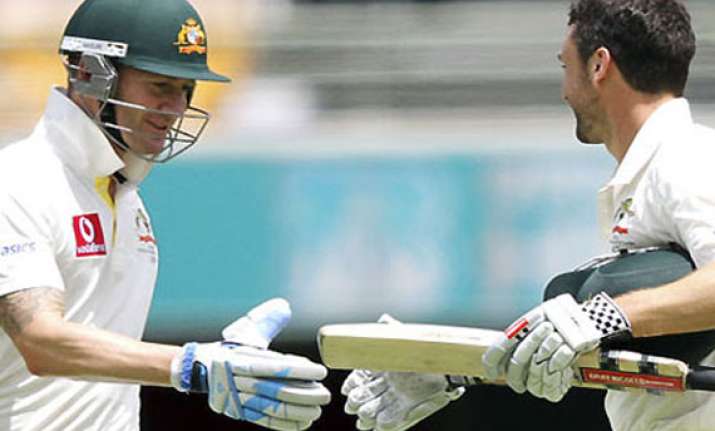 Adelaide, Nov 22 : Michael Clarke continued his Bradman-like year, producing his fourth 200-plus innings of 2012 to guide Australia to 482-5 at stumps in a remarkable opening day against a depleted South Africa attack in the second test.
The Australia captain became the first batsman to score four double centuries in a calendar year when he took a single off
Imran Tahir
late in the third session Thursday at the Adelaide Oval. His 200 came off 226 balls and featured 35 boundaries and a six.
He was unbeaten on 224 when Mike Hussey (103) chopped a
Dale Steyn
delivery onto his stumps to end their 272-run fifth-wicket stand on the last ball of the day.
It was Australia's highest first-day total in a test match since the 494-6 scored against South Africa in 1910.
David Warner belted 119 from 112 balls on a day dominated by the batsmen, apart from a stumble in the first session when the Australians lost three wickets for 12 runs and slipped to 55-3 against the top-ranked South Africans.
It was the second time in as many innings that Clarke had gone to the crease with Australia in trouble—and he has responded with double hundreds each time.
"There's certainly no secret, a lot of luck goes a long way, that's for sure," Clarke said of the make-or-break batting style he and Warner deployed. "I think the one thing that Dave and I spoke about during the week was our intent. We wanted to be positive.
"Again I use the words of (Shane Warne) that he told me a long time ago, that the better the bowling the more positive you've got to be. I think we probably both took that approach today and not worry too much about the result."
Clarke, who finished unbeaten on 259 and got Australia into a position to push for a win late in the drawn first test in Brisbane last week, said he was more concerned about formulating a plan to win the second test than reflect on his latest big knock.
"We just made 480 in a day. Now I'm trying to work out what we've got to do tomorrow to set up this game to have a crack at winning," he said.
"Look, it's really nice to be making runs. I want to make the most of the good days ... I feel like when I'm getting in, I'm trying to cash in because I know there will be some tough days around the corner again."
The momentum swung wildly back to Australia after 37-year-old allrounder Jacques Kallis limped off the field in the 17th with an injured right hamstring after dismissing Ed Cowan (10) and Ricky Ponting (4) in his opening 3.3-over spell.
He went for MRI scans and didn't return to the field, compounding the pressure on the South African attack after Vernon Philander was ruled out just hours before the match started with a bad back.
The South Africans were still awaiting results of the scans to determine if Kallis can field again or bat in Adelaide.
Kallis had 2-19 and Morne Morkel's figures blew out to 2-128 after he was forced to shoulder a heavier workload with Kallis out and Steyn hampered by a tight left hamstring in the evening session.
Tahir, who was overlooked for the first test, conceded 159 runs in 21 overs as his leg breaks were hit to all parts of the ground.
Warner plundered South Africa's depleted bowling from the start, clobbering four sixes and 16 boundaries in his third test century, which included a 155-run stand with Clarke after Kallis had dismissed Cowan in his first over and added the wicket of Ponting after Morkel removed Rob Quiney (0) in South Africa's best period of the day.
Warner smashed
Faf du Plessis
' first ball in test cricket, a high full toss, over the square leg boundary and lost it in the construction zone to move to 83.
He then hit a six and a four on consecutive balls from Tahir to reach his 100 from 93 balls, lacing his third test century with 13 boundaries and four sixes before he fended a good-length ball from Morkel to Graeme Smith at slip.
It was the only wicket to fall between the lunch and tea intervals, when Australia added 178 runs.
Hussey joined Clarke and kept up the momentum, smashing a six against Tahir to bring up his century just one ball after Clarke had reached his 200.
The Australians scored at 5.55 an over. South Africa captain Graeme Smith seemed bereft of ideas about how to handle the Australian counter-attack, lacking two of his go-to options for most of the day.
South Africa coach Garry Kirsten ranked it among his toughest days in test cricket.
"Absolutely, it was tough," he said.
"We got something going at 3-55 and had a chance to do something. We went through periods where we bowled quite nicely, but the periods where we didn't bowl nicely we got a beating.
"The Australian batsmen put us under pressure on a good wicket and created some momentum—some very fast momentum. Sometimes in that situation it's very difficult to pull it back."
Kirsten railed at the suggestion that South Africa's had virtually already lost the game, saying "we're certainly not going to come here tomorrow thinking we're losing, that's for sure."
And he defended the body language of his players after another long day in the field.
"I don't think I could ever fault the attitude of my players, the Proteas," Kirsten said, "I would never fault the intensity that they do things. I know they're giving everything they've got. Maybe where we're at fault is our thinking. We try and deal with that as much as we can."