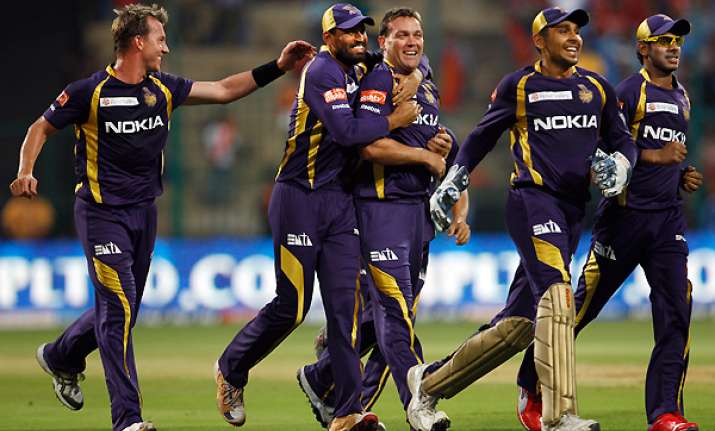 Kolkata, Apr 12: Having found the winning touch in their last match, Kolkata Knight Riders would be hoping to maintain the momentum when they host Rajasthan Royals in an Indian Premier League return match here tomorrow.
The timing could not have been better for the Knights to capitalise as the Royals are coming after a battering at the hands of Mumbai Indians in their last match yesterday.
With the Knight Riders' next match (vs Kings XI Punjab on Sunday) also scheduled at home, maintaining the winning momentum will top their agenda.
Whereas Rahul Dravid's men appear a bit tired with the hectic scheduling, the Knights are fortunate to get a day's extra break after their win against the Royal Challengers Bangalore on Tuesday.
It took the think-tank a bit of chopping and changing to get to the winning mode after the back-to-back losses against Delhi Daredevils and Rajasthan Royals in season five.
The four changes in the line-up meant that skipper Gautam Gambhir elevated himself to his usual slot, dropping out of form Kiwi opener Brendon McCullum, a move that set the tone in their much-needed maiden victory this season.
Gambhir led the way with a brisk 39-ball 64 to set up a total of 166, which eventually turned out to be a winning one.
But their biggest plus point was the inclusion of veteran seamer Laxmipathy Balaji whose fired-up spell of 4-1-18-4, after Kallis took the prized-scalp of Chris Gayle, set the victory.
"Balaji is a quality bowler and has the capability to take wickets on any pitch. Hats off to him for the way he bowled. This was the best spell that I have ever seen in a Twenty20 competition," Gambhir said.
"It feels nice to finally get a win under our belt. To be honest, it was a team effort. I am pretty happy by the performance of the boys."
KKR would hope that sports psychologist Dr Rudi Webster give some mantra to the explosive Yusuf Pathan.