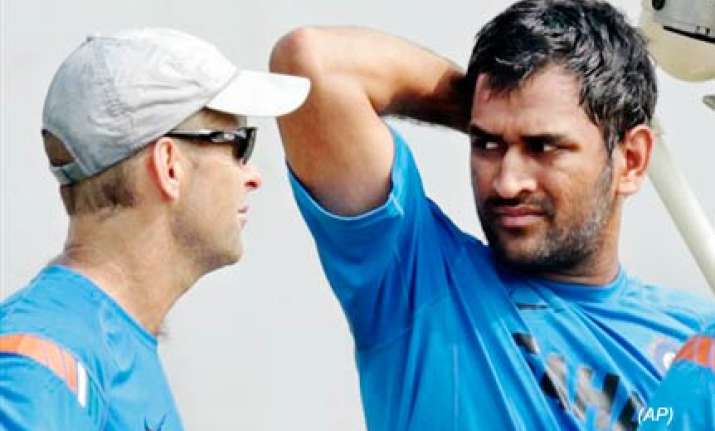 India captain Mahendra Singh Dhoni has a chance to regain the top slot in the batting list while his team can climb up to the second place in the ICC's ODI championship table if they do well in the Asia Cup starting June 15 in Sri Lanka.
Dhoni slipped to third behind Australia's Michael Hussey and South Africa's AB de Villiers in the rankings for batsmen after deciding to skip the tour to Zimbabwe where Sri Lanka won the triangular series after defeating Zimbabwe by nine wickets in the final.
As a player loses half a per cent of his ratings points for every ODI he misses, Dhoni conceded 16 ratings points and slipped to third position, the ICC said in a statement.
However, he still has the number-one ranked Hussey and second-placed de Villiers firmly within his sights as he trails the Australian by eight ratings points and the South African by just two ratings points.
With India scheduled to play a minimum of three ODIs in Sri Lanka, a couple of good performances with the bat will help Dhoni regain his number-one position.
Also aiming to maintain his upward movement will be Virat Kohli who achieved career-best ranking to date after good performances in Zimbabwe last week.
Kohli scored 168 runs to jump to 13th position after a leap of seven places.
Also moving up the order after the Zimbabwe series was Rohit Sharma. Sharma's series aggregate of 260 runs has given him a lift of 44 places and puts him in 47th position which he shares with Pakistan's Kamran Akmal.
However, Suresh Raina, who captained India in Zimbabwe, had a disappointing series and he slipped to 20th after scoring 83 runs in four matches.
In the rankings for ODI bowlers, Sri Lanka boasts two bowlers inside the top 20 while Pakistan has two and Bangladesh and India have one each.
Harbhajan Singh represents India in the top 20 in 11th spot whereas Pakistan's captain Shahid Afridi is seventh and his countryman Saeed Ajmal is in 18th spot.
In the ODI Championship table, India will start in third place after dropping behind South Africa following their three losses in Zimbabwe.
However, it can regain the number-two spot if they win both their matches against Bangladesh and Pakistan.
If they manage to achieve this, they will join South Africa on 119 ratings points but will be placed higher after the ratings are calculated beyond the decimal point. PTI