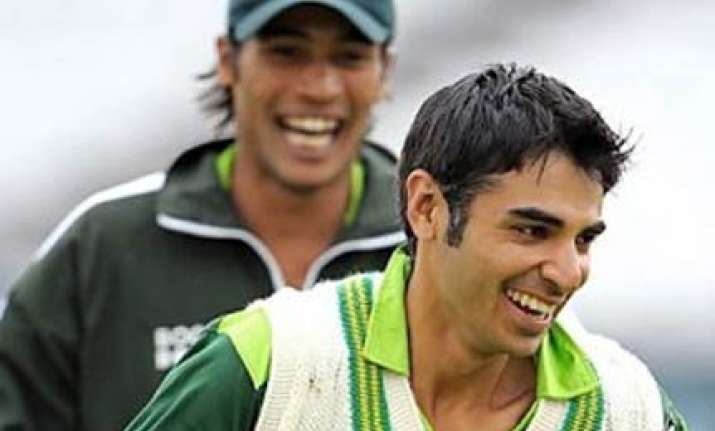 Karachi , Nov 1: Pakistan 's suspended duo of Salman Butt and Mohammad Aamer today launched a scathing attack on the ICC, after it had rejected their appeals against suspension for alleged involvement in spot fixing, in a tribunal hearing in Dubai.
The two players claimed the ICC had shown no evidence, apart from what the 'News of the World' tabloid had published against them, and reiterated that the suspensions and allegations of spot-fixing against them was a conspiracy to defame Pakistan cricket.
Surrounded by the media on their arrival from Dubai , both made it clear that they were not happy with the outcome of the hearing held at the ICC headquarters yesterday.
Michael Beloff, who heads the ICC code of conduct commission, said that the suspensions would stay until a full hearing, as the charges against the players were of serious nature.
But Butt disagreed.
"They have no evidence and it appears they are just trying to corner Pakistan ," an angry Butt said at the airport here.
"They have no evidence except for what has appeared in the 'News of the World' and I am gutted. I will wait for a few days for them to send us a date for the full hearing after which I will decide my future line of action," he said.
Butt said the legal team of the players had presented strong arguments in Dubai but were not given a fair hearing.
"We are totally disappointed," Butt said.
Butt, Aamer and Mohammad Asif were suspended by the ICC on September 2, after the 'News of the World' reported that they had taken bribes from bookmaker Mazhar Majeed to deliberately bowl no balls in the fourth Test against England at Lords in late August.
Pakistan lost the Test and the series.
Aamer said he was hurt and sad but denied breaking down at the hearing. "No I didn't cry, it is not true. Why should I cry when I have done nothing wrong. To me it appeared as if this is a conspiracy to defame Pakistan cricket. We want the truth to come out," Aamer said.
"I am upset because, on the first day of the hearing, it appeared as if we would get a fair chance but, on second day, they didn't listen to us at all and didn't even give us a reason for not removing the suspensions.
"It appeared to be as if the decision of the hearing had been made beforehand," Aamer added.
Aamir, all of 18, claimed the ICC was doing what it wanted to do.
"I would appeal to the cricket board to consult and take the government into confidence on this matter now," he stated. PTI