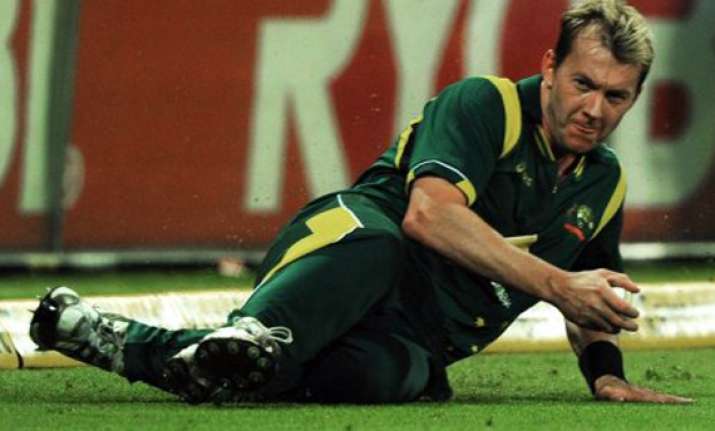 Sydney, Feb 20: Pacer Brett Lee said on Monday he intends to play through the pain barrier as he approaches Glenn McGrath's record as Australia's top one-day wicket-taker.

Lee's season was written off a fortnight ago when he was ruled out for almost two months with a broken toe.

But the 35-year-old express bowler does not want to ease up after ignoring foot pain as he combined with Ben Hilfenhaus to rip through India's top order in Sunday's big tri-series 110-run win at Brisbane's Gabba ground.

Lee reached speeds approaching 150kph (93 mph) and gained good swing and bounce to finish with three for 49 from 10 overs as he took his career ODI tally to 361 wickets.

That places him just 20 wickets behind his former new-ball partner McGrath.

Stand-in skipper Ricky Ponting described Australia's bowling effort as among the best he has seen since McGrath retired after the 2007 World Cup.

Although Clint McKay (ill) and Ryan Harris (rested) are due to return the Australian pace attack, Lee insisted he was not interested in a tri-series break to nurse his snapped little toe.

"I'm not keen to rest, period," Lee told Australian Associated Press on Monday.

"I've had enough rest in my life (due to injuries) and I'll rest when I finally hang the boots up.

"I think that with my toe, it's very painful but you find a way to play through it and I think I'm past the worst of it. It's going to get better as each game goes on."

Despite an initial six-eight week prognosis after being struck on the right foot from a full-blooded straight drive in the Twenty20 international in Perth, Lee pushed for an immediate playing return.

"It's amazing what you can do when you have a chance to play for your country," he said.

"As long as I can't do any further damage, it's a matter of playing through that pain barrier."

With three more matches before the tri-series finals, McGrath's record is unlikely to fall this season at home but Lee could eclipse the mark on the tour of the West Indies in March-April.

Lee's one-day stats lose nothing in comparison to McGrath, who took his 381 wickets in 250 matches at 22.02.

Lee's 361 scalps in 207 matches have come at 22.89 at a superior strike-rate of a wicket every 29 balls.