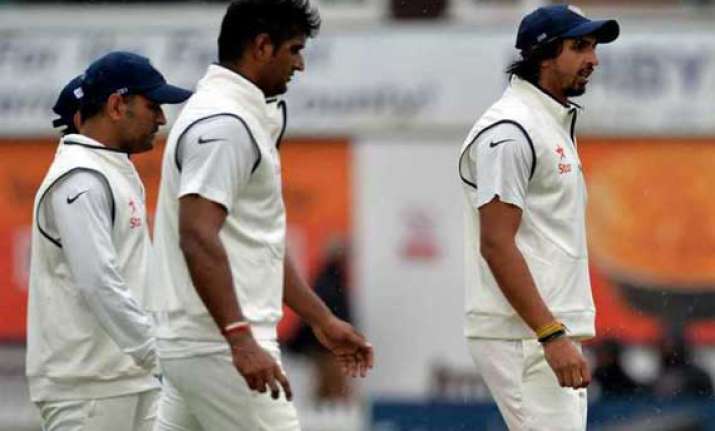 Derbyshire: India captain Mahendra Singh Dhoni will have to put in some serious thinking in the next four days as to what exactly will be his team's bowling combination in the first Test against England at Trent Bridge, starting July 9.
The Indian attack led by the erratic Ishant Sharma gave away 831 runs in 197 overs with only 11 wickets to show for their efforts in the two tour games against the lowly-placed Leicestershire and Derbyshire.
Ishant himself had bowled as many as 18 no-balls in the three innings that he got to bowl.
Not a great fan of statistics, the figures however won't amuse Dhoni, who has had to fret a lot in order to get his bowling combination right in Test matches as Indian team has traditionally played with four specialist bowlers.
While little known Leicestershire batsmen Angus Robson (younger brother of Test opener Sam) and Greg Smith helped themselves to stroke-filled centuries, Indians were able to register a five-wicket win against Derbyshire.
But one can't take it seriously since the visitors were playing all 18 members of their squad and the action in the middle was rarely intense.
For the Indian team, the two warm-up games were a mixed bag. Their main focus was to give a run-in to all players in the touring party since the five-Test series is a back-to-back affair.
In that endeavour they were successful, even in some players got a little more playing time than others. It was perhaps a pointer to the team selection for the first Test, if not more.
The batsmen gave a good account of themselves, fighting hard under cloudy skies at Leicester and then settling in at the placid square in Derby. The No.7 spot holds the key to the XI for the Nottingham Test and much will depend on the conditions once the team management gets there and assesses the pitch.