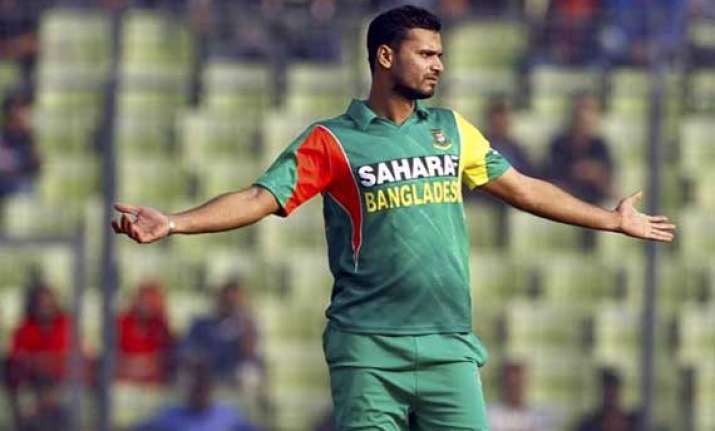 Mirpur (Bangladesh): Bangladesh's premier pacer Mashrafe Mortaza today said that beating a heavyweight Indian cricket team is no longer considered as an "upset" as the hosts have defeated them on a few occasions in the near past including the last edition of Asia Cup.
"I don't count a win against India as an upset. We have done it before. They are a good team in sub-continent. We have that in our mind," the 30-year-old said ahead of their Asia Cup opener against India tomorrow.     
Mortaza feels that playing in front of home crowd would be a boost and the Indian team will also have to make some adjustment having played their last couple of series in South
Africa.     
"They have been playing on different wickets in SA and NZ. We are playing in front of a home support. If we can come up with our best cricket I think we can fight it out. God
willing, we will."     
But Mortaza was quick to add that they would have to be in the top of their game to beat a world class side like India.     
"They have a world-class batting line-up, they are never weak. Their recent performance in the sub-continent has been great. It won't be an easy task, and we have to play our best
cricket. We beat them two years ago, the most important thing is what happens tomorrow."     
On Dhoni's absence, he said:"They are without key player Dhoni but their batting line-up is still world-class. They can beat anybody. They can beat anybody in the world."
It's not only India's batting mainstay
Virat Kohli
but Bangladesh are also keeping in mind the opening duo of
Shikhar Dhawan
and
Rohit Sharma
who could be threatening on sub-continent wickets.     
"He (Kohli) has won many matches for India and has proved his capability many times. But our focus will be on everyone. Although they have other good players too, like the two openers who are also world class."