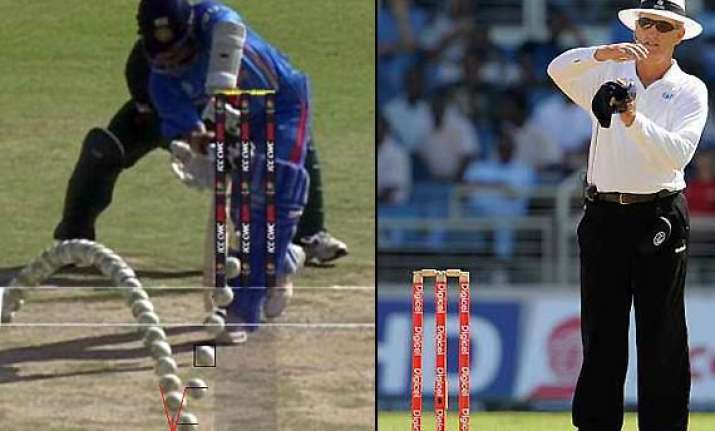 New Delhi, August 20: The Indian cricket board, which has had a reputation of opposing on-field technologies, may be turning a new leaf.

BCCI has volunteered to use the Decision Review System, including Hawk-Eye, ultra-motion as well as Hot Spot and snickometer (both to be used for the first time in India for a bilateral series), in the upcoming home series against England and the West Indies.

Sources told TOI that the board has already ordered Hot Spot cameras. However, they said, Hawk-Eye will not be used for decision-making, a stand the board had stuck to during the ongoing tour of England.

While DRS is being used in the India-England series, it's not in use in the current Australia-Sri Lanka and Zimbabwe-Bangladesh series. That's because there are only four-six Hot Spot cameras in the world and ICC has made its use mandatory for DRS.

For DRS, official broadcaster NEO sports will have to use 42 cameras instead of 38. "Six more cameras will be used for Hot Spot, which means extra cost," a source said.

BCCI, which also pays Neo sports for producing international cricket matches at home, will have to shell at least $15,000 extra on daily basis. "Even though, there is no compulsion, the board is showing positive signs of development," another source added.

No top BCCI official was willing to come on record confirming the development. But they did confirm that the board was in the process of changing its stand and embracing technology more fully.

Earlier, the board had objected to DRS on the grounds that it lacked ball-tracking technology. BCCI even objected to the technology in ICC meetings. But the moment the other cricket boards decided to bat for DRS without ball tracking technology (Hawk-Eye), BCCI had little option but to agree to its use, a source said.

Thereafter, ICC made it mandatory for all Test-playing nations using DRS to employ stump mikes and ultra-slow motion cameras.

"Now the board has agreed to use Hotspot. It is a big step forward. In the World Cup, however, DRS was used along with Hawk-Eye and sniko," the source said.

Senior players in the Indian team, including Sachin Tendulkar and captain Mahendra Singh Dhoni, have in the past expressed apprehensions about the accuracy of the technology.

Previously "clear stump mikes", a Super Slow-Mo camera and ball-tracking technology were used in the DRS but under the new regulations, infra-red cameras will replace the ball-tracker system.

A mandatory use of DRS also means that the teams can afford two ineffective appeals against an umpire's decision per innings.