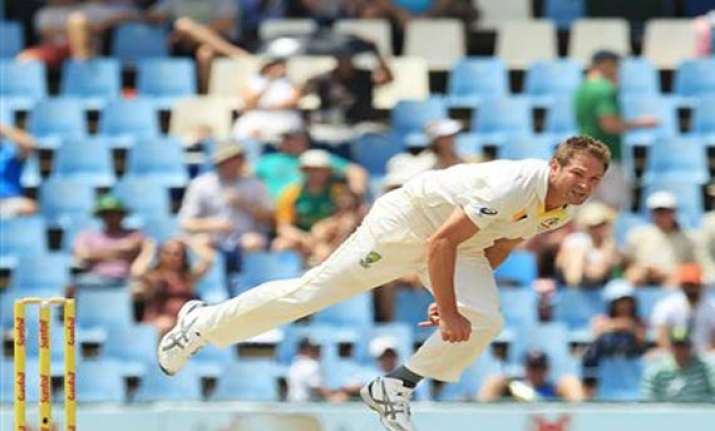 Cape Town: Stung by a heavy defeat in the second Test, Australia are now practising ball tampering to improve the art of reverse-swing in the third Test against South Africa starting Saturday here at the Newlands.
During a training session here on the eve of the decider of the three-Test series, the Australian pacers worked a lot with old balls that had been scratched to promote reverse swing.
"We were cheating today, scraping it on the concrete. It's good practice for the batters because it actually goes a lot more than what it does in a game," fast bowler Ryan Harris was quoted as saying in the Australian media.
"So if they can hit those, they're obviously going to hit the ones in the game. It's great practice for us (bowlers) as well ... and hiding the ball when you're running in to bowl takes a lot of practice as well," he said.
The Australian pacers want to copy South Africa pacer
Dale Steyn
's approach to the bowling crease.
Australia's chief coach Darren Lehmann and batting coach Michael Di Venuto tested the batsmen with the bowling machines to deliver extreme inswingers like those of Steyn in Port Elizabeth.
"The guys were getting used to facing those balls coming back in late and finding a way to combat it. The bowlers had it swinging both ways," Di Venuto said.
Di Venuto admitted that Steyn's reverse swing was exceptional in the second Test.
"The guys always practise reverse swing. But obviously the quality of that spell in the second innings, it would have opened a few of the guys' eyes up a little bit. Like anything, the longer you spend out there the easier it does get. Early in your innings you want to shorten your bat lift, get your pads out of the way and protect the stumps," he said.