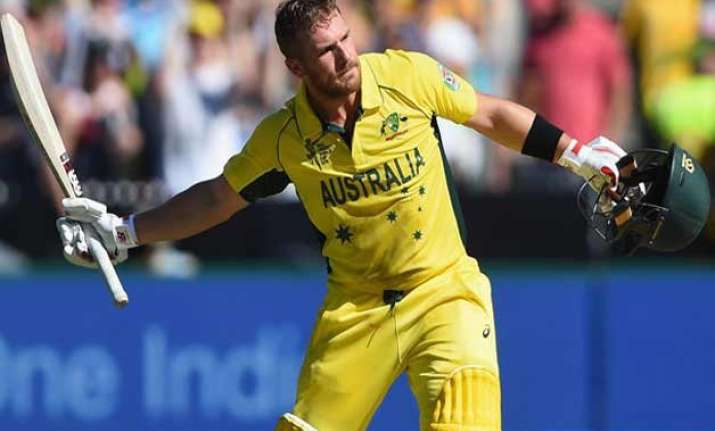 Sydney: Australian opener Aaron Finch could hardly have picked a tougher situation, targeting the Cricket World Cup semifinal against defending champion India to turn around his recent barren stretch with the bat.
Finch opened the tournament with a commanding 135 against England at the Melbourne Cricket Ground, helping the co-hosts to an 111-run win, but has added only 64 runs in five innings since and faces the form bowling attack of the competition.
India, which hadn't won a competitive match on Australian soil in the two months leading up to the World Cup, is peaking at the tournament with seven consecutive wins. A pace trio of led by Mohammad Shami has combined for 42 wickets and, with spinner Ravi Ashwin chiming in with 12, India has been the only team to bowl out the opposition in each match it has played.
"When you look down our batting list, everyone has been playing beautifully — I'm probably the only one who has missed out in the last couple of games," Finch said. "But I'm confident going into this game. I've got no reason not to be. I'm looking for some big runs."
Shami has 17 wickets, while Umesh Yadav has 14 and Mohit Sharma has 11 for India, which has relied on the same bowling attack for much of the tournament.
"They've been bowling well as a group," Finch said. "We're confident we can negate that.
"It's about being aggressive without being over the top, and just playing within yourself until you're comfortable."
While the India bowling attack has been very settled, the batting has also been consistent and rarely been fully stretched. The Indians haven't been bowled out in the tournament, and have twice posted totals of 300 or above. Shikhar Dhawan has 367 runs and Virat Kohli's 304 runs have come at an average of 60.8.
"They've gone with a pretty similar strategy, a game plan that seems to be clicking for them now," Finch said. "They've spent a lot more time in the country ... they've played a lot more cricket here and they're used to the conditions. When you're looking to be aggressive with the new ball, being here for four and a half months has probably adapted their lengths a little bit. They've got skillful bowlers — it's a huge factor for them."
The Australian batsmen have all contributed at some stage, with Glenn Maxwell leading the scorers with 301 runs and David Warner tallying 288. The only real failure was the one-wicket loss to New Zealand in Auckland, when the Australians were skittled for 151 in 32 overs before Mitchell Starc returned 6-28 to keep the four-time champions right in the game.
Apart from that, the runs have flowed, with Australia posting a World Cup-record 417-6 against Afghanistan and pouring on 342-9 against England and 376-9 against 1996 champion Sri Lanka, in their only previous match at the Sydney Cricket Ground.
Starc has 18 wickets and has been among the best bowlers of the World Cup, fully utilizing his swing.
But Australia has chopped and changed its bowling attack, and the biggest question over the composition of the starting 11 for Thursday's semifinal is whether to recall left-arm spinner Xavier Doherty for just his second match of the tournament at the SCG, which traditionally favors spin. Josh Hazlewood, who took 4-35 in the quarterfinal win over Pakistan, may have to go to make room.
Or, the Australians could risk going in without a specialist slow bowler, and relying on part-timers Glenn Maxwell and skipper Michael Clarke.
"Last time we played here it looked like the wicket would spin quite a bit but it didn't," Finch said. "Still two days out from the game, it's hard to tell. The wicket can change quite a bit over here, in Sydney especially, over a couple of days."
"In saying that, we're not going to be holding back. We're an aggressive team," Finch added. "We've played some great cricket over the last two years. There's no reason why we're not going to go into this game confident. I think we've got every right to be."