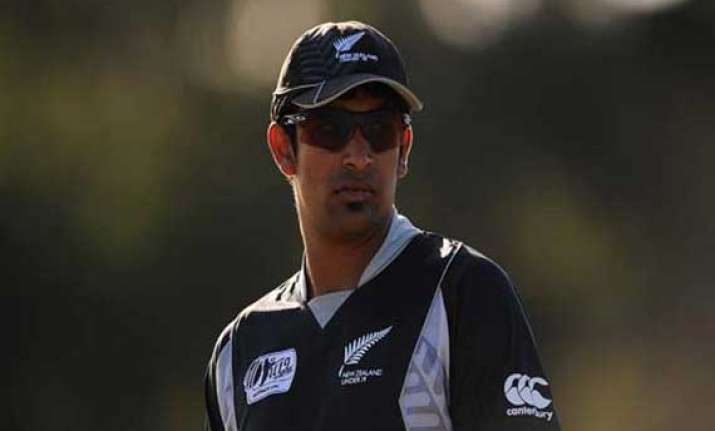 Whangarei (New Zealand):  After an embarrassing 0-4 defeat in the five-match ODIs series in New Zealand, Team India led by Dhoni will be facing the Test matchs against an India-born spinner  from Punjab.
In Auckland, 21-year-old  Inderbir Singh Sodhi  has been named in the Kiwis Test squad. He is  sure to divide loyalties among his Indian fans as the Ludhiana-born  will try to  impress against the Indians in the first Test beginning February 6.
Sodhi will be replacing  Daniel Vettori. He will be the sole spinner in the squad who is just five Tests and 11 wickets old in international cricket
Inderbir Singh Sodhi is the first India-born to play a Test for the Black Caps and only the second to play for the Kiwis.
When he was four years old, his father, a doctor, migrated to New Zealand.
That was until former Kiwi spinner Dipak Patel, who famously opened the bowling in the 1992 World Cup, encouraged him to bowl spin after the 12-year-old landed in his academy.
Although Dipak was quickly convinced of Sodhi's skill, he warned against the hype.
Says Dipak Patel: "We don't get a lot of young spinners. The media and the public are getting overexcited. Let him develop.
"My personal view is he should not be playing against India now, they have batsmen who handle spin very well. But it is just my opinion."
Sodhi, who idolises Anil Kumble, will be overwhelmed by the attention.
Says Dipak Patel:  "Of course, we are all very conscious he is playing against India. His immediate family I'm sure will support New Zealand, but his close family and friends will be supporting India."