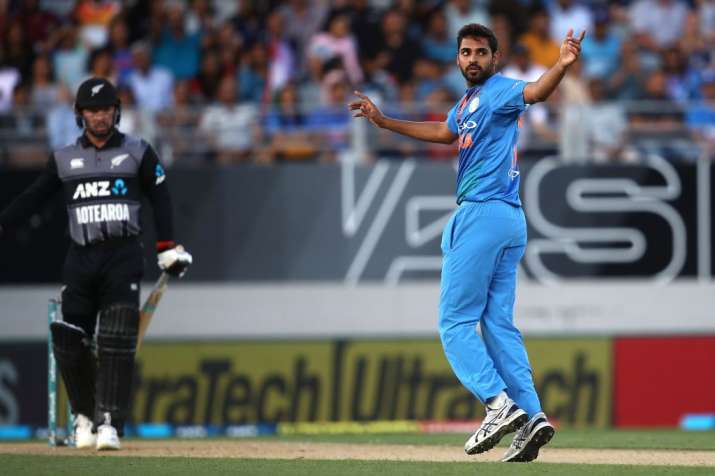 Bhuvneshwar Kumar may have faced some struggles in the Indian Premier League (IPL) this year, but the Indian pacer continues to be a lethal option for India as the team prepares for the World Cup.
His ability to swing the ball will be potent in English conditions, and the pacer is upbeat about India's chances with the ball in the tournament.
Talking to Times of India, Kumar said that the bowling attack has grown versatile over the years and is capable of inflicting damage at any point in the innings.
"I agree that pitches in England in the last few years have been flat, but teams will be wary of India's bowling unit since we can be potent both at the start and at the death," he said.
"It will all boil down to how we execute the plans on the given day."
Jasprit Bumrah is currently the top-ranked bowler in the limited-overs format, while Mohammad Shami made a strong comeback to the one-day side last year.
Kumar insists that India's bowling unit has stepped up time and again over the last few years and will aim to continue the good run in the World Cup.
"I don't want to comment on whether we are the best or not because our performance in the field is what will define our attack
"Our performances over the last few years speak for us. The Indian bowling attack has grown from strength to strength.
"Today we can say that our pace attack can make an impact on any surface."
Talking about his own improvements, the Meerut-born pacer stated that he has improved his fitness, in addition to introducing variations to his bowling style.
"There has definitely been an improvement in my bowling in terms of pace and variations like the slower ball and knuckle-ball.
"To add to that, I have improved fitness-wise."
India will kick-start its World Cup campaign on June 5 when the side takes on South Africa at Rose Bowl cricket stadium.