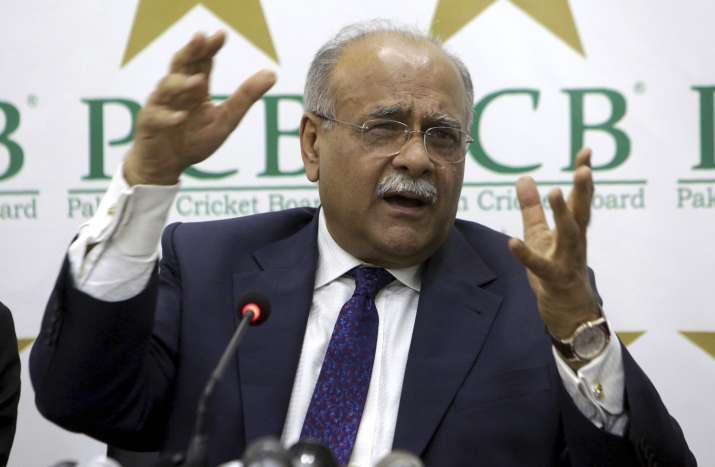 Pakistan Cricket Board (PCB) chairman Najam Sethi on Monday questioned BCCI's decision of not incorporating the "permission from central government" clause in the alleged contract to play bilateral series that was inked between the two neighbours.
While BCCI brass has always termed the one-page letter signed by both boards as merely an 'Expression of Interest' (EOI) to play five series in eight years between 2015 to 2023, Pakistan refers to it as a Memorandum of Understanding (MoU).
The PCB has sought USD 70 million in compensation claim against India for refusing to play a bilateral series, violating a 2014 memorandum of understanding under which the two were to play six bilateral series between 2015 and 2023. A three-member ICC panel will hear the claim in October.
Right now, the two countries only play in multi-team events like 50-over World Cup, Champions Trophy, World T20 or Asia Cup.
"If India comes to Pakistan, they want security and vice-versa because of the political situation. But there is no security issue if we play in a third country, which is what we have been saying. We play our home games in the UAE," Sethi said during an interaction.
"But apparently the BCCI is having difficulty in ensuring that they can do that. They say they don't have government permission. Our position is that why should you require government permission? We don't take government permission. The ICC does not want interference from the government in affairs of cricket boards," Sethi tried to drive home his point.
"In any case, when you were signing the contract, if government permission was such a major issue, you should have put it in the contract, you did not. So what is the problem," he further questioned.
"Firstly, the two sides need to play each other for the sake of the people of the sub-continent. Secondly, the ball is in the BCCI's court. That's it. We hope sooner than later better sense will prevail and the two sides can get back to playing good cricket again," 
"So the two issues before the tribunal are whether there is a contract that India has to honour and if there is one, then what is the claim for damages. So those two questions are going to be discussed.
"Currently the situation is, we have submitted our preliminary position in writing. The Indians have not yet submitted their position in writing, they are still looking at our position and asking various questions," Sethi explained the current position.
As per the newly drafted FTP, India have slots for Pakistan series, but it won't happen till the clearance comes from the Indian government.
"Our position is that we are okay with what's been allocated right now but this is subject to the decision of the tribunal. Because, obviously it's a case that's still pending and our currently is subject to whatever resolution that finally finds.
"See, right now India has not slotted Pakistan into any of the matches. Our position is that whatever we sign right now is going to be subject to the decision of the tribunal. If the tribunal holds in our favour then the FTP will have to be changed to accordingly." 
The PCB chairman also felt that media should play a proactive role in resumption of cricket between the two countries as there has been just one bilateral tour since 2008, when Pakistan visited India to play two Twenty20s and three ODIs in December 2012 and January 2013.
"I'm just surprised that there's not sufficient media pressure here in India for resumption of cricketing ties between India and Pakistan. I am sure the people of the two countries want to see cricket between the two countries. There's a lot of goodwill on both sides so let's hope that the issue can be resolved in the interest of the fans. There's no rough weather between the two Boards. There's no problem at all," Sethi said in an assuring tone.
"From what I hear in the media, the BCCI is not ready to play us even in a neutral venue. Our position is that the whole notion of a neutral venue came up when security was a consideration." 
Sethi then cited the example of the ICC World T20 in 2016 when the Indo-Pak game was shifted from Dharamsala to Kolkata for security reasons.
"We sent our security people and they discussed the matter with ICC and BCCI and then the match was moved from Dharamsala to Kolkata for security reasons. And then we played. So security becomes an issue only if sides play in each other's country." 
Sethi also referred to ECB chairman Giles Clarke's review about security situation in Pakistan after the PSL play-offs and West Indies' short series was held in the country.
"We started off by bringing Zimbabwe and they played to a full house. Then we brought in the ICC XI, which also witnessed capacity attendance. Then Sri Lanka (the country that faced terror attack) played one match in show of solidarity and helping us in the process of moving forward.
"We finally brought in the West Indies and took them to Karachi and Lahore. Everybody thought it would be a security issue in Karachi and it turned out it was not. ECB's Giles Clarke was there and he has given a glowing report about security to the ICC.
"Also don't forget the ICC is overseeing security arrangements for the return of cricket to Pakistan. They are paying a security company to verify whether everything is in order or not. Until the ICC-appointed security company gives a green light no teams come in," Sethi tried to make a case.