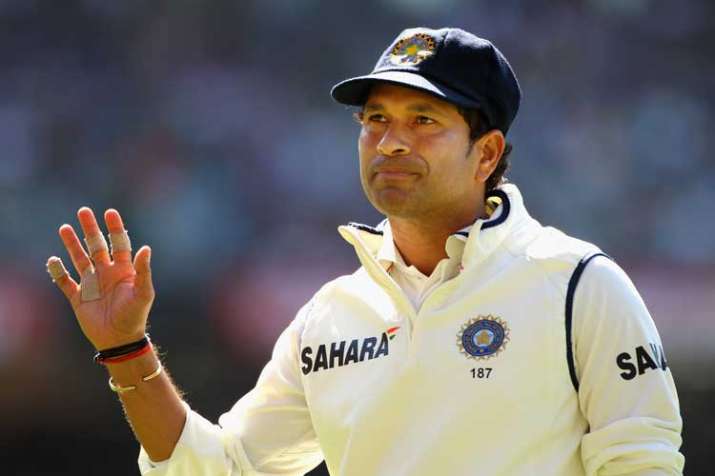 It is not every day that 'God' of cricket - Sachin Tendulkar - gives a 'darshan' or sight to his devotees. However, a few youngsters were in for a pleasant surprise when the legendary batsman got down from his car for an impromptu batting session on the streets of Mumbai.
On Sunday night, a car stopped on a road at the Bandra-Kurla Complex, where a group of fortunate youngsters were playing a game of cricket with rubber ball, most probably to relive their stress after a long day's work.
But little did they know that it would soon going to be the best moment of their lives, something that they would cherish forever.
As soon as the SUV stopped, a man came out of it and asked the boys if a friend of his can have a few free hits.
That Awesome moment when @sachin_rt joins you in street cricket 😍 Here is the Full Video @100MasterBlastr 🙏😊 pic.twitter.com/9g7eiOqe7a

— OMG SACHIN (@OmgSachin) April 16, 2018
The man, not revealing his friend's identity yet, told the boys that there is a 'small player' who wants to have a hit. 
The boys would soon find out that the 'small player' is none other than Sachin Ramesh Tendulkar - a doyen of world cricket and arguably the best batsman to have ever played the game - with more than 34,000 international runs and 100 international hundreds under his belt. 
As soon as Tendulkar, wearing in a white shirt and black trousers, stepped out of the car, the boys looked on in utter disbelief and one of them even touched the Master's feet - a traditional gesture of respect given to elders in India.
It didn't take much time for Tendulkar to do the customary handshakes with his 'teammates' and take guard.
The 44-year-old, who has mesmerised millions of cricket fans around the world, took the bat from one of them and faced merely five balls before fans started to gather around him. He also happily posed for selfies with his fans.
The video of the entire incident, also tweeted by his childhood friend Vinod Kambli, has since gone viral on social media.
Atul Ranade, a former first-class cricketer from Mumbai and one of Tendulkar's classmates, who was with him in the car on Sunday night told Mumbai Mirror that the Master Blaster wanted to relive childhood memories.
Ranade revealed that it was another friend of Tendulkar, Dr Sanjay, whose presence prompted Tendulkar to have a go at street cricket. Ranade, Tendulkar and Dr. Sanjay were out for dinner in BKC.
You Can't take cricket out of @sachin_rt 😍😍 thanks for sharing the video @vinodkambli349 🙏 pic.twitter.com/SLcjDhY7lo

— OMG SACHIN (@OmgSachin) April 16, 2018
In fact, Ranade was one who recorded the incident on his phone.
"Sachin was thoroughly enjoying himself but the crowds had started gathering. A few vehicles had stopped by and the word had spread that Sachin Tendulkar was, well, batting. The boys he was playing with... the look in their eyes when Sachin shook their hands; it was as surreal for them as it was for me and Sanjay. It was a wonderful feeling," Ranade told Mumbai Mirror.
Indeed, it was a satisfactory 'darshan' of a man who gave the game of cricket a status of religion in India.