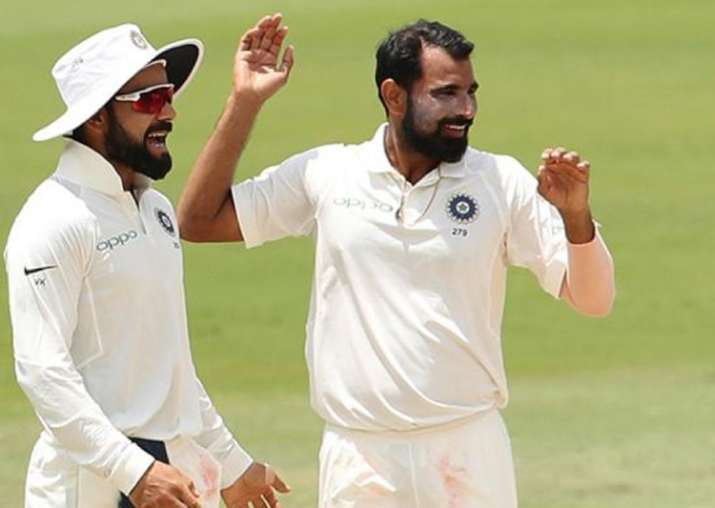 One of the chief architects of India's memorable win against South Africa in the Johannesburg Test which changed the fortunes for the visitors in the Rainbow Nation - Mohammed Shami is an important cog in India's bowling unit in Test cricket. Chasing 240 to win, South Africa were bundled out for 177 as Shami picked up a five-for in the second innings to power India to a brilliant 63-run win. Though India lost the three-match series 1-2, but the win in Johannesburg spurred Virat Kohli and his men as they dominated the hosts in the limited-overs format. The visitors won the six-match ODI series 5-1 and three-match Twenty20 series 2-1 to end the tour on a high. (Also Read: Mohammed Shami backs coach Ravi Shastri's jibe at critics)
The 27-year-old Shami picked up 15 wickets in three Tests and emerged as India's leading bowler on the Proteas tour. 
Speaking to India TV in an exclusive interview, Shami hailed Team India's performance on the two-month long tour. "Our performance in South Africa has given a huge boost to our confidence and it is a very proud moment for all of us. It is a very big achievement for the young Indian team to register a big win in South Africa," he said.
About the experience of playing on foreign conditions and making small targets as a team, Shami said: "We are a good side and we always carry that confidence on the field irrespective of where we are playing whether at home or abroad. We always make small targets and focus on every match individually rather than focussing on the outcome of the series."
Also, speaking about the losses in the first two Tests and lack of preparation ahead of South Africa tour, Shami said: "We lost the Test matches by a very close margin, there is always a difference when we play at home or when we play abroad. It takes time for players to adjust to the bounce and length in foreign conditions. Despite losing the first Two Tests, we never lost that belief in ourselves that we can make a comeback and we showed just that."
The UP-born fast bowler, who plays for Bengal in domestic circuit, also spoke in length about the unity of the Indian team and backed skipper Virat Kohli's on-field decisions. He said: "It doesn't matter whether we win or lose, we always stay together as a unit and never lose that trust in the players. The captain and coach have that belief in the team that we are a good unit and have that in us to perform at the biggest stage."
"Kohli always pinpoints the mistakes we make as players on the field during the match and give us his constructive feedback about the same. He backs us to the hilt despite worrying about the on-field results. We believe in giving our 150 percent on the field," Shami added.
Shami also spoke about his fitness level and India's bowling attack which has created a niche for himself with the introduction of likes of Bhuvneshwar, Bumrah, Umesh and Shami himself. 
"We have to keep a very close look on our fitness because we have to play regularly and have to involve in a lot of travelling throughout. Off the field, we make a proper schedule about training in the nets and on our gym sessions. "
"Our fast bowling unit have bowlers who can regularly clock over 140+. We are a top class bowling unit and our captain and coach have that belief in us to pick up 20 wickets in the match."
India are scheduled to tour England in July this year where they will play five Tests, three ODIs and three T20Is. Speaking about India's chances on the England tour, Shami said: "We are going to focus on the basics once again. After IPL, we are planning to go a little early on the tour to get used to the conditions and bounce in England. 
"Last time we lost the series in England as we didn't have enough experience in the side and lacked exposure to perform in such conditions. Now we are better prepared as a team and have that in us to change our record this time in England as we did in South Africa," Shami signed off.
(With inputs from India TV Sports Correspondent Vaibhav Bhola)