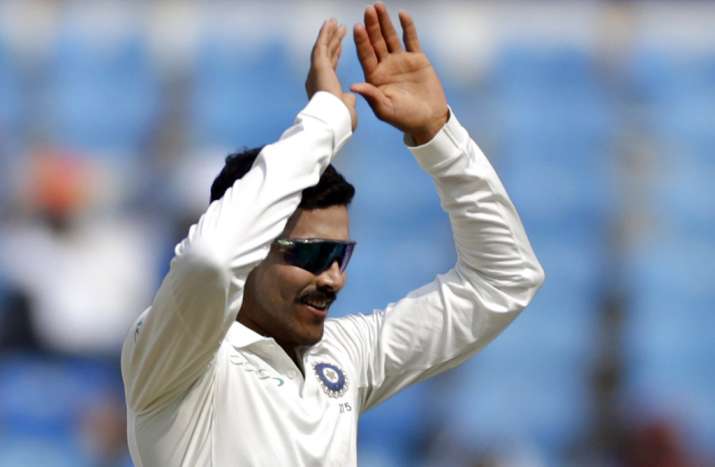 The Saurashtra all-rounder turned 29 today as collected one lucky wicket of Angelo Mathews. The Indian players celebrated jaddu's birthday the way they always do and that is by smashing cake all over his face. It has been done to all the players whose birthdays have fallen on a match day. India won the Test series 1-0 after a resilient Sri Lanka drew the third match as well in New Delhi. 
Another day and another birthday celebration in the dressing room. @imjadeja hope you loved the 🎂. pic.twitter.com/CMvDHYR9Vj

— BCCI (@BCCI) December 6, 2017
Jadeja got lucky as he managed to collect Angelo Mathew's wicket during Day 5 of the 3rd and final Test of the three-match series. The term 'lucky' is being used because on Mathew's dismissal, West Indies Umpire Joel Wilson had failed to see that Jaddu had overstepped, who was caught out by Ajinkya Rahane. 
The 29-year old has played 34 Tests, 136 ODIs and 40 T20Is for India. With nine five-wicket hauls, the Saurashtra all-rounder has sniffed out 160 wickets in Tests, 155 in One Day Internationals and 31 in the shortest format of the game.
Jadeja is ranked second in the ICC rankings for bowlers in Test cricket and the list of all-rounders as well. Jadeja has been India's match-winner on many occasions and is an indisposable part of the Indian team.
Yesterday was Shikhar Dhawan's birthday who turned 32. The Indian players did not leave him as well after despite having his face on the cake, the players did manage to get cake all over his face. 
We are not letting the birthday boy @SDhawan25 escape today. 🎂 pic.twitter.com/OAtnIi203M

— BCCI (@BCCI) December 5, 2017