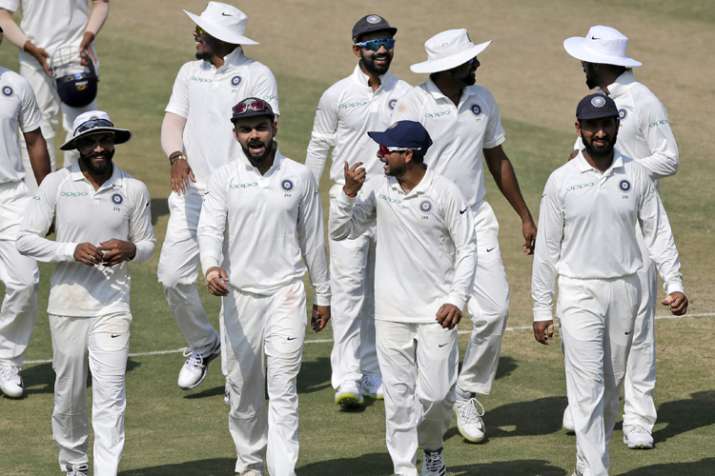 India completed a rare three-day victory in a commanding fashion at Rajkot beating the West Indies by an innings and 272 runs in the first Test of the two-match series at the Saurashtra Cricket Association Stadium. Riding on the splendid batting performances from debutant Prithvi Shaw, captain Virat Kohli, wicket-keeper Rishabh Pant and all-rounder Ravindra Jadeja, the hosts were aided by a dismal showing by the visitors with the bat. 
During the course of this victory, a number of records were either shattered or rewritten by the Indians. Here is a look at some of them:
100 - The win marked India's 100th win at home in its Test history. India has so far played 266 matches at home while losing 52 of them resulting in an excellent win-loss ratio of 1.92. However, in 262 away matches India have managed to win just 47 while losing 112 games.
4 - India have now become the fourth team after Australia (238), England (217) and South Africa (104) to reach the above landmark.
1 - This also happens to be India's biggest win in its Test history. Before this, the innings and 268 run win against Afghanistan in June 2018 was India's biggest Test win.
2 - Kuldeep Yadav today became only the second India bowler - Bhuvneshwar Kumar is the other one - to take five-wicket hauls in all three formats of the game. Overall, the wrist-spinner is the seventh bowler in the world to do so.
0 - The number of India wicket-keepers with hundreds in consecutive Test innings. Rishabh Pant missed this record by 8 runs in the Rajkot Test.
1 - Kuldeep became the first Indian left-arm wrist-spinner to bag a Test five-for.