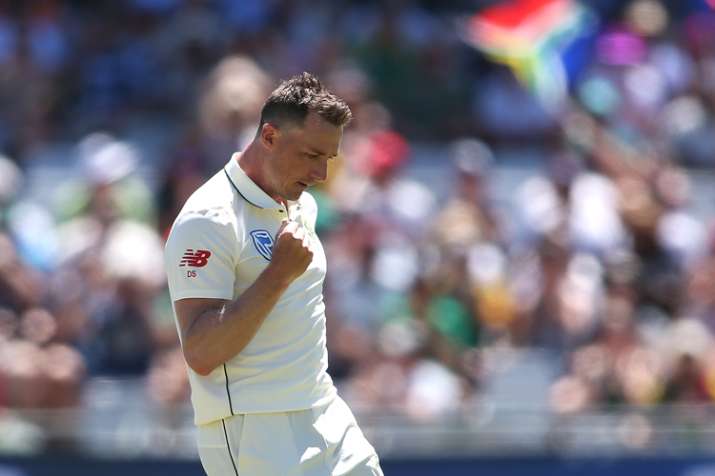 After having been out of the game for almost two years due to a career-threatening broken shoulder, Dale Steyn is back with a bang. The Proteas pace spearhead showed glimpses of his menacing best when he picked up 4/48 against the visiting Sri Lankans on Day 2 of the 1st Test being played at Kingsmead, Durban.
On the way, he also surpassed Indian legend Kapil Dev on the list of all-time highest Test wicket-takers to draw level with England's Stuart Broad on 437 scalps. But in the words of the great fast bowler, is not looking back and feels he has got his mojo back.
"After not playing for two years, I feel like it's a blessing to just be playing again. I've almost had to start over. I'm not on 430-odd wickets, I'm on 20 since breaking Shaun Pollock's record. It's nice to finish a three-Test series against Pakistan and not have someone write: 'He's an injury away from retiring.' It's nice to contribute again. Hopefully, I can continue this for longer," said an exciting Steyn.
On Thursday, Steyn bowled a fiery unbroken 10-over spell with speeds constantly in the high 140s, raising concerns that he might be pushing himself too much. The 35-year old however said that it was fun being in the groove again.
"When I'm bowling 10-over spells, it shows I'm enjoying what I do. I could take the easy option, take 4 for 30 and go and stand at fine leg and tell someone else to do it. But it's fun. It's fun taking wickets. It's fun hitting guys on the head. As long as nothing serious happens."
Steyn acknowledged the role of pace in his bowling saying that if he is not bowling fast, he should question himself. "The moment I can't bowl 140-145 kph, and on a good day touch 150 kph like in fast Australian wickets, then you've got to ask yourself the question: How good am I? I've got to be honest - I don't have all the skill in the world. I've got to bowl at a high pace consistently, over a long period of time.
"With a little bit of skill - I can shape it away, and I can bring it back in. You've got to be smart about when to bowl a bouncer, when to bowl a yorker, and when to bowl a slower ball, and that's what experience is. After 15 years, I've got some of that."
The bowler has not been able to pick up five wickets in an innings since August 2016, but he came quite close yesterday only to see teammate Dean Elgar drop a sitter of his bowling.
"Today was a day where I felt there was a wicket there all the time. I just felt like it was there for me, so I just kept going. When they were eight down, I didn't want Vern [Philander] or Kesh [Maharaj] to come out and bowl a loosener and go for four or six. I thought: 'I'm going to carry on bowling here until the captain says he's had enough.' He had had enough after I had my sixth [over], but I kept begging, and got what I wanted," signed off Steyn.