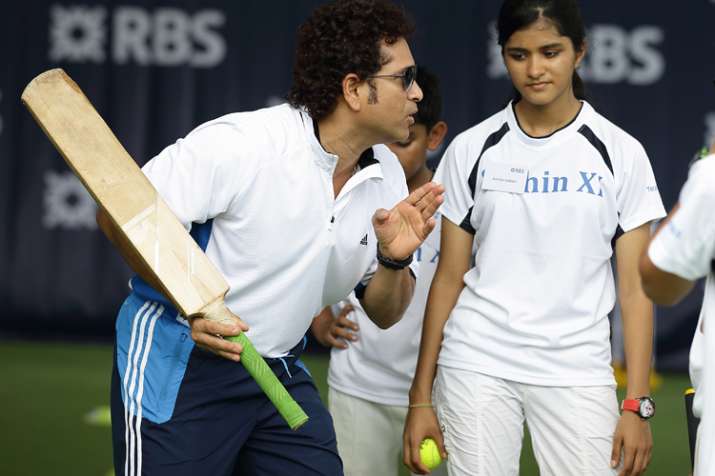 Indian cricket legend Sachin Tendulkar, though retired from the game, continues to vow cricket followers with his social initiatives every now and then. The most recent of these being the announcement of launching a cricket academy in partnership with Middlesex County last month. Yesterday, the first of a series of camps proposed under the initiative became a reality.
TMGA, a joint venture between SRT Sports Management Ltd and Middlesex Cricket, has launched its first cricket camp at Merchant Taylor's School in Northwood on August 6. This will be followed by more camps on other locations in Mumbai and London.
The academy will provide young girls and boys between the age of nine and 14 an opportunity to learn from master blaster Tendulkar himself and Middlesex Cricket.
.@sachin_rt at the launch of the Tendulkar Middlesex Global Academy. Nice day for it! pic.twitter.com/CSpAn1YdwO

— Andrew Miller (@miller_cricket) August 6, 2018
Middlesex Cricket has produced players such as Andrew Strauss, Mike Gatting, Denis Compton, John Emburey and Mike Brearley.
The comprehensive training curriculum has been developed by the professional coaches at MCCC and Tendulkar himself.
TMGA will also provide 100 per cent scholarship to the talented underprivileged children.
A small step towards a big dream, "Tendulkar Middlesex Global Academy", for all the young girls & boys to play & learn from top cricketing minds. Excited to be partnering with @Middlesex_CCC. @tendulkarmga

Full info: https://t.co/tQnDaEFPwz
Launch camp: https://t.co/WgEAEau63M pic.twitter.com/e6d5HA6G8N

— Sachin Tendulkar (@sachin_rt) July 18, 2018
"I am delighted to be partnering with Middlesex Cricket on this new venture. The objective is not only to produce good cricketers but also good global citizens of the future. Through this association, Middlesex and I are focused on providing the very best in cricket education, as much as possible, for our students," said Tendulkar at the launch.
Richard Goatley, CEO, Middlesex Cricket said: "It has been a great privilege over the past six months to work with Sachin Tendulkar and his team in developing what we believe will be the market leading coaching programme in the world."
(With PTI inputs)