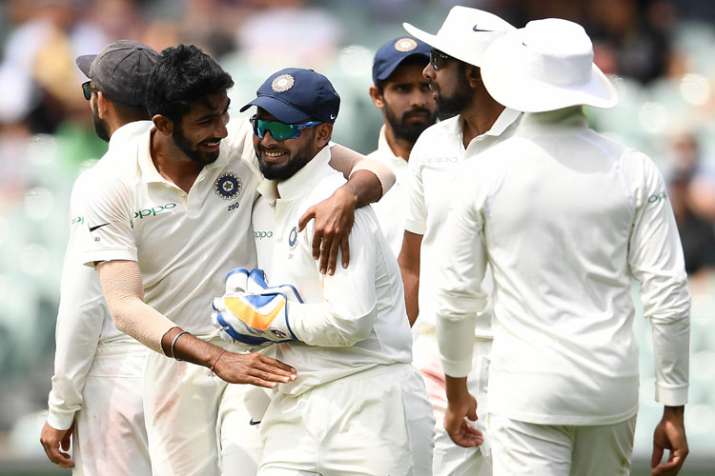 Former India captain and batting great Sachin Tendulkar lavished praise upon Jasprit Bumrah and Rishabh Pant and said that they have a great future going ahead.
Tendulkar, who has spent time with Bumrah at Mumbai Indians, said that he is not surprised by Bumrah's success because he is an avid learner and always wants to learn.
Bumrah, who made his debut in South Africa early last year, stood out for Virat Kohli's men and helped India win Test matches in South Africa, England and Australia. 
The pacer was already an asset in limited-overs cricket but after picking up 49 wickets from 10 matches, he has become an important part of the Test set up as well.
And, Tendulkar feels that his action and deceptive bowling makes him a dangerous bowler.
"I am not surprised by Bumrah's success. Having spent time with him and seen his sincere and honest efforts to improve and learn, I always knew it was a matter of time before he would rattle the best batsmen in the world.
"I have seen from close quarters how he looks to improve. In 2015, I had seen his ability to win a battle. With Kane Williamson in batting, I had said Bumrah would make his mark. I am happy he has," the batting maestro explained to Sportstar.
"His action and deceptive bowling, plus the consistency to take wickets, make him a dangerous bowler. He knows how to execute his plans. Bumrah will be a big threat to the opposition and a great asset to India at the World Cup," he said. 
Much like Bumrah, Pant's graduation from coloured clothing to whites has also been impressive.
The 21-year-old has so far played nine Tests and scored 696 runs at an average of 49.7 runs, hitting two centuries and fiftie seach in the process.
Pant has been a flamboyant on the field so far and achieved great and success and therefore, Tendulkar feels that he should keep his head on his shoulders and enjoy his came.
"Rishabh has terrific prospects in international cricket. He has a great future, but he must keep his head on his shoulders and look to enjoy his game. If he keeps his focus he will play long because things will happen around his cricket essentially. I have liked his approach and the fact that he is fearless," said Tendulkar.
The right-hander will be next seen in action in the three-match T20 series against New Zealand, starting on Wednesday but Bumrah remains rested but is expected to return for the limited-overs series against Australia later this month.