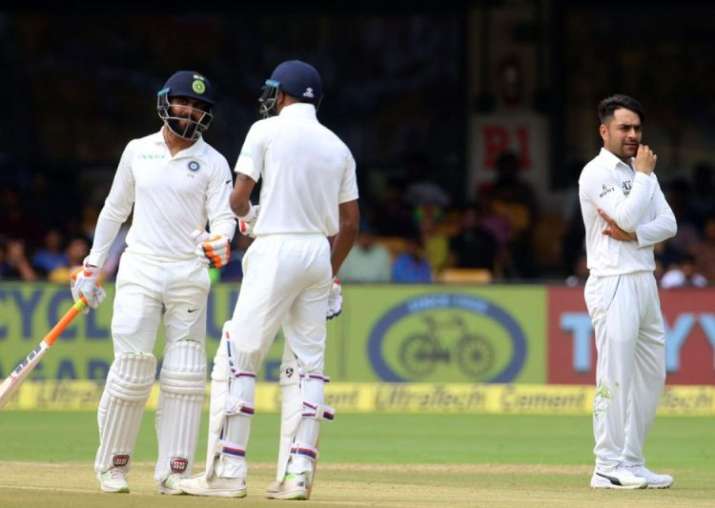 Former Australia opener Matthew Hayden on Saturday shed the light on Afghanistan spinner Rashid Khan's disastrous Test debut, saying "he was really aggressive and paid the price for it". Facing the No.1 Test team India, Afghanistan started their Test cricket campaign with emphatic innings and 262-run defeat that came inside two days.
Rashid, the 19-year-old much hyped spinner in the shorter format of cricket, ended-up being the most expensive bowler in his team on its Test debut. He conceded 154 runs and managed to claim just two wickets.
Hayden firmly believes that Rashid was under pressure just like the rest of the team that came to play a five-day match for the first time.
"Rashid I think bowled better as the Test match went on. Having said that, he ended up with (figures of) 2/154. Firstly, he bowled with too attacking fields early, on a first day Test wicket. It was not day four or five, it was the first day (pitch). You needed conservative fields. He was really aggressive and paid the price for it," Hayden told International Business Times, India, decoding Rashid's preference in his maiden Test. 
"As the day went on, he started to understand the abilities of bowling his legspinners more than his wrong'uns as well. I think he was a bit anxious like they all were that they have arrived at Test cricket. That overzealous behaviour hasn't led to a good performance," the 46-year-old added.
Afghanistan were bowled out for 109 and 103 in pursuit of India's first innings total of 474 all out in a single day on Friday. This was the first time that India won a Test match in two days while it has now happened for the 21st time in the 141-year-history of the traditional format. India, however, did become the first team to claim 20 wickets in a day.
Afghans, who have some impressive accomplishments in the shortest format lasted a total of 66.3 overs (27.5 overs and 38.4 overs), posing serious questions over their readiness to cope up with demands of five-day cricket.
Even though Afghanistan's dream turned into a nightmare in no time, Hayden has seen some signs of optimism in the newly-introduced Test team.
"You can't judge a book by its front cover. The fact that they have arrived here and have had limited preparation and limited time in the longer version of the game, I have seen some optimistic signs," he said.