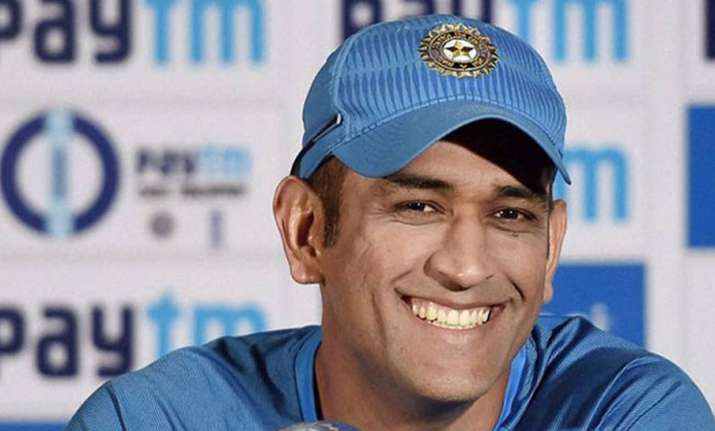 Mahendra Singh Dhoni, one of India's most favourite and revered cricketers, has turned 37 on July 7. 
His presence on the field captivates every fan's hearts, his batting keeps fans engrossed and his swift wicket-keeping leaves all gobsmacked. Since making his debut in 2004, a young lad from Ranchi with long hair was not considered captain material at the time but that is one of the many qualities he possesses, and that is proving everyone wrong with his actions. 
He is the first and only captain to win it all with the Men in Blue - ICC World T20 Cup (2007), ICC World Cup (2011) and ICC Champions Trophy (2013). He has an endless list of records and trophies in his illustrious cabinet and yet is still shattering and making new ones.
One of the most prolific cricketers Team India has ever had, at the age of 37, Dhoni plays a vital role in the limited-overs format after he announced his retirement from Test cricket in December 2015. 
This year is also quite auspicious for the the former skipper has he led Chennai Super Kings to win the 11th edition of the Indian Premier League and has won it thrice. 
His performances have been often scrutinised due to his age, but his form and his work on-field for the team has assured him a ticket to the 2019 World Cup. 
On July 6 2018, a day before his birthday, Dhoni reached another milestone as he became the third Indian after Sachin Tendulkar and Rahul Dravid to play 500 International matches for India. 
Wishes poured in all across the globe for India's favourite cricketer and it is none other than former Team India opener, Virender Sehwag, who leads the way for 'Captain Cool' and as always, Sehwag's way of wishing people has been special. Take a look.
#HappyBirthdayMSDhoni . May your life be longer than this stretch and may you find happiness in everything, faster than your stumpings. Om Finishaya Namaha !
#HappyBirthdayMSDhoni . May your life be longer than this stretch and may you find happiness in everything, faster than your stumpings. Om Finishaya Namaha ! pic.twitter.com/zAHCX33n1y

— Virender Sehwag (@virendersehwag) July 6, 2018
Wish you a very happy birthday, @msdhoni and congratulations on playing your 500th International match. May you continue to give joy and happiness to people around you and beyond. pic.twitter.com/gIUkaKxgsW

— Sachin Tendulkar (@sachin_rt) July 7, 2018
Happy birthday Mahi Bhai. God bless you. 💪💪😇 pic.twitter.com/YeuQ8k9oWb

— Virat Kohli (@imVkohli) July 7, 2018
Wishing you a very happy birthday @msdhoni .May you continue to entertain ,inspire and provide joy.#HappyBirthdayMSDhoni pic.twitter.com/z1DbTUi1iS

— VVS Laxman (@VVSLaxman281) July 6, 2018
Happy Birthday to a Cricket Yogi and one of the most inspirational leaders across the world, MS Dhoni .May you remain blessed and loved. #HappyBirthdayMsDhoni pic.twitter.com/ie68qVadqF

— Mohammad Kaif (@MohammadKaif) July 7, 2018
Walking out of your 500th international match & gracefully walking into the blessed day of India, when a legend like you was born! Wish you a very Happy Birthday brother @msdhoni 🎂You have been my inspiration & will always be! I cherish all our good times! #HappyBirthdayMSDhoni pic.twitter.com/YinwMNSAgz

— Suresh Raina🇮🇳 (@ImRaina) July 6, 2018
SPECIAL: From his teammates to someone very very special, wishes galore for @msdhoni as he celebrates his 37th birthday. Watch it till the end - Cuteness Alert! #HappyBirthdayMSDhoni
LINK---->https://t.co/wT27zi4Bx1 pic.twitter.com/YPupnjLVwz

— BCCI (@BCCI) July 7, 2018
Warmest Birthday wishes to the former 'Captain Cool' and one of India's greatest cricketers @msdhoni, the man who made watching cricket a sheer pleasure for every Indian. May you be gifted with life's biggest joys and never-ending bliss.#HappyBirthdayMSDhoni #MSDhoni pic.twitter.com/lWrExYPACg

— Praful Patel (@praful_patel) July 7, 2018
MS Dhoni is already a cricketing legend, be it with his winning sixes or his cool captaincy. So here's a good time to look at how he has reinvented himself off late to remain a crucial part of India's success with the white ball. #AakashVani pic.twitter.com/bq1EoEPfVR

— Aakash Chopra (@cricketaakash) July 7, 2018
@msdhoni Captain. Leader. Legend. The greatest finisher of all time! Wish you a very happy birthday Mahi bhai. 🎂🎉. pic.twitter.com/YAAtbqLq41

— Shikhar Dhawan (@SDhawan25) July 7, 2018
Happy birthday. May every dream of yours set your life on fire, brightening up today, your special day, and every other day of the year.🎂🎂🎂🎂🎂@circleofcricket @DelhiDaredevils @msdhoni pic.twitter.com/oBwZ8Ykbcb

— Mohammad Shami (@MdShami11) July 7, 2018
#HappyBirthdayMSDhoni Biggest Cricketer for me ❤️ @msdhoni

— Ami Mishra (@AmiMishra14) July 6, 2018
My SandArt at puri beach with message #HappyBirthdayMSDhoni wish you a successful life , Great year ahead . pic.twitter.com/HD8PbqNkXd

— Sudarsan Pattnaik (@sudarsansand) July 7, 2018