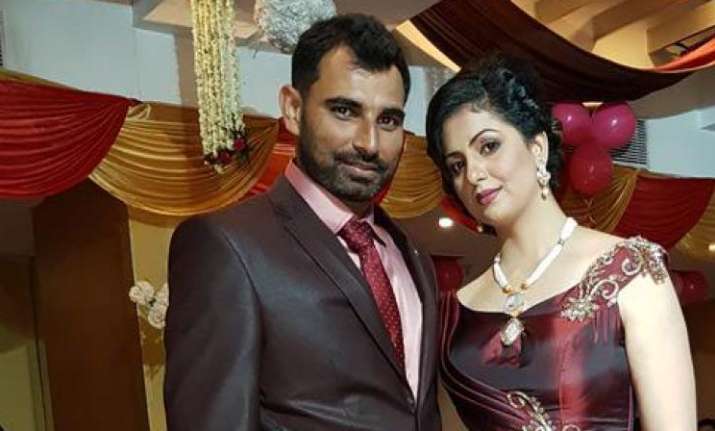 A day after Mohammed Shami's wife Hasin Jahan, in an exclusive interview with India TV, threatened to drag her husband to court, it was learnt on Thursday that she has filed a complaint with the Kolkata Police, accusing the cricketer of having extra-marital affairs and physically assaulting her.
Shami's wife went to the Kolkata Police Headquarters at Lalbazar to register her complaint. Shami, who originally hails from Uttar Pradesh, lives in Kolkata and represents Bengal in domestic cricket circuit. Following the allegations, the Board of Control for Cricket in India (BCCI) has put on hold Shami's annual contract.
Earlier on Wednesday, in an exclusive interview with India TV, Jahan said she has been subjected to mental trauma and physical torture from the last two years. Jahan said she is now waiting for her personal lawyer to discuss the step forward.
Married to Shami since 2014, Jahan has alleged that the bowler is having several extra-marital affairs. She further alleged that Shami's family forced her to marry him and later also tried to kill her.
"I got married to Shami on 7 April 2014, from the very start I got to know about his misdeeds. He is a big-time womanizer and has never been a faithful or a loyal husband to me. Shami never involves me in his financial matter and takes all his decisions secretly," Jahan told India TV in an exclusive chat from Kolkata.
"From last 5 years, he was in a relationship with some other woman, he lied to me before marriage and got married to me and blackmailed me emotionally. Shami is a double-faced man. Before marriage, he never told me about his affair with a girl named Tuba."
Earlier, in a bid to expose Shami's alleged extra-marital affairs, Hasin posted several screenshots of Messenger and Whatsapp messages on her unverified Facebook wall.
Notably the post, which was uploaded from an unverified account, was titled as 'Shami's enjoyment' and had several pictures of the pacer's alleged text messages to multiple women.
Jahan claimed that she has been facing mental and physical torture. She also said that her life was in danger.
"Shami repeatedly keeps on asking me for divorce. Shami wanted to take his Pakistani girlfriend on Sri Lanka tour in 2017 instead of me. Shami told his brother in UP to kill me and bury my body in some jungle. Shami never wanted to attend any party with me and never acknowledge me as his wife in any social gatherings."
"I will take my next step after consulting with my personal lawyer who is out of Kolkata right now. I will definitely take a legal action against him," she concluded.
Meanwhile, Shami has denied all allegations leveled by his wife and termed it 'baseless'.
"All allegations are baseless, it does not have any meaning. Cannot say anything about the case till the time I get to know everything. There is some conspiracy behind this, it may be a conspiracy to spoil my game. I tried to contact Hasin but she did not pick up my phone but will meet her soon. The way I am, will stay with her like that forever," he said.