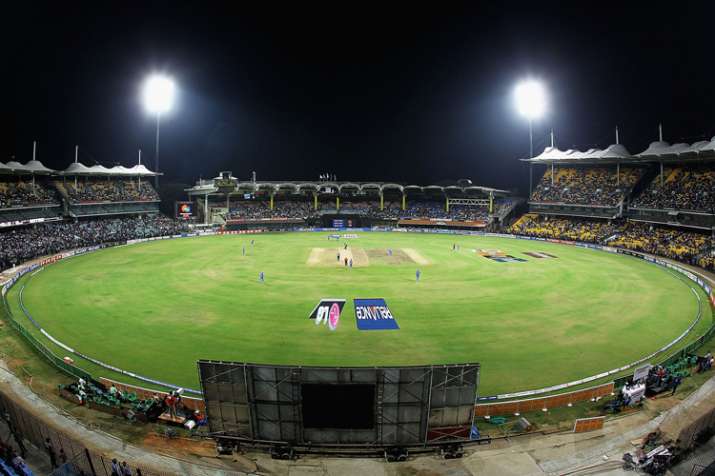 The MA Chidambaram Stadium or the Chepauk Stadium is one of the oldest cricketing venues in India. Established in 1916, the stadium was formerly known as Madras Cricket Club Ground. It is home to the Tamil Nadu cricket team and two-time Indian Premier League champions Chennai Super Kings. The stadium hosted its first Test match in 1934 and since then it has witnessed some of the biggest feats of Indian cricket. It was in Chepauk that the Indian cricket team won its first Test against England in 1952. The ground is named after MA Chidambaram, the former president of the BCCI. The ground is also famous for its unbiased and appreciative crowd. The pitch of the Chepauk stadium is known to assist the spinners.
MA Chidambaram Stadium, Chennai Facts:
Opened: 1916
Capacity: 50,000
Floodlights: Yes
End names: Anna Pavilion End, V Pattabhiraman Gate End
Also known as: Chepauk; Madras Cricket Club Ground
Location: Chennai, India
Time Zone: UTC +05:30
Home to: Tamil Nadu, Chennai Super Kings
IPL 2018 MATCHES SHIFTED FROM MA CHIDAMBARAM STADIUM, CHENNAI
Due to the violent protests over the Cauvery row, IPL chairman Rajiv Shukla said that Chennai Super Kings' venue will be shifted and Pune might be the new host of the Indian Premier League (IPL) matches. The ongoing 11th edition of the Indian Premier League (IPL) matches, which were scheduled to be held in Chennai, was moved out of the state in wake of protests during the venue's first match and threats to disrupt more fixtures.