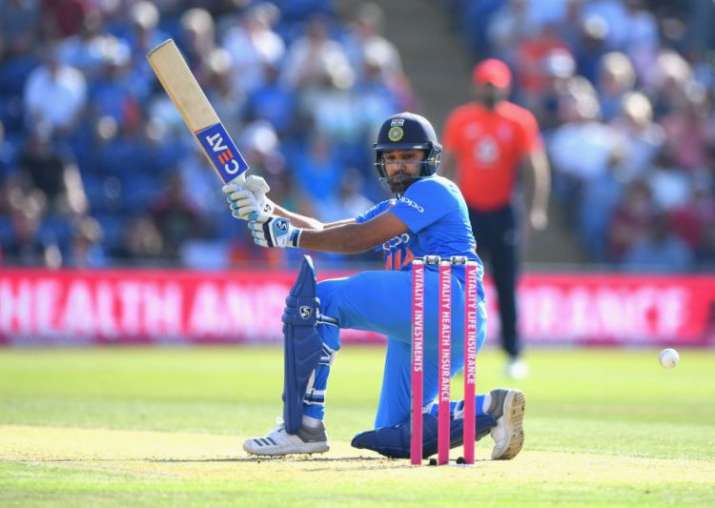 Highlights, India (Ind) vs England (Eng) 3rd T20I:
Emphatic win for India!
Rohit Sharma
was the architect of it as he stroked a magnificent century. Not to forget
Hardik Pandya
though. First he did with the ball by picking a 4-fer and then played a nice cameo to make India's path smooth to a series win. Clinical stuff from the Men in Blue. Where England lost the match? Umm... From 103/1 in 9.1 overs to 198/9 in 20 overs. They fell short of a challenging total in spite of having a strong launching pad. Reminds me of a phrase - When you aim high, you set yourself up to fall far! The approach while batting for the Englishmen was to keep going for runs even if wickets are falling. Cannot fault them for doing so on a stamp size ground but then they should have planned it in a better manner. Also, one should give credit where it's due. The Indian bowlers who were under the cosh after taking a hammering showed a lot of character by bouncing back.​ 
(SCORECARD
)
INDIA VS ENGLAND 3RD T20I HIGHLIGHTS FROM BRISTOL:
21.58 IST: India (201/3) beat England (198/9) by 7 wickets to clinch three-match series 2-1. Rohit 100*, Kohli 43. Chris Jordan to Hardik Pandya, SIX! Pandya has nailed it! Jordan serves a slower delivery again but lands it right in the hitting zone of Hardik Pandya. He just swings his bat and dismisses it over long on for a biggie. INDIA WIN BY 7 WICKETS AND TAKE THE SERIES 2-1!
21.56 IST: Rohit Sharma hits his 3rd T20I century off 56 balls. Chris Jordan to Rohit Sharma, 1 run. His third in this format, only Colin Munro has these many in T20Is. A nice little dab to third man for a single to reach there. The Indian dugout is on its feet. Yet another scintillating knock by the Hitman! India 195/3 in 18.2 overs vs England (198/9) in Bristol.
21.54 IST: FOUR! Width on offer outside off, Pandya stays back and just dabs it down to third man for a boundary. 20 from the over. India within a striking distance. Rohit also only 5 away from a century. 9 needed more for a win. IND 190/3 in 18 overs.
21.53 IST: FOUR! A full toss this time, Pandya latches onto it and throws his bat at it. His bottom hand comes off the handle but he still manages to tonk it from the middle. It flies over cover-point and beats the dive of Stokes in the deep.
21.52 IST: SIX! Into the crowd! This guy has all the range when it comes to play big shots. Willey delivers it full and around off, Hardik gives it the full whack of his bat and sends it whistling over covers for a boundary. IND 182/3 in 17.4 overs.
21.45 IST: FOUR! And then he can do this as well. Placed his shot behind point. The length is altered by Ball. He goes very full and outside off, Hardik squeezes it out for a boundary. It is already looking like a great move to promote Hardik.
21.43 IST: FOUR! Bang! Back of a length ball around off, Pandya shifts his weight sideways and smashes it over mid off for a boundary. He is an exceptional hitter of a cricket ball.
21.40 IST: Hardik Pandya gets a promotion. 48 needed off 31 balls.
21.39 IST: OUT! Jordan removes Kohli for 43. Another sharp catch in the field. This time a return catch. Jordan takes it with ease. Mind you, that wasn't so easy. But then Chris is an exceptional fielder. Fuller and on off, 136 kph, Kohli hammers it straight back. it's uppish and Jordan gobbles it. End of an 89-run stand which has put India on the front foot. Can England still believe? India 151/3 in 14.5 overs vs England (198/9) in Bristol.
21.34 IST: FOUR! 13 coming from this over. India are right on course. Plunkett offers room outside off and Sharma goes inside-out over covers. Not the best of connections but good enough to take it over the line. IND 148/2 in 14 overs.
21.30 IST: SIX! Boom! For a moment, we thought Virat lost his balance but he kept his shape enough and sent it soaring over wide long off. And once again, the white object has lost its shape. The umpires are getting it changed. 58 needed off 40 balls, that's the game situation.
21.28 IST: SIX! A gift on the pads. Full toss. Rohit picks it up and deposits it over square leg for a biggie. Spoils what would have been a top over. 10 coming from it eventually.
21.22 IST: SIX! High and handsome! Kohli gives the charge to the leggie and takes him head on. Makes excellent connection and dumps it over long on for a biggie.
21.19 IST: FOUR! Cheeky this time. A little bit of charge down the track and then he works a shortish ball fine. Deflects it off the outer half of the bat past the keeper for a boundary at third man. 50-run stand comes up.
21.17 IST: SIX! That has gone a mile! Fourth biggie for Rohit. He gets a shortish ball around off and dispatches it with utter disdain over mid-wicket for a maximum.
21.13 IST: FOUR! You can't afford to keep bowling short and wide to these batsmen. They will hit you to the fence 9 out of 10 times. In the last over, it was Rohit, this time it's Virat Kohli. He camps back and cuts it through point. There are a couple of fielders inside the ring for that shot but the skipper found the gap with ease.
21.10 IST: FIFTY! Rohit Sharma hits his 16th T20I half-century off 28 balls. FOUR! Lucky way to get his fifty! A good one though, off 28 balls only. Short and on middle and leg, Rohit fails to middle his pull shot properly and it loops wide of the keeper for a boundary. India 87/2 in 8.2 overs vs England (198/9) in Bristol
21.07 IST: FOUR! No stopping it this time. Adil Rashid got away with one at the start of this over but not this time. He bowls it flatter and shorter outside off, Rohit rocks back and delays his square cut a bit to get his placement right. No chance for the sweeper cover fielder this time.
21.02 IST: FOUR! Those wrists of Kohli. You pay to watch him play that flick shot. Ball is too straight in line and the Indian skipper plays his bread and butter shot to put it away through mid-wicket.
20.59 IST: Virat Kohli arrives at number 4. 137 needed off 88 balls.
20.58 IST: OUT! Jake Ball removes Rahul for 19. Another cracking catch to dismiss an Indian batsman. Chris Jordan this time who went for 16 in his first over has taken a brilliant running cum diving catch. Take a bow. Ball gets a wicket, he was involved in the first wicket as well. Probably an off-paced delivery, on a length and around middle, Rahul aims to go downtown and clear long on. But he ends up getting a lot of height than distance. Jordon first backtracks from mid on and then hares across to his right, covers a lot of ground before diving to take a ripper of a catch. Kept his eyes glued to the ball like a hawk eyes his prey. KL departs without doing much damage. India 62/2 in 5.2 overs vs England (198/9) in Bristol.
20.57 IST: SIX! Shot! Back of a length ball just around off, Rahul picks it up from there, turns inside the crease and dismisses it over backward square leg for a maximum.
20.53 IST: FOUR! Rohit is motoring. Receives a length ball around off, spots the room to lift it over covers and does so with aplomb. Good enough connection to take it across the fence.
20.51 IST: SIX! Pulled it and pulled it beautifully. He is one of India's best batsman when it comes to pull a cricket ball. Jordan drops it short and Rohit shows no mercy. Swivels inside the crease and pulls it over fine leg. Into the crowd.
20.50 IST: It seems the ball has lost its shape after the last hit. The umpires get together and are getting it changed. Something similar happened when England were batting also.
20.49 IST: SIX! Rohit was waiting! He was waiting for the bowler to pitch it full and in his half. As soon as Jordan commits that sin, Sharma lines himself up and pumps it over long on for a biggie.
20.47 IST: FOUR! 2000 T20I runs for Rohit Sharma, becoming the third Indian after Mithali Raj and Virat Kohli to reach this feat. Jordan delivers it full and wide outside off, Sharma cracks his drive through covers and finds the fence.
20.45 IST: Chris Jordan is into the attack.
20.42 IST: FOUR! Shot of a batsman in prime form. An overpitched delivery alright, around middle, Rahul strides forward and creams his straight drive down the ground for a boundary.
20.41 IST: KL Rahul is the number 3 batsman.
20.40 IST: OUT! Willey removes Dhawan for 5. Stunner by Ball! You need to take catches like these to stay in hunt on an unforgiving ground like this. Willey comes up with a delivery in the line of the stumps, Dhawan tries to flick it away across the line but fails to keep it down. It flies towards short fine leg where Ball quickly reacts to his left and hangs on to a sharp catch. Dhawan cannot believe his luck. Shakes his head in disbelief and has a wry smile on his face as he walks back. England are delighted. India 21/1 in 2.1 overs vs England (198/9) in Bristol.
20.38 IST: FOUR! Smart batting! Rohit exposes all his stumps by moving down the leg side and Ball follows him with a full ball. The bowler is caught unaware that the fine leg is up inside the circle and there is a deep mid-wicket in place. Sharma calmly flicks it off his pads through square leg for a boundary. IND 21/0 in 2 overs.
20.36 IST: FOUR! No bowler will be spared today, if he fails to get his length wrong. Ball drops the ball short and on middle and leg, Rohit rides the bounce and eases it with the pull shot behind square leg for a boundary.
20.34 IST: FOUR! Exquisite! That will be great for Dhawan's confidence. Full-length ball outside off, Dhawan leans ahead a touch and drives it crisply through covers to find the fence. Good start for India, 11 from the first over.
20.33 IST: SIX! What a shot! The good thing is that Sharma didn't get rattled after the first two good deliveries. He walks down the track and clips the fullish ball nonchalantly over cow corner to clear the ropes.
20.32 IST: A great comeback in the last 5 overs by the Indian bowlers and now it's up to their batsmen to carry the momentum forward. Out come the dangerous duo, Rohit Sharma and Shikhar Dhawan to open the batting. David Willey to start off the proceedings with the ball. 
20.12 IST: England post 198/9 in 20 overs against India in Bristol. Roy 67, Pandya 4/38, Kaul 2/35. Siddarth Kaul to Adil Rashid, OUT! Terrific presence of mind from Dhoni! His mind works like a computer works like a computer behind the stumps. Shortish ball outside off, Rashid swings at it but misses. MS knows the batsmen will try to steal a bye and he took his gloves off before this ball. Aims at the stumps at his end and hits the bull's eye. Jordan is miles outside of his crease. ENGLAND FINISH WITH 198/9!
Innings Break!

England 198/9 in 20 overs. #TeamIndia need 199 runs to win the game and the series.#ENGvIND pic.twitter.com/oX4osiYsHA

— BCCI (@BCCI) July 8, 2018
20.08 IST: OUT! Siddarth Kaul removes Plunkett for 9. Another one departs! This is the 5th catch for Dhoni, the most by any wicket-keeper in a T20I match. Kaul spots getting into the position for playing a scoop shot and hence, bowls it wide outside off. Plunkett tries to change his shot as he tries to ramp it over third man but gets an edge which is pouched safely by Dhoni. England 194/8 in 19.3 overs vs India in Bristol.
20.04 IST: Liam Plunkett comes out to bat.
20.03 IST: OUT! Umesh Yadav removes Willey for 1. Cleaned him up! Full and fast ball at 144 clicks, Willey tries to jam it out but gets an inside edge which goes onto hit the stumps. Superb going for the Men in Blue. England 183/7 in 18.3 overs vs India in Bristol.
20.02 IST: Chris Jordan is the new man in.
20.01 IST: OUT! Hardik Pandya removes Bairstow for 25. Career-best figures for Hardik Pandya! Pandya pitches this one up again but it is wider this time. Bairstow has to reach out for it and all he gets is a nick behind. Dhoni takes a regulation catch. A comeback of sorts from Hardik after being hit for 22 in his first over. In the last three over, he gave away only 16 runs and took 3 wickets. England 181/6 in 18 overs vs India in Bristol.
19.59 IST: David Willey walks out to bat.
19.58 IST: OUT! Hardik Pandya removes Stokes for 14. The hosts are losing their way a bit! Pandya gets a 3-fer. Good length ball angling across Stokes. He tries to heave it over mid-wicket but ends up top edging it. The ball flies towards Kohli at long off who is cool as a cucumber to pouch it. England 177/5 in 17.4 overs vs India in Bristol.
19.52 IST: SIX! An astonishing stroke! Brilliantly played. Full delivery outside off, Bairstow does really well to get under it and slices it over cover-point. He has generated so much of power in that as the ball clears the fence with the ease. ENG 169/4 in 16.2 overs.
19.50 IST: FOUR! Easy pickings! Full toss down the leg side, Bairstow kneels and swipes it through fine leg to find the ropes.
19.47 IST: FOUR! Not bowling according to the field! Low full toss wide outside off, all Stokes has to do is get some bat on it and he does so. The ball goes past short third man and races to the fence.
19.45 IST: SIX! And this will release all the pressure. Chahar delivers it full and on middle and leg, Bairstow clears his front leg and flicks it beautifully over mid-wicket. Goes just over the ropes.
19.42 IST: Jonny Bairstow is the new man in. Meanwhile, Deepak Chahar returns.
19.41 IST: OUT! Hardik Pandya removes Hales for 30. Two wickets in the over! Pandya is having a good time with the ball after starting on a wrong note. He bowls this one on a length outside off, Hales tries to run it down to third man but gets an outside edge which is gobbled by Dhoni. Too close to the body to attempt that shot. A soft dismissal, really. England continue to score runs at a brisk rate but are losing wickets as well in the process. England 140/4 in 14 overs vs India in Bristol.
19.40 IST: SIX! Came right off the screws! Short ball, Hales swivels across and pulls it with aplomb over deep backward square leg for a maximum.
19.38 IST: Ben Stokes comes out to bat.
19.37 IST: OUT! Hardik Pandya removes Eoin Morgan for 6. Gone this time! Thankfully for India, it is the cool and collected Dhoni who doesn't make any mistake. Fuller in length, shaping away from Morgan. He again goes for a heave but a top edge results. The ball swirls in the sky near the pitch as Dhoni calls for it. He runs in, watches the ball closely and settles under it. However, he is not aware where the stumps are and loses his balance after landing on it. Manages to not fall though and has that trademark smile on his face. England 134/3 in 13.2 overs vs India in Bristol
19.36 IST: Hardik Pandya to Eoin Morgan, 2 runs, Eoin Morgan dropped! Can't drop such catches at this level! On a length, angling away from Morgan. He tries to swing it across the line but gets a top edge. The ball is high in the air in the cover region. Chahal goes behind a touch but doesn't look comfortable. Misjudges it as the ball falls behind him and he lands awkwardly on the ground. As Chahal tries to take that skier from Morgan's bat, his head landed on the ground in a hard manner and he is in some pain. His teammates come running towards him.
19.33 IST: FOUR! It is amazing how Hales generated so much of power in that shot! Straighter one from Chahal wide outside off, Hales reaches out for it and cuts it through covers. Pandya dives but the ball goes through. Kaul at sweeper cover is slow to react and the ball rolls to the fence. ENG 128/2 in 12.5 overs.
19.27 IST: Hardik Pandya returns.
19.26 IST: FOUR! Well played! Loopy delivery on off, Hales crouches and slog sweeps it over mid-wicket. One bounce and it goes over the ropes. Apart from the boundary, it was a good over from Chahal.
19.22 IST: SIX! Hales makes full use of the Free Hit! Low full toss on middle and leg, Hales does well to get under it and launches it over long on for another biggie.
19.20 IST: Eoin Morgan strides out to bat.
19.19 IST: OUT! Chahar removes Roy for 67. Maiden international wicket for Deepak Chahar! The slower ball has done the trick for him and he absolutely elated. He bowls an off cutter outside off, Roy makes some room to run it down with an angled bat but doesn't have much space to work with. Ends up getting a faint nick and Dhoni takes a fine low catch. England 103/2 in 9.2 overs vs India in Bristol.
19.16 IST: SIX! 100 up for England! That is clean and authoritative! Brilliantly played! Good length ball around off, the ideal one to line it up. Roy holds his stance and hoicks it over cow corner to clear the ropes.
19.11 IST: Alex Hales comes out to bat.
19.10 IST: OUT! Siddarth Kaul removes Buttler for 34. Bowled 'em! The sound of the ball hitting the stumps is music to the ears of a fast bowler. Full ball attacking the stumps, it swings in as well. Buttler clears his front leg and tries to heave it away but misses it completely to find his stumps shattered. A breezy cameo from Buttler ends. Important breakthrough for India. Can they capitalize? England 94/1 in 7.5 overs vs India in Bristol.
19.08 IST: FOUR! There was the surprise factor in that delivery but Buttler got away with it, not convincingly though. Well-directed short ball on the body of Jos who tries to pull it across the line but only manages a top edge over the keeper.
19.06 IST: FIFTY! Jason Roy hits his 3rd T20I half-century off 23 balls. SIX! Stand and delivery! Floated leg spinner around off, Roy lines it up and smokes it over long on for a huge maximum. England 82/0 in 6.5 overs vs India in Bristol.
19.02 IST: Yuzvendra Chahal to roll his arm over now.
19.00 IST: SIX! Just clears Chahar at long on! This is one of the shortest straight boundaries in international cricket that you will ever see. Fullish ball in line of the stumps, Roy lifts it down the ground but mistimes it. There is a lot of height on it but I doubt whether it has distance as well. Deepak places himself near the boundary, tries to take it but the ball just goes over him.
18.59 IST: SIX! Carnage in Bristol! 16 from the first three balls! Back of a length ball on middle, Roy just times his pull and away she goes over deep square leg. Must be having a great bat in his hands.
18.58 IST: FOUR! Pandya is a hit the deck hard but it is not working for him at the moment. Similar short ball on the same line, all Roy has to place the pull and he does so through fine leg to find the ropes again.
18.57 IST: FOUR! Poor delivery first up and duly punished! One-way traffic at the moment. Banged in hard but it is ill-directed. Down the leg side, Roy moves inside the line and help-pulls it through fine leg for a boundary.
18.55 IST: SIX! Already signs that this track is a belter! You can hold your stance and hit through the line. It is a pitched up ball on off, Roy with an extension of the arms tonks it over long off for a maximum. 50 up for England only in 27 balls.
18.52 IST: SIX! Hit with authority! Length ball outside off, right in the slot, Roy leans ahead and strokes it over mid off. It is going, going and travels the distance. 14 from this one.
18.50 IST: FOUR! Shoddy work from Pandya! The Indians look a bit jaded because of the onslaught from the opposition. Half-volley outside off, Roy drives it crisply towards wide mid off. Pandya moves to his left but makes a mess of it. The ball goes through his legs and reaches the fence.
18.48 IST: FOUR! Runs are coming thick and fast for England! Ominous signs for India. A tad ahead of a length around off, Roy punches it on the up through mid off. The fielder in that area is wider and hence, has no chance to cut it off.
18.46 IST: FOUR! Take that, Chahar! Short of a length ball on off, Buttler holds his shape and swipes it through mid-wicket. He has raced to 25 from 11 balls.
18.43 IST: FOUR! Yadav tries to over-compensate and dishes out a short ball that sits up nicely for Jos. He is in the form of his life and doesn't miss out. Hammer-pulls it through square leg and the ball races to the fence.
18.41 IST: FOUR! That is straight and forceful. Shot! There is a lot of movement and hence, Yadav is preferring to bowl full. This time it is overpitched on middle, the bat turns in Buttler's hands but he goes through with his loft shot. Ends up getting it over the bowler to find the ropes. ENG 18/0 in 1.4 overs.
18.38 IST: Umesh Yadav to share the new ball from the other end.
18.37 IST: FOUR! That's unlucky for Chahar! The short square boundaries helping England's cause. Length ball on off, Buttler pushes at it with hard hands but gets it off the inner half of the bat through square leg. No one in the deep and another boundary results.
18.35 IST: The Kookaburra has been damaged after a couple of forceful shots from Buttler. The umpires have a look at it and call for a new box of balls.
18.34 IST: Another one comes from the bat of Buttler. Overpitched delivery on middle and leg, Buttler lines it up and lifts it over mid on to find the fence once again.
18.33 IST: FOUR! Buttler is oozing with confidence! Though he had a rare failure in the last game, he has been in purple patch with the bat. On a length outside off, Jos is on the move as he drills it past the left side of mid off for a rocketing boundary. ENG 5/0 in 0.3 overs.
18.30 IST: We are set to get underway as the umpires and the players make their way out to the middle. Jos Buttler and Jason Roy will open the batting for England. The debutant, Deepak Chahar will start off with the new ball. A big occasion for the young man.
18.28 IST: Eoin Morgan says they would have liked to chase as well. Mentions that they prefer that way. Feels that the ground dimensions are similar as Cardiff and the plan will be similar as the game before. Informs that there is one change for them. Adds that Stokes is back and Root is the one who makes way for him. Also adds that the big all-rounder is fit to bowl. Ends by saying that Root is a really good player and it might just be a one-off game where he has been dropped.
18.25 IST: Virat Kohli says that they are going to bowl first. States that there is some grass on the pitch and the new ball is going to move a bit. Informs that there are two changes - Bhuvneshwar Kumar is a bit stiff and hence, Siddarth Kaul comes in his place. Adds that Kuldeep Yadav also misses out and Deepak Chahar makes his debut. Feels that Chahar is an exciting prospect and they are backing him. Announces that they have an eye on the 2019 World Cup and they want to try out different combinations.
18.20 IST: "Jos Buttler remains the biggest threat to India's quest for a series win. Their foremost aim should be to not allow him to settle. He has the ability to play spin well and Yuzvendra Chahal might come under immense pressure if the former stays a bit longer at the crease," Virender Sehwag told India TV.
18.15 IST: India Playing XI: Rohit Sharma, Shikhar Dhawan, Lokesh Rahul, Virat Kohli (c), Suresh Raina, MS Dhoni (w), Hardik Pandya, Deepak Chahar, Umesh Yadav, Siddarth Kaul, Yuzvendra Chahal
18.10 IST: England Playing XI: Jason Roy, Jos Buttler (w), Alex Hales, Eoin Morgan (c), Jonny Bairstow, Ben Stokes, David Willey, Liam Plunkett, Chris Jordan, Adil Rashid, Jake Ball
18.00 IST: India win toss, opt to bowl against England in Bristol. The three-match T20I series is currently tied at 1-1.
#TeamIndia Captain @imVkohli wins the toss and elects to bowl first against England.#ENGvIND pic.twitter.com/wPDQphNsy4

— BCCI (@BCCI) July 8, 2018
17.50 IST: Meanwhile, our Sports Editor Samip Rajguru has a question for you.
Guess who is this player warming up #ckb #bristolt20 @indiatvnews pic.twitter.com/kokeZGxwah

— Samip Rajguru (@samiprajguru) July 8, 2018
17.40 IST: Deepak Chahar is set to make his debut as he received Team India cap from skipper Virat Kohli.
We have a debutant here in the third T20I against England. Deepak Chahar receives his #TeamIndia cap from Skipper @imVkohli.#ENGvIND pic.twitter.com/vRB1VNRRr0

— BCCI (@BCCI) July 8, 2018
17.30 IST: Here are the teams for India vs England 3rd T20I.
India: Virat Kohli (c), Shikhar Dhawan, Rohit Sharma, KL Rahul, Suresh Raina, Manish Pandey, MS Dhoni (wk), Dinesh Karthik, Yuzvendra Chahal, Kuldeep Yadav, Krunal Pandya, Bhuvneshwar Kumar, Deepak Chahar, Hardik Pandya, Siddarth Kaul, Umesh Yadav.
England: Eoin Morgan (c), Moeen Ali, Jonny Bairstow, Jake Ball, Jos Buttler (wk), Sam Curran, Alex Hales, Chris Jordan, Liam Plunkett, Adil Rashid, Joe Root, Jason Roy, David Willey, Dawid Malan, Ben Stokes.
Brief Preview: With England winning the second Twenty20 International to level the series at 1-1, India will aim to improve the performance and win the third and decisive contest today. A win for England at Cardiff is an indication that the Three Lions are no pushovers and this is just the beginning of a long grueling tour. 
The last time India lost a bilateral T20I contest was against West Indies in July 2017, albeit that was a one-off game. In fact, India's last series' loss with more one T20I game also came against the same opposition, at Florida in August 2016. (Read full preview)