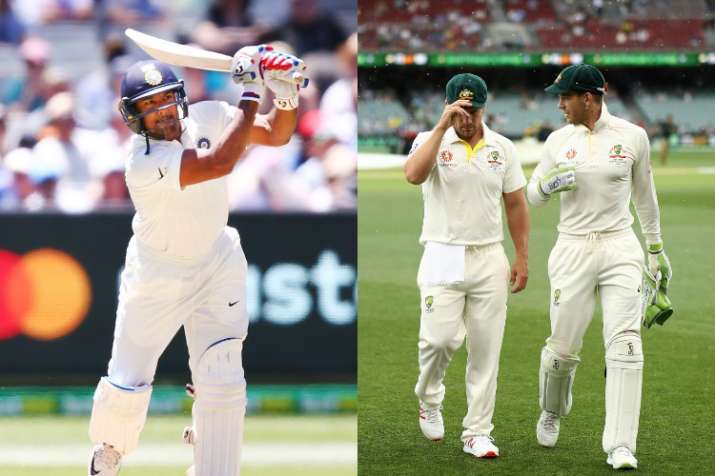 Indian opener Mayank Agarwal who was handed a Test debut in Melbourne on India's recent tour to Australia impressed everyone with his astute defence and attractive strokeplay in his maiden Test series for the country. However, as is the case with every debutant, Mayank too had his fair share of sledging coming his way from the hosts.
According to Agarwal's IPL team King XI Punjab's website kxip.in, Australian captain Tim Paine and opener Aaron Finch targeted the former with a bountiful of verbals. But Mayank was not shy of giving it back.
 
For instance, the fact that Mayank didn't have a bat sponsor prompted Paine to ask his own teammates if they knew the worth of the Karnataka batsman.
"I did not have a bat sponsor, so Tim Paine had a go at me and asked his team, 'How much do you reckon he's worth?'," Mayank told kxip.in.
Incidentally Finch, who plays for the same IPL team as Mayank, also didn't lose out on trying to unsettle the latter.
 
"Aaron Finch was one of them. Off the field, we are good friends. We've played together for Kings XI Punjab. So, it was just light banter. In the second innings at the MCG, I was batting close to end of day's play and Finch came up to and said, 'Listen, Mayank. Melbourne's got a great nightlife, a good place to party. If you get out now, you could do that.'"
On his part, Mayank knew that focusing on the game was more important but still he couldn't help but reply to the Australian ODI captain.
"Listen, Aaron, I'm married," replied Mayank.
Though Agarwal admitted that there were no abuses hurled at him and it was all just friendly banter.
"I did get a few comments coming my way when I was batting," Agarwal told kxip.in. "There were no abuses. Just some friendly banter.