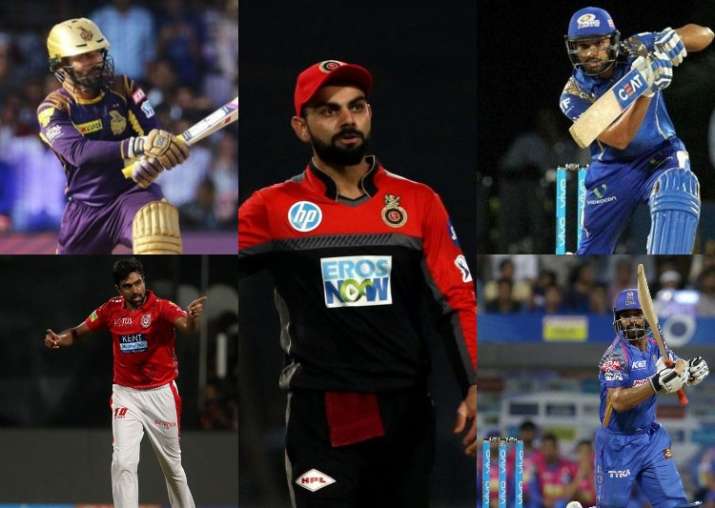 We are in the final week of the league stage matches of the Indian Premier League 2018 and till now only two teams have managed to qualify for the playoffs. One is the 2016 Champion and current table toppers with 18 points - Sunrisers Hyderabad and the other one is the team which made a comeback after 2 years with a bang - Chennai Super Kings, who are on second position with 16 points. Both SRH and CSK have performed exceedingly well and have shown good consistency.
Now as we head towards the business end of the tournament, the battle is heating up to grab the third and fourth spot on the points table. Except Delhi Daredevils, every other team has a realistic chance of making it to the playoffs. 
Here's a look at the scenarios required for each team to make it to the playoffs/finish in the top-two:
Kolkata Knight Riders (Points 12; NRR -0.189)
The two-time IPL champions are still in the race of qualification for play-offs as right now they have 12 points with 2 games to spare. They surely have to win both of their matches to not depend on other teams' results. If they win both their matches, they will be qualifying easily but if they lose one and win one they must depend on other teams' results and on their Net Run Rate which right now is -0.189 and that is not a good sign for them. KKR will play Rajasthan Royals today (on Tuesday) at their home ground which will be a tight match as Rajasthan are playing consistent cricket from past few matches while KKR's other match is with the table toppers and the strongest bowling side in this year's IPL - Sunrisers Hyderabad on May 19.
Rajasthan Royals (Points 12; NRR -0.347)
After 2 years of suspension due to the involvement of their officials in the IPL spot-fixing case in 2013, Rajasthan Royals have experienced a mixed season as per their position on points table is concerned. The Ajinkya Rahane-led team has won 6 of its 12 matches so far and they still need 2 wins to seal their seat for the IPL play-offs otherwise their fate will not stay in their own hands. The good thing for Rajasthan is that they picked up their good form at the right time as they are riding on a three-match winning streak with opener Jos Butler in destructive form. Rajasthan will play Kolkata Knight Riders today (on Tuesday) at the Eden Gardens in must-win game for both the sides. After this match, RR will play against Virat Kohli's RCB, who are also ready to give their everything to qualify for the last-four. 
Kings XI Punjab (Points 12; NRR -0.518)
This season of IPL has been a roller-coaster ride for the Kings XI Punjab as in the starting month they were the team to watch out for. KXIP played incredible cricket with both bat and ball but from past few mathces nothing has gone right for them because of that they are on a tight spot right now with 12 points in 12 games and with a poor Net Run Rate of -0.518. Now, the qualifiaction scenario for them is to win both of their matches otherwise there will be very less chances for them to qualify because of their undewhelming Net Run Rate. On Wednesday, they will be locking horns with the three-time IPL Champions Mumbai Indians who also want to qualify for the play-offs. KXIP's last match is against the mighty Chennai Super Kings who are the best all-round side in this edition of the league. So, it's basically 'Now or Never' type of situation of the R Ashwin-led side.
Mumbai Indians (Points 10; NRR +0.405)
Defending champions Mumbai Indians had a scary start to this year's IPL as they lost three consecutive matches at the start of the season. However, the Rohit Sharma-led MI displayed their champions pedigree and bounced back strongly during the later stages of the league to stay alive. In April, MI lost 5 out of their 7 matches. But in May, Mumbai won 3 out of their five matches to keep themselves in contention. Right now, Mumbai are on 10 points in 12 games with a surprisingly good Net Run Rate of +0.405 which is the highest among all. The current situation for MI to qualify is to win both of their matches and pray that other teams like KKR, Rajasthan and KXIP at least lose their one match. They will play their next two do-or-die matches against Punjab who are currently in poor form and other is against Delhi, who are already knocked out. MI's good Net Run Rate will help them to qualify if all the teams remain on 14 points.
Royal Challengers Bangalore  (Points 10; NRR +0.218)
They are the most inconsistent team in the last two editions of IPL. After thrashing Kings XI Punjab by 10 wickets last night (Monday), they just resurrected themselves in the tournament. To qualify for the play-offs, they will have to win both their matches and be dependant on other teams' results. They are on 10 points with a decent Net Run Rate of +0.218. RCB just have to concentrate on winning the next two games which they will play against Sunrisers Hyderabad and Rajasthan Royals. The two superheroes of world cricket - Virat Kohli and AB de Villiers - need to step up in the next matches for their team.