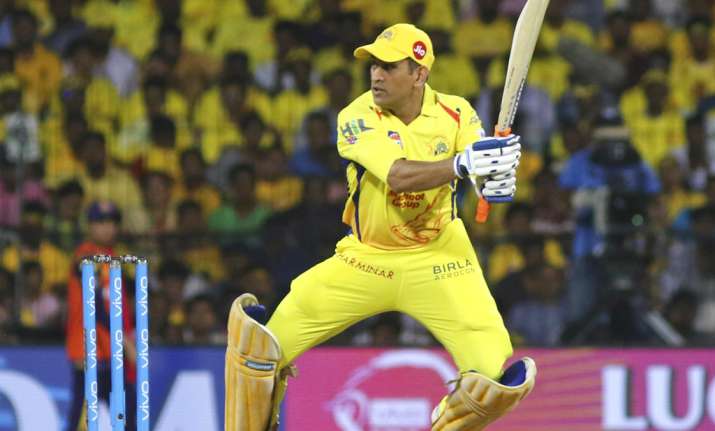 LIVE CRICKET SCORE IPL 2018: CSK vs RCB
Live Cricket Score IPL 2018 Match 35, CSK vs RCB: 
 Chennai Super Kings faced now problem after restricting Royal Challengers Bangalore for a paltry target of 128. The CSK bowlers had taken control of the match with Jadeja's 3/18 and Harbhajan's 2/22 saw off the RCB batsman in style, removing Virat Kohli, AB de Villiers early. Opener Parthiv Patel scored his 11th IPL half-century to help RCB build a score, however, early wickets saw the visitors collapse early. Southee's cameo helped RCB build a score past the 100 mark and put a respectable target. It was an easy target to chase for CSK as Ambati Rayudu and
Suresh Raina
's knocks helped CSK build and it was
MS Dhoni
 who did the needfull in the end. (
CSK vs RCB LIVE SCORECARD
)
HIGHLIGHTS IPL 2018, MATCH 35: CSK BEAT RCB BY 6 WICKETS
All over! Thala @msdhoni goes on a rampage as @ChennaiIPL beat #RCB by 6 wickets in Pune. #CSKvRCB #VIVOIPL

Details - https://t.co/K5c8f0EU80 pic.twitter.com/mold0yYZRU

— IndianPremierLeague (@IPL) May 5, 2018
19.22 IST: And that's a wrap! Chennai Super Kings thrash Royal Challengers Bangalore by 6 wickets.
19.18 IST: SIX! Three sixes in a row and 2 runs to win in 14 balls. Dhoni to finish it off again? Will it be deja vu for RCB once again?. Seems like it. CSK 126/4 in 17.4 overs
19.17 IST: SIX! Dhoni wants to finish the match in this over as he blasts the ball. CSK 120/4 in 17.3 overs
19.15 IST: SIX! Out of the blues! Unexpected and Dhoni smacks Chahal's delivery for a big one. It' getting intense now. 15 needed of 16 balls. CSK 113/4 in 17.2 overs
19.12 IST: Sliding down the leg side, on a length, Bravo fails to middle his attempted flick shot and it goes off his pads to backward square leg. The keeper runs after it and they cross for a leg bye.
19.08 IST: FOUR! Cut by Dhoni and that was sheer power by the skipper. CSK 100/4 in 15.5 overs
19.05 IST: SIX! Bravo finally stands up and smacks. Haven't seen that in a while but surely worth the wait. A step back and blast's Ashwin's delivery for a maximum. CSK 96/4 in 15.2 overs 
18.59 IST:  In the air... butter hands! Yuzvendra Chahal has dropped a sitter. Tossed up ball outside off, Bravo lofts it over extra cover. Chahal out in the deep runs across to his right but drops a sitter. Crucial moment in the game, this. A single picked up. Bravo gets two lives, can he make the most of it?
18.52 IST: OUT! Colin de Grandhomme removes Dhruv Shorey for 8. Another one gone! Are Bangalore coming back? Are they? Only time well tell. Short and wide outside off, Shorey looks to go hard at it. He cuts it but fails to keep it down and it's a simple catch to Mandeep Singh at backward point. Wasn't a wicket-taking delivery but Bangalore wouldn't mind it at all. CSK 80/4 in 12.2 overs
18.48 IST: MS Dhoni comes on to bat
18.47 IST: OUT! Murugan Ashwin removes Ambati Rayudu for 32. As far as my memory is concerned, I remember in the game against Kolkata he removed Narine on the very first ball of his spell. Drops it short, serves it wider on off as Rayudu goes hard at it. Gets a thick outside edge to spoon a simple catch to Mohammed Siraj at short third man. CSK 78/3 in 11.1 overs
18.42 IST: FOUR! Blasted by Rayudu to backward square-leg. That's hit with disdain! Poor delivery, short on leg and Rayudu pulls it with authority to send it away through backward square leg for a boundary.  CSK 77/2 in 10.3 overs
18.40 IST: SIX! Massive! Dhruv Shorey gets his first taste in the 2018 IPL as he smashes Siraj on what was turning ut to be an impressive over. Siraj pounds in a short ball, a well-directed one but the debutant is up for the task. He tries to play the hook shot and gets it off the middle to dump it into the fine leg fence for a maximum.  CSK 71/2 in 10 overs
18.30 IST: OUT! Clean take, take a bow Southee! Short of a length delivery on middle, Suresh Raina backs away and swings across the line. Doesn't get it off the middle and it goes towards long on. Seemed like it would clear Tim there but.... No. The tall Kiwi pacer leaps, takes it over his head near the rope. Now the momentum takes him over the line so he shows good awareness as he lobs the ball up, goes inside the rope and then comes back to take it again. Never easy to take those but he has made it look really simple. They however, take it upstairs and the TV umpire is happy with Southee's effort. 66 needed from 68 balls.  CSK 62/2 in 8.3 overs
18.28 IST: FOUR! Just helping it away! Short of a length delivery around the leg stump, Raina hops across and tucks it off the hips fine down the leg side. Runs coming thick and fast for the hosts. CSK 62/1 8.1 overs
18.21 IST: SIX! Up and over long on! Stays leg side of the ball, gets it in the arc and swings across the line. Seemed like the long on fielder would be interested but the ball goes well over him and into the fence. This should get Raina going . CSK 48/1 in 6.4 overs
18.18 IST: FOUR! Beautiful! 16 off the over. That was begging to be hit! Dropped short on leg and Raina makes the most of it. Goes deep in the crease and pulls it through square leg for a boundary. CSK 42/1 in 6 overs
18.17 IST: SIX! He's smoked that! Just ahead of a length on middle, Rayudu picks the length early, swivels a touch and send sit sailing over the deep mid-wicket fence for half a dozen. He is in some form this season and is continuing it again. CSK 38/1 in 5.5 overs
18.16 IST: FOUR! Nicely done! Stays back to a length delivery and hits it elegantly over mid on. De Villiers gives it a chase but the ball wins the race. CSK 32/1 in 5.4 overs
18.16 IST: Short of a length delivery outside off, Ambati Rayudu steps out of the crease and flat-bats it towards mid off. Yadav fumbles and concedes one. RCB 26/1 in 5.1 overs
18.12 IST: 5 overs gone and Chennai play it slow. The RCB bowlers have restricted the batsman well in the powerplay so far. CSK 26/1 in 5 overs
18.03 IST: OUT! Umesh Yadav removes Watson for 11. Chennai Super Kings 18/1 in 3 overs vs Royal Challengers Bangalore (127/9) in Pune
18.01 IST: SIX! Top edge and it sails over! Rayudu gets off the mark in a streaky manner. Yadav digs in a short ball, angling in on middle and leg. Ambati swivels a bit to pull but the ball gets big on him. Takes the top edge and flies over the fine leg fence for a biggie.
17.58 IST: Yuzvendra Chahal to Shane Watson, No run. Yes, a maiden for Chahal! Googly, flatter through the air and turning back in with some bounce. Watson backs away but chops it to cover.
17.53 IST: FOUR! Glorious! Pitches it up outside off, Watson leans ahead and drills it through the gap at extra cover. Away she speeds to the fence. Good start for Shane! CSK 8/0 in 0.4 overs.
17.51 IST: FOUR! Watson starts CSK's proceedings with a boundary. Just can't bowl there to Watson, he loves width and he cashes on to it. Back of length ball outside off. Watson sits back and square cuts it through the point region for a boundary.
17.50 IST: Welcome back for the run chase. Should be a stroll in the park for the hosts one would feel. Shane Watson and Ambati Rayudu to open again for the Men in Yellow. Tim Southee to open the attack for Bangalore.
17.38 IST: 
Innings Break!

Some fine bowling spells by the @ChennaiIPL bowlers restrict the #RCB to a total of 127/9 in 20 overs.#CSKvRCB #VIVOIPL pic.twitter.com/PnMwbwdu9m

— IndianPremierLeague (@IPL) May 5, 2018
RCB 127/9 after 20 overs and are perhaps 30 runs short of a competitive score.

But now is the time for the bowlers to work their magic and pull off a miracle of sorts!#PlayBold #CSKvRCB #RCB

— Royal Challengers (@RCBTweets) May 5, 2018
17.36 IST: CHENNAI SUPER KINGS NEED 128 RUNS TO WIN vs RCB
17.35 IST: RUN-OUT! Mohammed Siraj departs in the last ball of the innings and that's and end to RCB's total. Low full toss on the stumps, Siraj aiming to hit that one out of the park, gets a thick inside edge to wide long on. Siraj rushes back for the second run, but he falls short as the throw was on target and Dhoni wastes no time in breaking the stumps. RCB 127/9 in 20 overs
17.32 IST: Big mix up but Chennai miss out on a run out opportunity! Southee gets a thick inside edge to short fine leg, Siraj was long way down the track and he slips half way through. Throw was Ngidi was well over Bravo who had no chance of gathering the ball.
17.27 IST: FOUR! Plays the scoop shot and the fielder on the run drops the catch and goes for a boundary. Useful runs for Bangalore! Full length ball outside off, Southee went right across to scoop that one and makes a good contact. The ball flew to third man. Ngidi in the deep tries his best, gets a hand to it but can't stop it. RCB 122/8 in 18.3 overs
17.25 IST: SIX! It isn't over till its over. A smashing shot by Southee and he is putting on the runs. Brilliant and unexpected on Shardul's short ball.  Length ball on the stumps, Southee sits on the back foot and whacks it over mid-wicket fence for half a dozen.  RCB 118/8 in 18.2 overs
17.23 IST: Overthrow and extra runs to RCB. Ngidi misses the wickets on the run and goes wide. RCB 112/8 in 18 overs
17.20 IST: FOUR! Southee stacking up the runs for RCB as they reach the 100 mark. Something on the board for them. Bravo starts off with a slower full ball outside off, Southee thumps it through extra cover for a boundary. Can Tim get them to a respectable total? RCB 103/8 in 17.1 overs
17.18 IST: FOUR! Lucky runs for Southee as hangs on in the remaining overs. No one behind at at fine-leg and goes for a boundary. RCB 98/8 in 16.4 overs
17.12 IST: OUT! Run-out and Umesh Yadav goes back to the hut after scoring a run. A direct hit by Willey and the wickets keep tumbling. RCB 89/8 in 15.1 overs
17.05 IST! OUT! Another one and the wickets keep tumbling. David Willey gets his first IPL wicket and Colin de Grandhomme is sent back to the pavilion after scoring 8 runs. Short of length ball, angling in from outside off. Grandhomme was looking to pull that over mid-wicket. He splices it towards covers and Raina takes a sitter inside the circle. RCB 87/7 in 14.1 overs
17.00 IST: OUT! Stumped again by Dhoni's quick hands and this is Harbhajan's second. The first wicket of his was also stumped and Bangalore are collapsing. Is there anything behind the line? Tough call for the TV umpire! OUT is the decision on the big screen. Floated off break, straightens a bit, Ashwin was completely foxed by that one, he misses it to the keeper as he looks to defend that. Dhoni was quick to break the stumps. RCB 85/6 in 13.1 overs
16.58 IST: OUT! Taken! Caught and bowled by Jadeja! Chennai are completely bossing this game! Floated delivery, spins in a little, Patel looks to flick that one. He gets a soft leading edge back to the bowler. Jadeja takes a simple return catch. Bangalore have lost half their side. RCB 85/5 in 12.5 overs
16.53 IST: FOUR! Colin steps up and finishes Harbhajan's over in style. RCB 82/4 in 12 overs
16.52 IST: FIFTY! Parthiv Patel scores his 11th IPL half-century. RCB 74/4 in 11.2 overs
16.46 IST: FOUR! Quicker ball, angling in at pace. Patel backs away and cuts that one off the back foot. He finds the gap to perfection between the two men square on to the off side. RCB 66/3 in 9.1 overs
16.43 IST:  Much flatter from Jadeja, the ball spins back quite sharply. Patel backs away and slaps it down the ground for another single.RCB 61/3 in 9 overs
16.37 IST: OUT! Stumped and Dhoni's quick hands is more than enough. ABD departs! Bangalore innings in complete doldrums! Faster one on middle and leg, angling down leg. ABD was looking to play the reverse sweep and misses it. He lost his balance and his back leg was out of the crease. Dhoni was quick to break the stumps. RCB 56/3 in 7.4 overs
16.34 IST: FOUR! A reverse sweep shot by Parthiv and goes past the slips present. RCB 56/2 in 7.2 overs
16.31 IST: OUT! Jadeja gets the big fish and it is the RCB skipper Virat Kohli. He goes for a paltry 8. False shot from Kohli! It was a quicker one from Jadeja and it skids through after pitching. Kohli went back and looks to play with the angled bat and misses it. The ball smashes into the wickets. RCB 47/2 in 6.1 overs
16.28 IST: FOUR! A brilliant cover drive by Patel and this guy is making the most of his first match in the 2018 IPL. RCB 47/1 in 6 overs
16.25 IST: SIX! Another Maximum by Parthiv Patel and it goes all the way. Great pick up shot from Patel! That has gone all the way! Slower ball. Patel picks up the length early and heaves it over square leg fence for a maximum. RCB 43/1 in 5.1 overs
16.20 IST: FOUR!  Smashed straight down the ground by Kohli. Over Shardul and that was just blasted. Full length ball on the stumps. He offers the straight bat and lofts it clean over the bowler for a boundary. RCB 33/1 in 4.2 overs
16.19 IST: Brilliant over by Ngidi, conceding just three runs off it. RCB 29/1 in 4 overs
16.14 IST: SIX! Parthiv goes BIG! Up and over! Superb shot! Timing was the key to that shot! Length ball on middle. Patel advances down the track and chips it over mid on. The ball just sails over the fence.  RCB 26/1 in 3 overs
16.10 IST: FOUR! Another one by Parthiv. Much better connection on this occasion! Full pitch delivery on middle. He went across and whips it over wide mid on for a boundary. RCB 17/ 1in 2 overs
16.10 IST: FOUR! Just over the man at mid on! Short of length ball, went across to pull that. Patel mistimed it, but manages to clear the in-field. RCB 13/1 in 1.5 overs
16.07 IST: OUT! Lungi Ngidi removes Brendon McCullum for 5. RCB 9/1 in 1.2 overs
16.03 IST: FOUR! Off the mark and RCB get their first boundary of the innings. Was turning out to be a brilliant over by David Willey, but McCullum sends the ball outside off, through the slips and down for a boundary. RCB 8/0 in 1 over
16.01 IST: Massive shout for LBW, turned down! That was touch too high! In-dipper from Willey, Patel was late on that one, gets hit on the back leg as he looks to work that. RCB 0/0 in 0.2 overs
16.00 IST: Out come the umpires followed by the Chennai fielders. New opening pair for Bangalore make its way into the middle - Brendon McCullum and Parthiv Patel. Let's get started!!
15.55 IST: We're just a few minutes away from the clash as RCB have been asked to bat first. With AB de Villiers back, RCB look strong but their wicketkeeper-opening batsman Quinton de Kock is out of town. We expect this to a thriller once again. 
15.54 IST: Virat Kohli says even he wanted to bowl but is not too disappointed to have a go with the bat now. Adds they are confident from the last game that they can defend totals. Feels it's good to gain momentum at the right time and is really happy about where they are placed as a team. Informs AB de Villiers, Parthiv Patel and Murugan Ashwin come in for Quinton de Kock, Manan Vohra and Washington Sundar.
15.50 IST: PITCH REPORT - There is a strong breeze moving from west to east and the batsmen will look to use that, feels Ian Bishop. He further adds to his report that the wicket will be slightly two-paced, there is a dry patch right in the middle of the track. He predicts it will still be a good batting surface.
15.47 IST: Royal Challengers Bangalore Playing XI vs CSK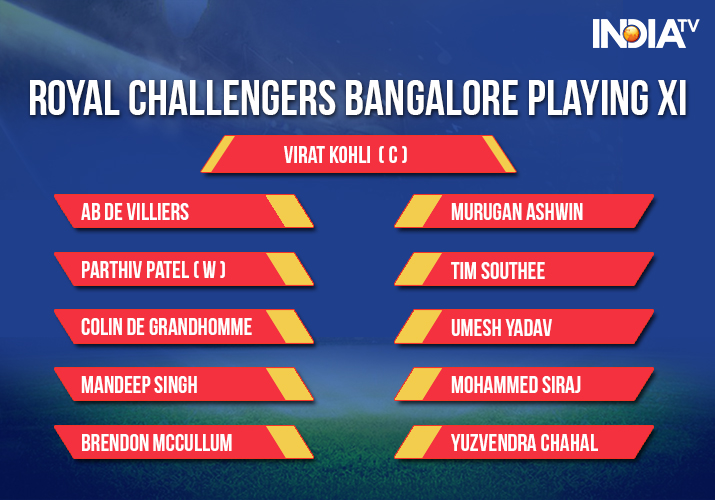 Chennai Super Kings Playing XI vs RCB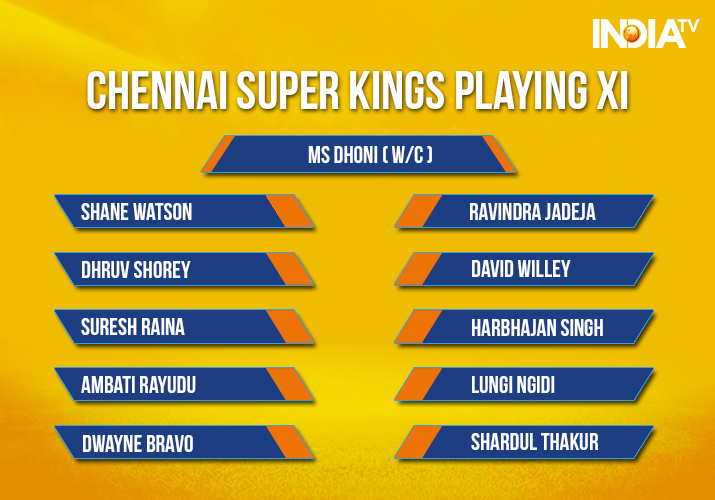 15.35 IST: 
.@ChennaiIPL Captain @msdhoni wins the toss and elects to bowl first against @RCBTweets.#CSKvRCB #VIVOIPL pic.twitter.com/Yx1pHlJLkp

— IndianPremierLeague (@IPL) May 5, 2018
15.32 IST: TOSS! Chennai Super Kings win toss and opt to bowl vs Royal Challengers Bangalore at MCA Stadium.
15.25 IST: We're a few minutes away from the toss and the MCA Stadium is started to fill up. Promises to be an exciting clash.
14.55 IST: 
The #WhistlePoduArmy coming in the scorching heat speaks all about the #yellove! #WhistlePodu #CSKvRCB 🦁💛 pic.twitter.com/o89VsrLYO0

— Chennai Super Kings (@ChennaiIPL) May 5, 2018
14.40 IST:
Sunsets amid the Western Ghats 🌄
Hours away before we get underway in Pune ❤#PlayBold #CSKvRCB pic.twitter.com/8I8wzyglNL

— Royal Challengers (@RCBTweets) May 4, 2018
14.33 IST: 
It's a match at the #DenAwayFromDen and the Lions are raring to go! #WhistlePodu #CSKvRCB #Yellove 🦁💛 pic.twitter.com/sSeSXh7o79

— Chennai Super Kings (@ChennaiIPL) May 5, 2018
Hello and welcome to our live coverage of the Indian Premier League (IPL ) 2018 Match 35 between CSK and RCB. We will shortly get underway with the live scores and updates as the TOSS begins at 15.30 PM IST and the match will commence from 16.00 PM IST.
Brief Preview: MS Dhoni-led Chennai Super Kings will aim for the top spot in the IPL 2018 Points Table when they host a struggling Royal Challengers Bangalore in a key league game between the southern rivals at the Maharashtra Cricket Association Stadium, Pune, on Saturday.
Virat-Kohli led RCB, who edged out Mumbai Indians by 14 runs in their last game, will be eager to avenge their five-wicket defeat at home against CSK, who too will be keen to swiftly get back into the winning mode after suffering two defeats in their last three games. READ FULL PREVIEW HERE