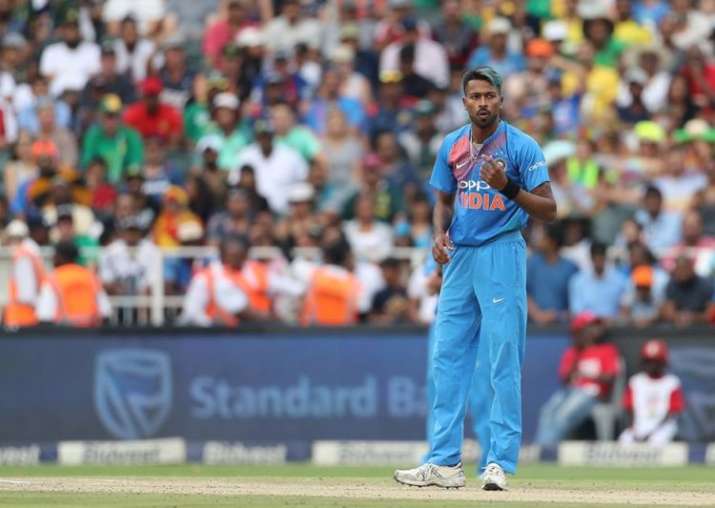 In the backdrop of India's 2-1 Test defeat, a 5-1 ODI win and a level 1-1 in T20Is so far on the South Africa tour, allrounder Hardik Pandya has failed to impress much with the willow. His bowling wasn't much impactful either initially in Tests, though he improved a bit later in ODIs and T20Is.
Following a much successful home season, Pandya landed South Africa, carrying a lot of expectations with him. India had never won a bilateral series in South Africa and the fans wanted the young allrounder to contribute immensely to India's attempt to script history on challenging pitches.
The 24-year-old Gujarati lad, who has been compared with India's all-time great all-rounder Kapil Dev in past, failed miserably on the South African soil. 
Watching the recent fall of Pandya, former India all-rounder Roger Binny couldn't resist to call him mere 'lucky' to be viewed as an allrounder in the current set-up of the Indian cricket team.
"He's lucky to get viewed as an allrounder. He doesn't contribute with the bat. He is chipping in with the ball, and that's why he's been able to keep his place in the team," Binny said as quoted by the Times of India.
Pandya started his campaign with a noteworthy 93-run knock in the first Test in Cape Town. With many greats of the business such as Virat Kohli and AB de Villiers falling cheaply on the tough wicket, Pandya's 93 was seen as a fluke as he lost his wicket for 1 run in the second innings, committing a silly mistake.
The other two Tests exposed the immaturity of Pandya even more as he was sent back to the pavilion for 15, 6, 0 and 4 in successive innings of the Test matches in Centurion and Johannesburg respectively.
Having been compared with legendary Kapil Dev, Pandya received flak from the World Cup-winning captain himself after he committed the same mistakes throughout the Test series. "If Pandya keeps making silly mistakes like these then he doesn't deserve to be compared with me," Dev had said. (Read full story) 
Echoing Dev's voice, Binny said it's time to stop comparing the two citing "limited-overs cricket is a different ball game altogether".
"As a batsman, he's no patch on Kapil Dev. Kapil got hundreds in first-class cricket before he broke into India's Test side. Pandya hasn't scored runs in first-class cricket before playing at the top level. He has got into the Test team based on his exploits in T20 cricket. Limited-overs cricket is a different ball game altogether - you can get runs in those formats because the field is spread out," he said.
"He has to bat up the order in first-class for Baroda and score runs there, otherwise it'll be difficult for him to settle in and perform in Test cricket. I don't think he'll be able to play much of domestic cricket though," Binny claimed.
Pandya scored just 26 runs and claimed four wickets in the six-match ODI series, which India won 5-1 to register their first-ever bilateral series victory in South Africa. In two T20Is, he managed to score 13 runs and claim two wickets.
Observing Pandya's style of play, Binny was of the opinion that he tries to hit every ball coming rather than trying to settle down for a while. "He's trying to hit everything from ball one, which is impossible. He tries to play too many strokes and doesn't look to settle down," he said.