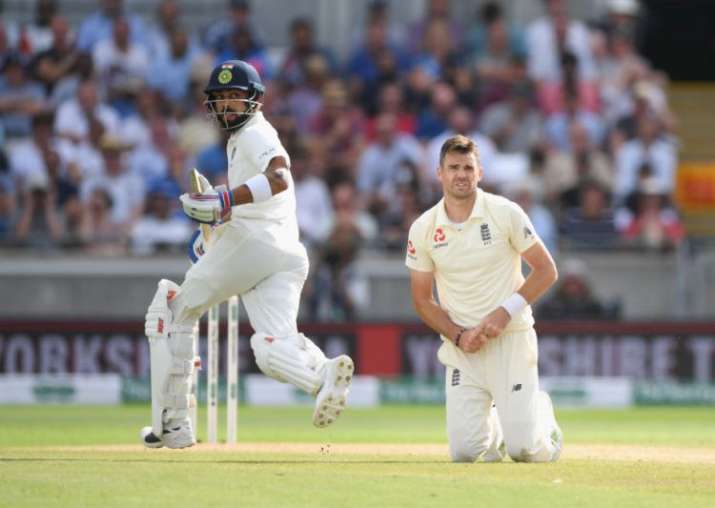 India vs England, 1st Test Day 3: 
IND 274 & 110/5 at stumps vs ENG (287, 180): 
A fine end of a day where some more spectacular Test cricket was on display. The game isn't over by any means, but the balance is slightly tipped in England's favour. Sam Curran gave the hosts a chance to begin with. Had it not been for his attacking fifty, this game might have more or less been over by now. But the Englishmen are in it with a real chance. Curran's good show with the bat was backed up by the bowling department well. Everybody except for Adil Rashid chipped in with the wicket to send half the Indian side back in the hut. The onus once again lies on India's fearless leader
Virat Kohli
. Much like the first innings, he holds the key to the visitors' success in this game. He is partnered by
Dinesh Karthik
at the other end and the pair will have a big job come the morning of Day 4. With still 84 runs to win, if England break this partnership early tomorrow, or somehow manage to get Kohli, this match is theirs for the taking. (
SCORECARD
)
India vs England, Highlights, 1st Test at Birmingham:
23.23 IST: India 274 & 110/5 at stumps, need 84 runs to win against England (287 & 180) in Birmingham. Kohli 43*, Broad 2/29. Ben Stokes to Virat Kohli, no run. No, he can't. Bit of a waste, really. Didn't even make Kohli play. Short ball angling down, the Indian skipper leaves it alone. STUMPS ON DAY 3!
That's Stumps on Day 3 of the 1st Test.#TeamIndia 110/5, need 84 runs to win the 1st Test.#ENGvIND pic.twitter.com/bZ58dvJ5hm

— BCCI (@BCCI) August 3, 2018
23.15 IST: Adil Rashid is on to have a go with the ball in these final few minutes.
23.13 IST: Ben Stokes to Dinesh Karthik, no run. Angles this into then hips of DK who bunts it down. IND 105/5 in 34 overs.
23.00 IST: Seems play is further extended by an additional 20 minutes. Possibly to cover up the overs lost due to bad light earlier in the day. Ironically, it's bright and sunny now.
22.55 IST: Ben Stokes to Dinesh Karthik, no run. Another big shout! Turned down. Impact is outside off. Fuller length ball angling in from well outside off, Karthik plants his front foot across to block and wears it on the pads. Big appeal, but correctly the umpire says no.  IND 101/5 in 30 overs.
22.53 IST: Ben Stokes to Dinesh Karthik, 1 run. Shaping back in on middle and leg, goes off the thigh pad and through backward square leg. With this, the 100 comes up for India.
22.50 IST: FOUR! Off the edge but Karthik played that with hard hands. Walked a step out of the crease to negate the movement probably and drove, only to get it off the edge past Jennings at third slip who couldn't stop it with a dive. It ran down to third man for a boundary.  IND 89/5 in 28.5 overs.
22.47 IST: Stuart Broad is called back on. Can he get another wicket? Or more importantly, get Virat Kohli?
22.43 IST: FOUR! That is elegance! This will do Karthik a lot of good. His first boundary of this Test. Full and outside off, DK drives this on the up and beautifully pierces the gap through the covers to send it across the boundary line.  IND 93/5 in 27.2 overs.
22.33 IST: FOUR! Anderson errs in line and pays the price. Kohli moves inside the line, picks it off his hips and tickles it down across the fine leg fence for a boundary.
22.31 IST: Dinesh Karthik to bat next.
22.30 IST: OUT! Anderson removes Ashwin for 13. Edged and gone this time! Anderson strikes, showing his magic yet again. Keeps it in the channel outside off, a hint of away movement as Ravichandran Ashwin feels for it. Gets a feather behind and Jonny Bairstow does the rest. The move to send him at no.6 has not worked. England on top here, piling the pressure on the Indians. India 274 & 78/5 vs England (287, 180) in Birmingham.
22.28 IST: FOUR! Outside edge of Ashwin's bat, sails for a boundary. 
22.25 IST: FOUR! Superb shot. Second boundary for Ravi Ash. Bit too full and width offered outside off, Ashwin drives it square through point. Nobody there inside the ring or at the rope, so that's a sure boundary. IND 73/4 in 23.4 overs.
22.23 IST: Ben Stokes returns.
22.18 IST: FOUR! Perfect way to get off the mark. Too full and outside off, Ashwin leans into the shot and drives it crisply through the cover region for a boundary.
22.16 IST: Ravichandran Ashwin is sent in as the nightwatchman.
22.15 IST: OUT! Sam Curran removes Rahane for 2. Sam Curran is continuing on with his fine form. Provides the breakthrough when it's needed. But, this wicket is largely down to Rahane's poor shot. It's a nothing delivery outside off, Rahane for some reason loosely feels for it and gets an under edge. It goes behind and Jonny Bairstow takes a low catch. He's up celebrating already but the umpire just wants to make sure if the catch was taken cleanly or not. He takes it upstairs and replays show the catch is clean. Ajinkya Rahane was struggling to counter the variable bounce since he came on, given in to it finally. India 274 & 63/4 vs England (287, 180) in Birmingham.
22.13 IST: The umpire has gone upstairs to check whether Rahane really did edge that or not. There was a definite noise and the soft signal is out. They want to check whether the catch carried or not.
22.06 IST: KOHLI IS SAFE! The height has saved him. Not a bad delivery at all. Curran brings it back in on a length on off, Kohli, in defense (which has saved him), takes a big stride forward to defend. Wears it on the pads and an appeal goes up. The umpire says no but Curran and the rest of the English camp think long and hard and take it upstairs. Replays show up on the big screen and they confirm that height is the problem. Kohli is safe and England lose a review as well.
22.05 IST: Review time. It's for an lbw decision against Virat Kohli. Is he gone? Has the height saved him? 
21.58 IST: James Anderson is back into the attack.
21.55 IST: FOUR! Minimal effort, maximum class! Shot from a man in-form. Full and outside off, Kohli just connects bat with ball and like a sweet symphony, the ball just goes racing through the covers for a boundary. Beautiful. IND 58/3 in 17.1 overs.
21.52 IST: The last drinks break of the day has been taken. India lost three wickets in the first hour. The two most important batsmen are now in the middle. They need to stay there till the end of day's play. England will be the happier side as things stand.
21.46 IST: FOUR! Pure class! There is no stopping that. Pitched up outside off, Kohli leans in for the drive and creams it through covers. The ball races away.
21.42 IST: Ajinkya Rahane walks in to accompany his skipper.
21.41 IST: OUT! Stokes removes Rahul for 13. What a peach of a ball from Stokes! Squares up Rahul and gets the better of him. Like we mentioned before KL has a problem outside off but this time he cannot do anything about it. Ben bowls this on a good length from round the wicket. It pitches and moves away sharply. Rahul looks to tuck it away but gets an edge to the keeper. The umpire raises his finger and Rahul walks.  India 274 & 46/3 vs England (287, 180) in Birmingham.
21.35 IST: Sam Curran to KL Rahul, 1 run. Loud shout for an lbw! But once again, the inside edge saves Rahul. Curran swings a length ball in from around off, KL is forward in defense. He's caught on the front pad but luckily for him, the ball takes the inside edge first before getting his pad. A single is taken as the ball rolls away on the off side.
21.33 IST: Sam Curran to bowl his first over.
21.32 IST: Ben Stokes to Virat Kohli, no run. Full and wide outside off, Virat does not bother playing at it. IND 43/2 in 13 overs.
21.28 IST: Ben Stokes is called into the attack.
21.24 IST: KL Rahul have had issues wafting outside the off stump. He has been out quite a few times inside edging the incoming deliveries. In the first innings too, he dragged one on off the inside edge. A few balls back also, Rahul inside edged one past the keeper. Seems a technical deficiency and he needs to sort it out soon.
21.17 IST: INSIDE EDGE BUT BONUS RUNS FOR INDIA! Oh my god! What kind of an inside edge was that? Length ball around off, Rahul goes for the gentle push but gets a thick inside edge over the stumps, wide of Bairstow and to the fine leg fence. IND 21/2 in 9.5 overs.
21.10 IST: FOUR! Nice timing! This is a pitched up ball on middle and leg, Rahul flicks it away wristly through mid-wicket to the fence.
21.06 IST: Virat Kohli is in at no. 4. They will want him to stay in for as long as possible.
21.05 IST: OUT! Broad removes Dhawan for 13. There it is! Broad finds Dhawan's nick and gets his second. Beautiful bowling this from Stuart. For Dhawan, a very similar dismissal like the first innings. Broad pitches this full and outside off, Dhawan takes a step forward and looks to drive this. Gets a healthy edge and Bairstow moves to his left to take a simple catch. Both the openers back in the hut now and India need 172 more to win. India 274 & 22/2 vs England (287, 180) in Birmingham.
21.02 IST: KL Rahul Not out! Had to be. A full ball on middle and off, Rahul drives it to mid off and sets for the run. Curran there picks it up and throws it to the at the non-striker's end. The umpire takes it up after some English players ask him to. Replays show KL is way in.
21.00 IST: A referral for run out. Looks to be safe but they take everything upstairs these days.
20.57 IST: KL Rahul is the new man in.
20.55 IST: OUT! Broad removes Vijay for 6. Gone! Vijay is a dead duck! Broad gets another one to come back in and Vijay has to take the long walk back. Broad lands this around off, the ball jags back in sharply. Vijay shoulders his arms thinking the ball will move the other way. It goes on to hit him on the front leg. Broad appeals and the umpire raises his finger. Vijay has a chat with Dhawan but they opt not to take the review. And rightly so, since there was no shot offered the impact doesn't matter. And replays confirm it. England get their first. India 274 & 19/1 vs England (287, 180) in Birmingham.
20.50 IST: Murali Vijay DROPPED! Oh dear! And guess who? It's Malan again! He surely wants to forget everything and needs to concentrate more. A perfect line on a good length around off, Vijay comes forward to drive it and gets a fat edge towards second slip. Malan, not in the right balance dives to his right gets two hands to it but the ball doesn't stick. They pick up a brace as the ball goes past him. England need these catches to be taken.
20.46 IST: Stuart Broad to Murali Vijay, no run. Good ball. Length around off, Vijay knows where his stumps are and shoulders his arms.  IND 9/0 in 4 overs.
20.42 IST: Virat Kohli's 149 will change India's mindset in England, says Sourav Ganguly
20.36 IST: FOUR! Shot! First of the innings. A positive intent from Shikhar and gets a boundary for it. Broad invites the drive around off, Dhawan leans ahead and creams it through covers to the fence.
20.34 IST: Stuart Broad to bowl from the other end.
20.33 IST: James Anderson to Shikhar Dhawan, 1 run. Pushes this with soft hands towards covers and gets to the other end. IND 2/0 in 1 over.
20.12 IST: TEA HAS BEEN TAKEN. You'd never have thought England would have got in this position after where they were before Sam Curran took charge of things. The last three wickets added 93 runs, and Sam Curran was responsible for scoring the bulk of those runs. Much like Virat Kohli yesterday, where 92 were scored by the last 2 wickets and he did most of the hitting.
Innings Break!

England all out for 180 in the 2nd innings.#TeamIndia need 194 runs to win the 1st Test.#ENGvIND pic.twitter.com/MlCFx2XJSf

— BCCI (@BCCI) August 3, 2018
20.10 IST: England 287 & 180-all-out, set India (274) a 194-run target to win. Curran 63, Ishant 5/51, Ashwin 3/59. Sam Curran OUT! ENGLAND ALL OUT FOR 180! Yadav angles across a back of a length ball outside off, Curran walks across a bit and then guides it behind towards Karthik. He catches the ball and then takes a needless tumble. End of a fantastic knock by Sam Curran, he though is disappointed in the manner he got out. The crowd is giving him a standing ovation. The young lad has kept England in the game.
20.07 IST: FOUR! ENG 180/9 in 52.4 overs. The lead is now 193 runs.
19.59 IST: Umesh Yadav to Stuart Broad, 1 run. Yadav goes closer to the off stump line, Broad pushes it through cover-point for a single. Another vital partnership for England, this one is worth 39. Lead is 187.
19.51 IST: FIFTY! Sam Curran hits his maiden Test half-century off 54 balls. SIX! Smoking hot! What a way to get your first Test fifty! He gives the charge to the bowler, it's on the shorter side around middle and off and Curran clubs it over extra cover for a boundary. Raises his bat and the crowd is giving him a warm ovation. Lead is now 180! England 287 & 167/8, lead India (274) by 180 runs in Birmingham.
Get in!

A maiden Test fifty from Sam Curran!

Clips and scorecard:
➡️https://t.co/jhgID7pOuU#EngvInd pic.twitter.com/G5dSE9V5p9

— England Cricket (@englandcricket) August 3, 2018
19.48 IST: A maiden over by Umesh Yadav. Umesh Yadav to Sam Curran, no run. What a terrific over! Beats Curran for the sixth time. Yadav has a wry smile on his face. Almost made him edge six times in this over. This delivery is on a length and wide outside off, Sam shuffles across the stumps but still fails to get bat on ball.
19.44 IST: FOUR! Taking the attack to Ashwin. This time he stays back in anticipation of a quicker delivery. Ashwin sends across a flatter one on off and Curran thwacks it down the ground for a boundary at long on.  ENG 160/8 in 48 overs.
19.43 IST: SIX! High and handsome! Sam Curran is earning a lot of fans here. He is down the track in a flash to a full ball and hammers it over the bowler's head for a biggie.
19.39 IST: FOUR BYES! Bonus runs for England! A bouncer by Yadav. Broad ducks and Karthik fails to collect it with a jump. India will be worried. These runs can hurt them.
19.33 IST: Stuart Broad is in next. He is no mug with the bat either.
19.32 IST: OUT! Umesh Yadav removes Adil Rashid for 16. Right through the gate! A 135 kph delivery by Yadav. A rip-roaring one. He pitches it on a length around off, nipping in enough to breach Rashid's defense. It goes right through and uproots the off stump. A handy 48-run stand is open. Nicely set up by Umesh, bowled a couple of outswinger and then brought one in to dismiss Rashid. England lead by 148! England 287 & 135/8, lead India (274) by 148 runs in Birmingham.
19.22 IST: Back again! Virat Kohli sharing some words of wisdom with his teammates in a huddle. Out come Adil Rashid and Sam Curran. Umesh Yadav continues...
19.18 IST: The umpires are inspecting the light at Edgbaston.
19.03 IST: It has turned very gloomy out there. The floodlights are switched on but the umpires feel that the natural light is not enough to carry on with the game. The players are leaving the field while the umpire are taking the reading. A huge chunk of clouds are approaching the field. For the moment, no play. For the moment, BAD LIGHT HAS STOPPED PLAY. India won't mind this break. They were going wayward a bit after doing all the hard work. The current partnership is worth 44 and that has taken the lead to 144. Stay tuned for latest updates.
18.57 IST: Adil Rashid DROPPED! Dhawan at it again. Rashid is lured into the drive by Yadav. He tries to go through the line but gets a thick outside edge to Dhawan at first slip. Karthik for a moment moves to his right but then lets it through. Dhawan tries taking the catch near his chest but fails to hang on. Smiles after that. Maybe, for a fraction of second, Shikhar got distracted by DK. Anyway, England won't mind.
18.55 IST: Umesh Yadav to bowl for the first time in this innings.
18.53 IST: FOUR! Fine shot! Curran spots the short delivery early, goes deep inside the crease and pulls it over mid-wicket for a boundary.
18.50 IST: FOUR! Well played! A pitched up ball outside off, Rashid went for the drive through the line, opened the face of the bat a bit and placed it through backward point. It sped through and finds the fence before the fielder in the deep got to it.
18.48 IST: FOUR! Suddenly runs are coming thick and fast. As soon as Curran spots the room outside off, he throws his bat at it. The ball finds the outside edge but flies over the slip cordon for a boundary at third man.
18.44 IST: FOUR! Once again streaky! Shami darts in a length ball on off and gets it to straighten after landing, Curran gets completely squared up and edges it behind. Right through the slip cordon for another useful boundary. Lead is now 128!
18.42 IST: FOUR! Welcome boundary for England. Was that a chance? Yeah. But Dhawan fails to get any hand on it. Short in length and outside off, Curran stands back to slap it through the line but it takes the bottom edge and flies behind. Dhawan goes down low at first slip but it sneaks past his hands, maybe just brushed his fingers, before racing away.
18.38 IST: Kim Jong-un's impostor spotted at India vs England clash in Birmingham (SEE PICS)
18.30 IST: FOUR! Well played! Ishant overpitches and Curran latches onto it like a hawk on its prey. Plays a full-blooded cover drive and it races away to the fence.
18.21 IST: Bowling change. Mohammed Shami replaces Ashwin in the attack.
18.20 IST: Ishant Sharma to Adil Rashid, no run. Nearly draws a false shot! Once again Ishant bowls it wide outside off, Rashid goes chasing after it but fails to connect. ENG 93/7 in 33 overs.
18.14 IST: FOUR! Once again the length is on the fuller side around off and Curran drives it straight back past the bowler for a boundary down the ground. Useful runs.
18.10 IST: OUT! Ishant removes Buttler for 1. England 287 & 87/7, lead India (274) by 100 runs in Birmingham. Another blow to England, Ishant has his third wicket in the over and has completely demolished the home team. What a spell! He worked hard initially and is finally getting the rewards. This one is more on the lines of a poor shot than a great delivery. Short and wide outside off, Buttler has the option to leave it but his natural instinct is always to go after the ball. He does that. Stays back inside the crease to flash his bat through the line. Gets a faint outside edge behind and Dinesh Karthik hangs on to the catch.
18.08 IST: Welcome back after Lunch. Another promising session is on the cards as India look to wrap up the English innings as quickly as possible. Jos Buttler remains the only recognised batsman in the lineup.
17.56 IST: The lead is just of 99 at the moment. The visitors have entered the tail and if more of the same is expected, which you can bet it is, then England are in for a rough ride. Jos Buttler is a fine batsman, but in this format and in such conditions, even he has an uphill task ahead of him. Join us for all the action from the afternoon session at 18.10 IST (12.40 GMT). You don't want to miss it...
17.45 IST: Heroes are there for a reason. They are born out of adversity and rise up from the ashes, inspiring others in the process as well. That's what happened in Birmingham. Yesterday, Virat Kohli put on a fighting display for the world to see, gave him confidence to lift their levels up and has got the response he was looking for. His Indian side has come out firing since the morning began and took this game right by the scruff of its neck.
17.31 IST: England 287 & 86/6 at Lunch, lead India (274) by 99 runs in Birmingham. Ashwin 3/34, Ishant 3/21. Ben Stokes OUT! Ishant has another one. This is brilliant, brilliant bowling from the tall pacer. Terrific, terrific stuff. Comes from around the wicket and angles in a length ball on off. Much like Malan's wicket, this one also straightens up and gets Big Ben. He hangs his bat out to defend, edges it and it's taken by skipper Virat Kohli at at third slip, by diving low to his left. LUNCH ON DAY 3!
That's Lunch on Day 3 of the 1st Test.

England 287 & 86/6, lead India 274 by 99 runs.

Updates - https://t.co/HeruIJq0DO #ENGvIND pic.twitter.com/WSh4FXlxcj

— BCCI (@BCCI) August 3, 2018
🔥🔥🔥

What a fine spell from @ImIshant.

In 40 balls he has taken three priced wickets of Malan, Bairstow and Stokes.#ENGvIND pic.twitter.com/dSE8tehoWg

— BCCI (@BCCI) August 3, 2018
17.27 IST: Jos Buttler to be the new man in for England.
17.26 IST: OUT! Ishant removes Bairstow for 28. This time Ishant gets his man. That is an excellent catch from Shikhar Dhawan at first slip. Length delivery around off, shaping in and Bairstow hangs his bat inside the line. Gets a healthy edge which goes behind. Dhawan gets low to his right and collects it safely. Superb stuff. India in the driver's seat here.  England 287 & 85/5, lead India (274) by 98 runs in Birmingham.
17.19 IST: FOUR! Almost dragged it on! A boundary results but he's lucky he's survived that. Back of a length close to off, Bairstow looks to cut but gets it off the inside edge past the off stump. Karthik dives to his left but can't stop it.
17.11 IST: Should India get an extra catcher in? Around 20 minutes to the break, another breakthrough would be golden for them.
17.09 IST: Ben Stokes walks out to the middle next. England in trouble here, can't afford another wicket before the break. This pair needs to hang on.
17.08 IST: OUT! Ishant removes Malan for 20. EDGED AND TAKEN! Ishant Sharma has been rewarded for the good bowling he's been doing so far. Totally on fire since the time he's come on, got the results for it with this wicket. Comes from around the wicket and angles in a length ball on off. It straightens up enough after landing, a little late and that does Dawid Malan in. He is squared up as he looks to flick and gets it off the leading edge towards Rahane at gully, who makes no mistake in taking that. England lead by 83 runs. England 287 & 70/4, lead India (274) by 83 runs in Birmingham.
17.05 IST: Ravichandran Ashwin to Dawid Malan, 2 runs. Goes against the spin and flicks it through the mid-wicket area for a double. ENG 69/3 in 26 overs.
16.55 IST: FOUR! No third man and that's a boundary. Good way to end the over. Bairstow has some room to work with, he wastes no time in cutting this across the third man fence. Nicely done.
16.52 IST: FOUR! Bairstow finds the gap. That's right in the gap. Superb shot from Jonny Bairstow. Length ball outside off, he cuts this through point and find the boundary line. Positive from Bairstow so far, important to not get too defensive. ENG 61/3 in 22.3 overs.
16.50 IST: A maiden over by Ashwin. Ravichandran Ashwin to Dawid Malan, no run. Harmless delivery outside off, left alone to end the over. ENG 57/3 in 22 overs.
16.40 IST: FOUR! Bang! Ashwin is on the shorter side outside off, turning back in, Bairstow goes deep inside the crease and whacks it square of the wicket on the off side for a boundary. ENG 56/3 in 19.4 overs.
16.39 IST: Ravichandran Ashwin to Jonny Bairstow, no run. Ouch, that would have hurt Vijay. A full-blooded sweep shot from Jonny and it hits Vijay flush on his body at short leg. The ball rebounds and Karthik tries to take it with a dive across to his left. Fails to reach though. Vijay is fine.
16.37 IST: Dawid Malan NOT OUT! That has hit the ground. Ishant nearly had his first wicket. Slants in a full length ball on off and gets it to curl away. Malan who has been completely clueless once again plays inside the line and it takes the outside edge. It flies behind and Dhawan at first slip goes down low to grab the ball. He though is not too sure and hence the umpires get together to have a chat. Umpire Dar gives it not out as the soft signal. The replays roll in and they find that the ball has grazed the grass.
16.35 IST: Has that carried? Shikhar Dhawan takes a low catch at first slip and is not sure whether it carried. The umpires get together and then take it upstairs. Aleem Dar gives the soft signal as not out.
16.31 IST: A deep square leg in place as Ishant Sharma changes his angle for Dawid Malan.
16.29 IST: Ishant Sharma to bowl now, replacing Mohammed Shami.
16.26 IST: FOUR! Shot! Boundary to end the over and the 50 comes up for England. Overpitched around off from over the wicket, Jonny Bairstow drives it nicely through the covers and finds the fence.
16.22 IST: FOUR! Good control from Malan. Shami bangs it short from around the wicket and brings it in, Malan uses the angle to swivel inside and pulls it through backward square leg for a boundary.
16.19 IST: Jonny Bairstow arrives with England leading by 52 runs.
16.18 IST: OUT! Ashwin removes Root for 14. Massive breakthrough for the touring team. Ashwin has hunted down the big fish this time. Talk about the catch. Tremendous reflexes shown by KL Rahul. He has taken yet another sharp catch. He is up and running in celebration. Root also starts to walk after looking down for a moment. The umpire has a little word with the English skipper, maybe on what exactly happened. Seems Root is sure that the catch is taken cleanly as he keeps on walking. Big blow to England. Coming to the delivery, it's a bit on the shorter side and turns back in sharply with extra bounce. Root tries flicking and does so straight towards Rahul at leg gully. He reacts quickly and somehow hangs onto it. India are roaring now. England 287 & 39/3, lead India (274) by 52 runs in Birmingham.
16.17 IST: What happened there? India are celebrating. Root is seen walking. Has a word with the umpire then but after that he continues to walk.
16.09 IST: FOUR! Ohh! What a taming! Ashwin stays over the wicket for the right-hander also. Bowls it short and around off, turning back in, Root immediately pushes his weight on the back foot and slaps it through covers for a boundary. ENG 37/2 in 13.4 overs.
16.00 IST: Mohammed Shami to Joe Root, no run. On a length and close to the off stump line, Root sticks back inside the crease and blocks it out on the off side.  ENG 28/2 in 11 overs.
15.50 IST: FOUR! Malan though did well to play it with soft hands. A length ball angling back into the batsman from around off, Dawid plays it late and close to his body. It takes the outside edge and runs past the slip cordon for a boundary.  ENG 25/2 in 8.3 overs.
15.47 IST: Here comes Dawid Malan. Two dropped catches yesterday, both off Virat Kohli. Pressure on him. Can he deliver?
15.46 IST: OUT! Ashwin removes Jennings for 8. This was coming! Superbly bowled by Ashwin. He gives this one a good toss in the air and lands it full around off. Jennings has no option but to play at it. He leans forward to defend with a straight bat but to his bad luck it spins away and takes the outside edge. KL Rahul at second slip stretches his hands to right and catches a sharp catch. Early success for India. England 287 & 18/2, lead India (274) by 31 runs in Birmingham.
15.38 IST: Ravichandran Ashwin to Joe Root, no run. Shortish and around off, turning back in, Root goes deep inside the crease and keeps it out on the off side.  ENG 15/1 in 6 overs.
15.32 IST: Mohammed Shami to continue from the other end. Three slips in place.
15.31 IST: Ravichandran Ashwin to Joe Root, 1 run. Turn and bounce for Ashwin. Root stays back inside the crease and does well by playing it off his pads to fine leg. Gets off the mark with a single.
15.30 IST: All set to get underway. Bright and sunny conditions. Looks a good day for batting. The players are taking the field. Skipper Joe Root is the new batsman and will be on strike. Keaton Jennings is at the other end. Ravichandran Ashwin to finish his over, two balls left. A slip, leg gully and short leg in place. 
15.25 IST: Indian team is all set for the Day 3 in Birmingham.
Day 👌#ENGvIND pic.twitter.com/ZeTZQKOIGP

— BCCI (@BCCI) August 3, 2018
15.00 IST: Meanwhile the dismissal of Alastair Cook by Ravi Ashwin in an identical manner to his first innings one, has been making the headlines today. England would have loved to have Cook unbeaten at stumps yesterday. Sadly for them, Ashwin had other plans.
14.55 IST: Kohli has rated his innings yesterday, his second-best ever. You can read more about what Kohli thinks about his 149 here.
14.50 IST: After a stunning 149 from his counterpart Virat Kohli, Joe Root will be hoping to produce a similar performance to give his team the best chance to win the match. However, to do that, he will have to overcome his tendency to get dismissed before reaching 100.
14.40 IST: With England 22 runs ahead and nine wickets in hand, India have their task cut out - bowl out the hosts as cheaply as possible. England, on the other hand, must be licking their wounds from yesterday and hoping for a big score.
14.30 IST: Hello and welcome to our Live Coverage of Day 3 of the first Test between India and England in Birmingham. Stay tuned as we bring you all the latest updates.
Brief Day 2 Report: Virat Kohli took a giant stride towards exorcising the ghosts of 2014 with a masterful century as he singlehandedly pulled India out of the woods against England on an eventful second day of the first Test. Kohli's 149, which will rank amongst one of the finest hundreds by an Indian batsman on English soil, enabled the visitors to reach 274 thereby bringing down the first innings deficit to only 13 runs. England had scored 287 in their first essay. At stumps, England were 9 for 1 in their second innings with an overall lead of 22 runs. (READ FULL REPORT HERE)