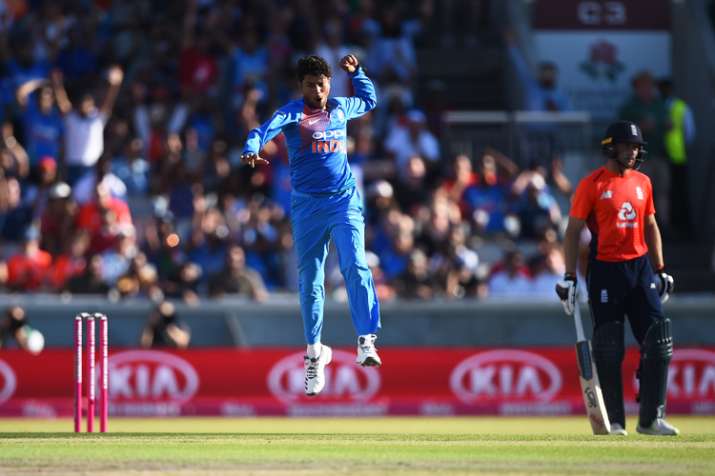 Young Kuldeep Yadav, with the figures of 4-0-24-5, became the first left-arm wrist-spinner to take a five-for in the shortest format as he single-handedly restricted England to a below-par 159 for 8 on a flat deck. Later, India romped home with ten balls to spare riding on a stupendous century from KL Rahul to take a 1-0 lead in the three-match series. (India tour of England Full Coverage)
There is no doubt that Kuldeep's Man-of-the-Match winning performance broke the back of the famed English batting which had got off to a flying start before the Chinaman applied the brakes. In the post-match Press Conference, Kuldeep dissected the reasons behind his recent success and what makes him such an effective bowler. "England had got off to a good start - they had around 65 runs in six overs," Kuldeep said. "In the first over I checked the wicket. It was a bit dry. There was a possibility of little turn, but it didn't turn to begin with. Chahal told me it was not turning. It was stopping. Accordingly, I varied the pace a little perhaps thinking then I will get a chance. The batsman would need to use his feet only then he will find it easy."
Though Kuldeep didn't get any wickets in his first over, he had managed to sow doubts in the minds of the opposition batsmen. "When I came for the second over I reduced the pace and maintained the flight while keeping the length good. I got Morgan the first ball. There onwards my plan was to make sure they [the batsmen] stretched [to play the ball]. I did not want to give any easy ball. I did not want to add pace to the delivery because that would make it easy."
Kuldeep also said that he was aware of Jos Buttler's plans and he bowled accordingly to the English wicket-keeper who had the experience of facing him in the IPL. "There was nothing in my head. I never bowl looking at who the batsman is. I always try to do what I can do. Jos Buttler was batting against me. I've bowled a lot to him, even in the IPL So, I knew his plans. I knew he won't take the chance against me. He'd go for singles and doubles, and won't hit me. So I was happy to give him that single because the other batsman had never faced me; so I thought I had chances of getting him out," added Kuldeep. 
The young spin sensation also provided a sneak-peek into his development into the fearless bowler he has become today. "When I started playing cricket my coach Kapil Sir used to tell me to let the batsman hit sixes. I used to practice getting hit for sixes so that when I get hit in the match I don't feel any pressure. So that is something I learnt and today I am not scared of getting hit or going for sixes. If I make some mistake and get hit for six, then maybe I feel bad that I didn't bowl well. But if the batsman is simply hitting me for sixes then I never feel bad," quipped Yadav adding, "Whatever I learnt during childhood I am trying to follow here. I have never been afraid of getting hit, I think that's the biggest plus point for me."
On the question of being successful in overseas conditions, Kuldeep emphasised upon doing the basics right. "If you want to take wickets you need to get the ball to turn. If you can't make the ball turn, get drift, then you are not a spinner. You then cannot change the game. If a spinner takes four or five wickets your team gets the upper hand," said the Kanpur-born star.
Though playing in Manchester, England, there was plenty of crowd support for the Indian team during the match - a fact that didn't go unnoticed by the young spinner. He concluded by saying, "I didn't feel that I am playing an away game. It felt like I am playing in home conditions. The crowd almost completely supported India and wherever I was fielding I could see only Indian fans who were backing us up and motivating us. The crowd always backs you for a good performance and for the team and they want India to do well. Hopefully, we will get the same crowd support in the next few matches."