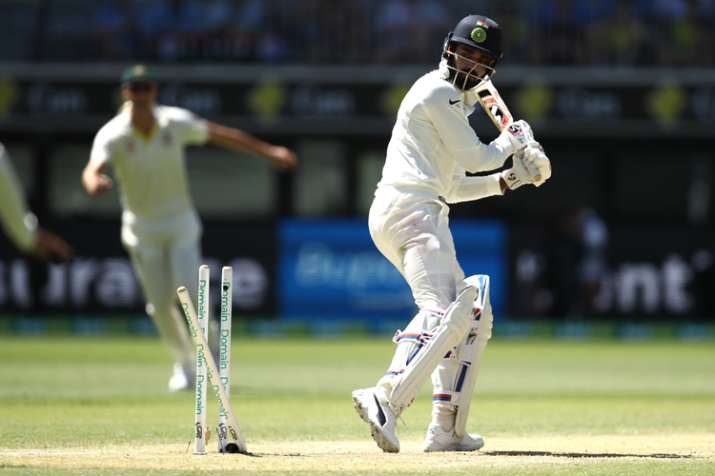 0.4 OUT! Timberrrr. Australia draw first blood without a run on the board for the visitors. Rahul has failed once again and not gotten off the mark. There is a lot of doubt in his head and this is what happens when you are out of form. Just outside off and Rahul who is looking to play, is uncertain and decides to leave the ball very late. The decision costs him as it goes off the inside of his glove and onto the off stump. Just the start the hosts would've liked!
That's how IndiaTV's ball-by-ball commentary described the fall of Indian opener KL Rahul with his team under pressure to chase a target of 287 runs on an increasingly fast and deteriorating Perth pitch. But personally, I have a problem with the description. Actually, just with the last line: "Just the start the hosts would've liked!" While being factually true, in my opinion, Australia must have "expected" the start they got instead of "liked". The wicket of Rahul is not a prized scalp anymore, rather it is more of a walking wicket. Frankly, the way he has been batting recently, his wicket is like a complimentary gift that opposition teams get whenever they turn up to play against India.
Too harsh you say? Here are the numbers: In his last 22 innings, stretching back to the Nagpur Test against Sri Lanka last year, the right-hander has managed to score a total of 475 runs (Avg. 21.59) - a number that is boosted by a lone century (149) at The Oval in September 2018. If you take this particular innings out of the equation, Rahul has scored just a single fifty since Nagpur, that too against Test debutants Afghanistan. What is even worse is the fact that this string of low scores is the least of his problems. The bigger problems and the solution or persistence of which can make or break his Test career are a lack of confidence and a failure to convert starts. 
Eleven. That's the number of times KL Rahul has been dismissed either bowled or LBW in his last 14 innings starting from the second innings of the Lord's Test earlier this year. This is a staggering number for any batsman let alone an opener who is supposed to survive the toughest periods making it easy for the ones to follow. Getting out so many times in this fashion can mean only one thing: a muddled mind.
Opposition bowlers have exploited the Karnataka batsman's state of mind by sticking to a channel just outside the off-stump while bowling the occasional sucker ball at the stumps. Rahul who has shown a tendency to be unaware of the whereabouts of his off-stump is often found shuffling across the stumps or playing down the wrong line to the incoming deliveries. But when you are facing bowlers as cunning as James Anderson or as fiery as Mitchell Starc, these shortcomings are easily found out within a space of a few deliveries. His dismissal of the fourth ball he faced during India's chase in Perth was a great example of Rahul's troubled mind as he tried pulling out of the shot at the last moment when it was already too late.
But the saddest part of all this is that even when he has managed to get a start and looked like he is settled at the crease, he finds ways to gift his wicket away. A plausible reason for this could be that the IPL maverick is finding it hard to adjust to the attritional demands of the longest format. There is no doubt that he has a good hand-eye coordination but this attribute can be exploited fully only when you spend a considerable amount of time at the crease. For example, Brendon McCullum was also an aggressive batsman with a good hand-eye coordination. But his epic 302 against India in Wellington was built over 559 balls and close to 13 hours of single-mindedness. Maybe Rahul can learn a thing or two from his former IPL teammate.
Going ahead there is little doubt that teenage sensation Prithvi Shaw will return for the Boxing Day Test and no matter what the result in Perth turns out to be, Rahul should make way for the young opener. With Shikhar Dhawan and Mayank Agarwal already waiting in the wings, the Perth Test could have been the last match of Rahul's Test career. The way forward? There is a certain Bangalorean namesake who is also referred to as 'The Wall' by the nation. It wouldn't hurt KL to consult him regarding improving his defensive technique and clear the clutter from his mind. More first-class cricket would be great too. But if he is planning to resurrect his career in whites just based on the IPL and more shorter-format cricket, then he should certainly take the next plane to India and frame his Test cap as he might not need to wear it ever again. He shouldn't be in two minds about that.