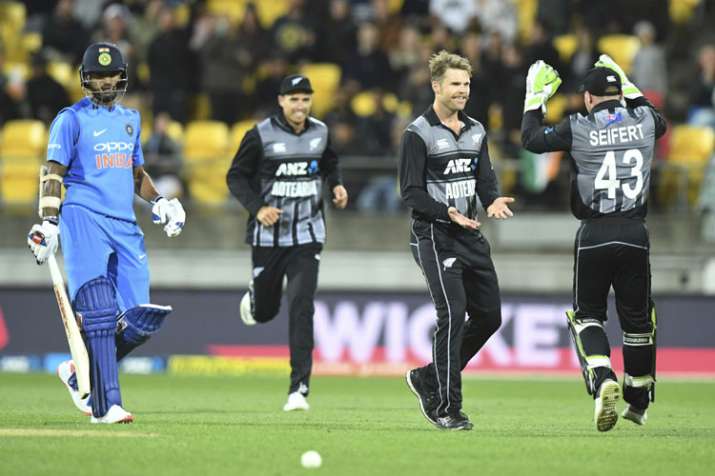 On a day when everything went right for New Zealand, India on the other side, looked all out of sorts. The fixture was not remotely close to
competitive, but a complete one-sided affair which handed the Men in Blue their biggest-ever loss in T20 internationals - 80 runs.
A Rohit Sharma-led Team India went into the match with a playing XI which consisted of 8 batsmen.
Here's what India's playing XI looked like -
Rohit Sharma (c), Shikhar Dhawan, Rishabh Pant, Vijay Shankar, Dinesh Karthik, MS Dhoni (wk), Hardik Pandya, Krunal Pandya, Bhuvneshwar Kumar, Yuzvendra Chahal, K Khaleel Ahmed
Winning the toss and electing to bowl, India went in with a heavy batting unit against the hosts, where New Zealand went on to score 219/6 in 20 overs. The batsmen walloped the Indian bowlers left, right and center, with unheralded keeper-batsman Tim Seifert leading from the front with a 43-ball 83. The bowling figures at the end of the day are as follows -
Bhuvneshwar Kumar | Overs - 4 | Runs - 47 | Wickets - 1 | Economy - 11.75
K Khaleel Ahmed | Overs - 4 | Runs - 48 | Wickets - 1 | Economy - 12.00
Krunal Pandya | Overs - 4 | Runs - 37 | Wickets - 1 | Economy - 9.25
Hardik Pandya | Overs - 4 | Runs - 51 | Wickets - 2 | Economy - 12.75
Yuzvendra Chahal | Overs - 4 | Runs - 35 | Wickets - 1 | Economy - 8.75
While Seifert's best score earlier was 14, the wicketkeeper-batsman didn't break a sweat against the Indian bowlers, as he went on to smash seven fours and six maximums.
220 on the board for India to chase, India started their chase by losing Rohit for 1. Shikhar Dhawan (29) and Vijay Shankar (27) managed to take India to 50 before they lost their second opener and Shankar following him later. Till the 10th over, India were 77/6. With Dhoni's gritty knock, India crawled their way to 139, losing the match by a massive 80 runs.
Overall, it was a horrid day for India as they were outclassed in all departments. So what exactly went wrong for the 2nd ranked T20I team? We discuss.
* Playing XI
The playing XI had three batsman-wicketkeepers and three allrounders. Vijay Shankar was sent up the order to bat an No.3 and Pant at 4. Shubman Gill, Kedhar Jadhav and Kuldeep Yadav's presence could have made a major difference. While spinners enjoyed the day, Chahal was left stranded without his partner in crime. A line-up which made no sense whatsoever, were taken on a rollercoaster ride in Wellington.
* Unprepared Rishabh Pant
Before the T20Is, the talk of the town was Rishabh Pant as his reputation demands him to generally whack the ball the stands, however, his time was cut short through a bit of impatience as he failed to read Santner's delivery and saw the middle stump rattled. Pant went back for 4. The youngster would hope to redeem himself in the penultimate clash in Auckland.
* Kuldeep's absence
While Mitchell Santner and Ish Sodhi collected two crucial wickets each, it was the spinners that kept India in the loop. Leggie Yuzvendra Chahal managed to see off skipper Kane Williamson, he leaked 35 runs in 4 overs he bowled. Kuldeep's presence could have made a major impact on the bowlers.
* Misfields
Misfielding somewhat played a role in helping New Zealand reach 219/6.  In the first occasion, Seifert was lucky to survive when Dhoni dropped a sharp chance after the batsman had edged one off Krunal. Seifert was once again dropped by Dinesh Karthik, where the fielder couldn't read the elevated shot.
* Spin bamboozle
The Indians failed to read spin on a batting track. Even though Tim Southee claimed three for 17, Santner and Sodhi ran riot. While Shankar and Pant fell  to Santer's spells, DK and Hardik were prized wickets which Sodhi claimed. For the Indians, two spinners in their playing XI could seen the outcome quite different than the result which we saw today.
India's tactics need plenty changes if they are to fight back to level series against New Zealand and as of right now, the Rohit Sharma led Team India need to pull their socks, dust off their heavy defeat and put up a fight in Auckland.